Where to Stay in the Riviera Maya: A Guide to the Region and its Villas
If you don't know where to stay in the Riviera Maya, the number of world-class options can be a bit daunting. Do you choose the bustle of Playa del Carmen with its excellent shopping and gourmet restaurants or do you unwind in the chilled vibe of Tulum? To help you find the right fit, here is a quick guide on how to choose the best location in the Riviera Maya for your villa vacation.
Where to stay in the Riviera Maya
Puerto Morelos
Time from Cancun International Airport: 20 minutes
Puerto Morelos eschews the hustle and bustle of the nearby cities in favor of utter calm. This Caribbean coastal town is perfect for the traveler who is looking to while away the days on the soft sands with a good book. That's not to say Puerto Morelos is devoid of life, far from it. Visitors will still find excellent artisanal markets, high-end restaurants, and the Dr Alfredo Barrera Marin Botanical Gardens.
Families, particularly those with young children who don't want to travel too far, will love Puerto Morelos. The beach town is one of the closest to Cancun Airport, making it easily accessible and reducing the number of times you will hear: "Are we there yet?".
Villas in Puerto Morelos
Villa Casa del Mar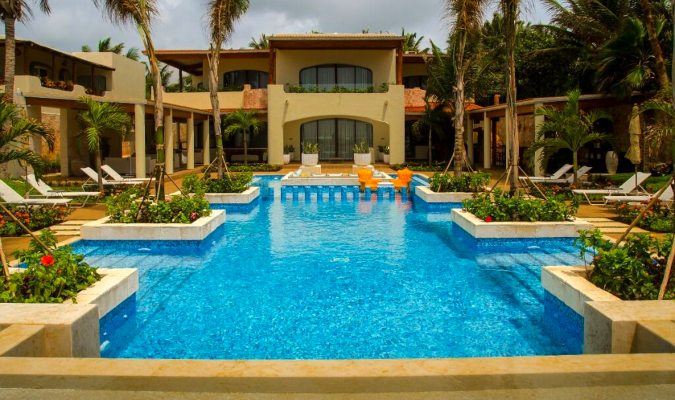 Sleeps 12 + 8 | 6 Bedrooms | Puerto Morelos, Riviera Maya
Villa Casa del Mar in Karisma Resort offers the ultimate in luxury living right on the beachfront. With a team of staff on hand, including a chef and a waiter, visitors will be able to unwind without worrying about day-to-day chores. If guests can pull themselves away from the villa's deluxe swimming pool area, they receive full access to the luxurious amenities at Azul Beach Club in Karisma Resort.
Villa Esmeralda
Sleeps 12 | 6 Bedrooms | Puerto Morelos, Riviera Maya
Villa Esmeralda, which is also in Karisma Resort, is a truly stunning beachfront villa with easy access to white sands. As you unwind, eight staff make sure your vacation runs like a dream. There's nothing you need to do besides choosing whether to relax by the pool or by the sea. When it's time to get a bit more active, hit the tennis court or gym. Alternatively, come together as a family in the home theater.
Playa del Carmen
Time from Cancun International Airport: 45 minutes
Playa del Carmen is a bustling hub of tourism offering the luxury traveler the best shopping, nightlife, and restaurants around. The world-famous 5th Avenue (Quinta Avenida) is the main tourist strip boasting a dazzling array of shops, eateries, bars, and much, much more.
For a quieter experience, stay in the Playacar gated community which lies adjacent to the town but within walking distance. Here you'll receive a more refined version of Playa del Carmen with the added security and residential feel that comes with staying in a gated community.
Villas in Playa del Carmen
Beach House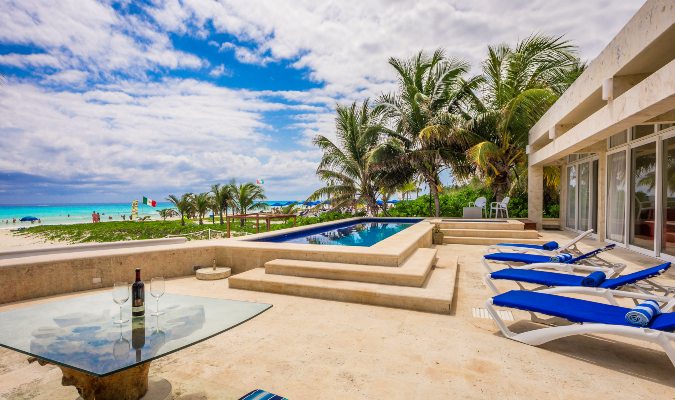 Sleeps 8 | 4 Bedrooms | Playa del Carmen, Riviera Maya
The Beach House, nestled within the sanctuary of Playacar, sits on a stunning white-sand stretch of beach. Spend the majority of your days dipping in and out of the freshwater swimming pool which runs the length of the villa. In the evenings, it's ideally located to enjoy the attractions of Playa del Carmen. If you fancy staying on-site, enjoy some al-fresco dining before seeing in the night with a drink in the hot tub.
Quinta Clara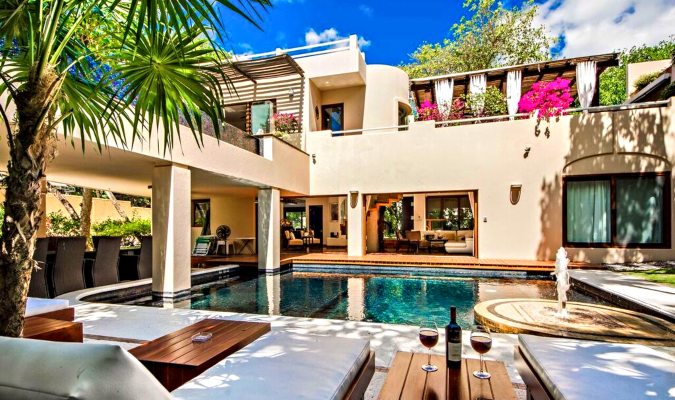 Sleeps 14 | 7 Bedrooms | Playa del Carmen, Riviera Maya
Book Quinta Clara for a luxuriously peaceful stay just steps from the Caribbean Sea. The villa itself centers around a beautiful courtyard with an infinity pool and greenery. Everyone will be fighting over who gets the exquisite master bedroom, which comes with its own infinity pool overlooking the courtyard. Guests will benefit from the protection and security that Playacar offers while still being close enough to the action of the town center.
Puerto Aventuras
Time from Cancun International Airport: 60 minutes
Around mid-way between Playa del Carmen and Tulum, Puerto Aventuras is ideally located to explore either town. Additionally, it's in the perfect spot to start tours and excursions, making it the ideal destination for the more adventurous traveler.
As a private gated community, guests get the benefits of residential life plus a security patrol. Visitors can also take advantage of the excellent amenities, which includes convenience shops, restaurants, a marina, plus golf and tennis facilities.
Villas in Puerto Aventuras
Hacienda Magica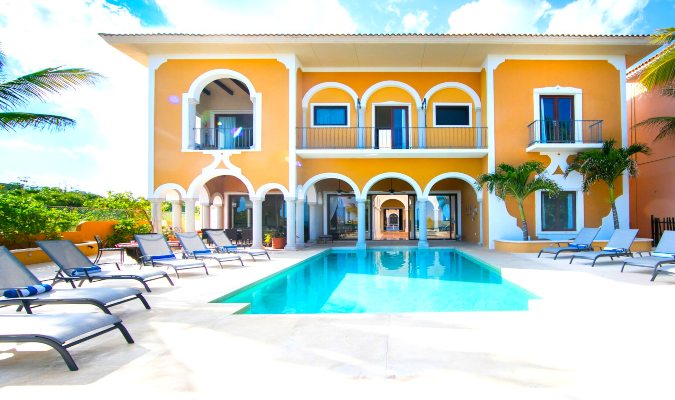 Sleeps 28 | 14 Bedrooms | Puerto Aventuras, Riviera Maya
The palatial Hacienda Magica is one of the largest homes in Mexico, making it ideal for a large family getaway or big event. Days are spent relaxing on the soft sands of Fatima Bay, which sits at the bottom of the property. Magica boasts a huge range of activities for the whole family, including a tennis court, kayaks, and stand-up paddleboards. In the evening, enjoy food together prepared by the villa's outstanding chef.
Zacil Na
Sleeps 10 | 5 Bedrooms | Puerto Aventuras, Riviera Maya
Marvel at the award-winning architecture at Zacil Na before you cool off with a dip in the sea or infinity pool. This beautiful Riviera Maya getaway delicately blends eco-chic design with the very latest tech to provide a laid-back vibe in opulent settings.
Akumal
Time from Cancun International Airport: 70 minutes
A heavenly town on the Caribbean coast, Akumal offers beach living at its finest. There visitors unwind on stunning stretches of white sand beach and cool off in crystal clear waters. Just off the coast, seagrass patches and a reef are home to stunning sea life including tropical fish, sting rays, and turtles, making for excellent snorkeling and scuba diving.
Villas in Akumal
Villa Alma Rosa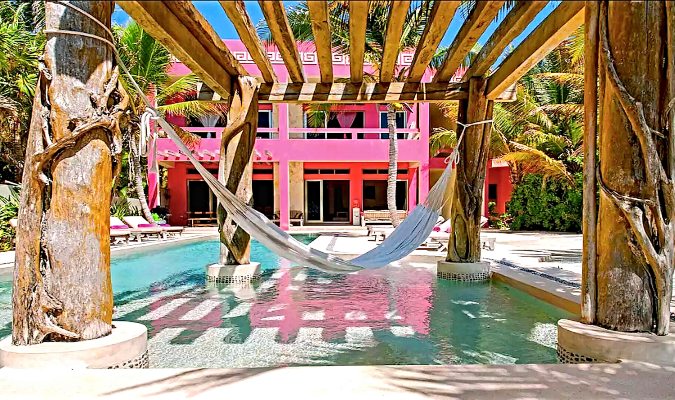 Sleeps 8 + 4 | 4 Bedrooms | Akumal, Riviera Maya
Nestled on Jade Beach, Villa Alma Rosa boasts an enviable position in the world. Steps away from the brilliantly vibrant pink façade of the property lies a white-sand beach and crystal-clear seas. However, plenty of guests prefer to spend their time in the comforts of the property, which includes an eye-catching pool, giant palm trees, and rooftop wet bar.
Tankah Bay and Soliman Bay
Time from Cancun International Airport: 80 minutes
The twin delights of Tankah Bay and Soliman Bay offer beautiful beaches surrounded by lush jungle foliage. It's almost impossible not to fall in love with the postcard-worthy beauty of the area, particularly if you're a lover of the quiet life. If you're itching to explore, Tulum lies a short drive away, while local freshwater cenotes offer a marvelous day out.
Villas in Tankah and Soliman Bay
Casa Kevali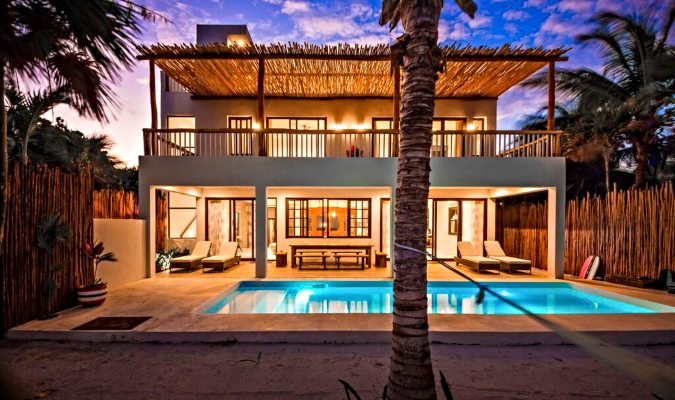 Sleeps 12 | 5 + 1 Bedrooms | Soliman Bay, Riviera Maya
Designed by a highly respected artist, Casa Kevali is both visually beautiful and full of soul. Nestled within jungle foliage right on the beach, the natural aura of the area promotes peaceful living, while the slosh of the waves helps you to forget life's worries. Like all our villas, Casa Kevali comes with the ultimate in luxury living to enhance your stay. Chill on a hammock, swim in the pool or head into the sea on a kayak.
Villa Sofia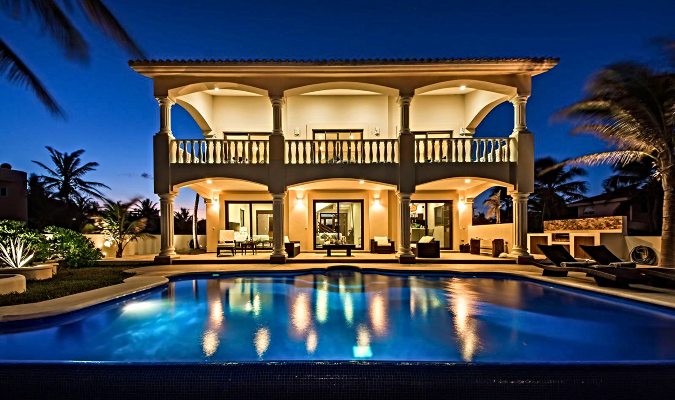 Sleeps 14 | 6 Bedrooms | Tankah Bay, Riviera Maya
Villa Sofia unashamedly uses the stunning beauty of Tankah Bay to its considerable advantage. Guests instantly fall in love with the panoramic views over the Caribbean Sea, particularly the vistas that can be enjoyed from the infinity pool. Life in Villa Sofia is slow. Simply chill on the sun loungers or enjoy an al-fresco dinner under the large beach palapa.
Tulum
Time from Cancun International Airport: 90 minutes
Tulum is known as Mexico's boho-chic getaway, where travelers take advantage of the world-class wellness opportunities. The local area has embraced the reputation with yoga studios and healthy eateries springing up across the region. Aside from the health and fitness, Tulum also boasts stunning cliff-side Maya ruins which overlook the sparkling Caribbean Sea below.
Villas in Tulum
Casa Ixchel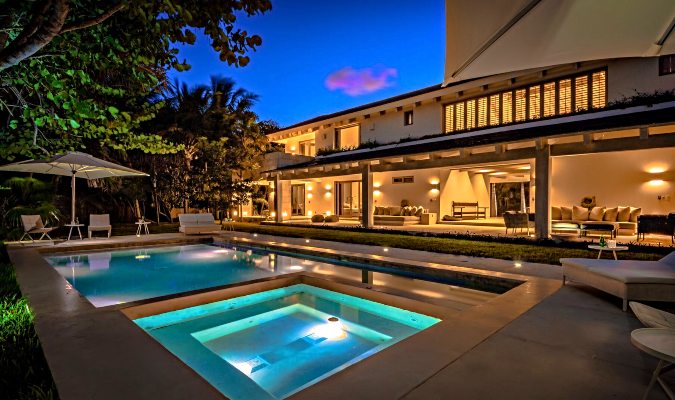 Sleeps 12 | 6 Bedrooms | Tulum, Riviera Maya
Wonderfully elegant Casa Ixchel is ideal for the sophisticated traveler looking to enjoy Tulum in a modern, luxurious setting. Its minimalist look is ideal for the wellness tourist hoping to enjoy an unfussy getaway while its peaceful surroundings provide plenty of spots for meditation or yoga.
Tulum Tree House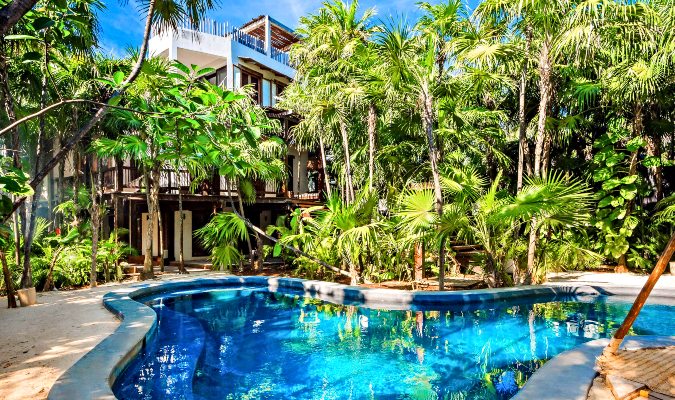 Sleeps 10 | 5 Bedrooms | Tulum, Riviera Maya
A truly spectacular getaway, Tulum Tree House is the culmination of the combined inspiration of top designers, builders, and local craftspeople. The result is a stunning treehouse with breath-taking views over jungle foliage and the seas beyond. The innovative design is both playful and serious, making it one of the stand-out properties in Tulum.
Sian Ka'an
Time from Cancun International Airport: 120 minutes
The semi-remote Sian Ka'an Biosphere Reserve is an exquisitely peaceful stretch of nature reserve dotted with large, private houses. On one side of the Sian Ka'an sits the beautiful ocean, while on the other are mangroves and a lagoon.
This wonderfully secluded paradise, which has been named a UNESCO World Heritage Site, is also home to all sorts of incredible creatures, ranging from dolphins, crocodiles, and turtles, to a variety of tropical birds and big cats. You can arrange tours through the reserve and, fingers crossed, spot a variety of wonderful animal life.
Villas in the Sian Ka'an
Casa Naiik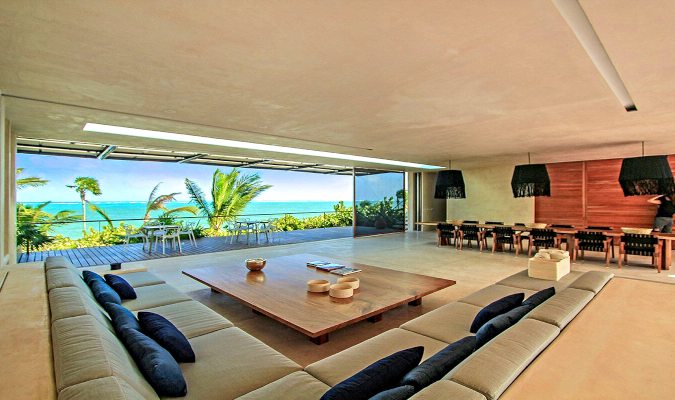 Sleeps 8 | 4 Bedrooms | Sian Ka'an, Riviera Maya
Nested within lush jungle, Casa Naiik is perfect for the traveler who wants to escape the modern world and reconnect with nature. Head to the roof where you will find an infinity pool and sun loungers with views over the tree tops and onto the stunning, crystal-clear seas in the distance. So you're free to explore the Sian Ka'an and relax, staff including a chef and housekeeper are available to take care of the chores.
Mukan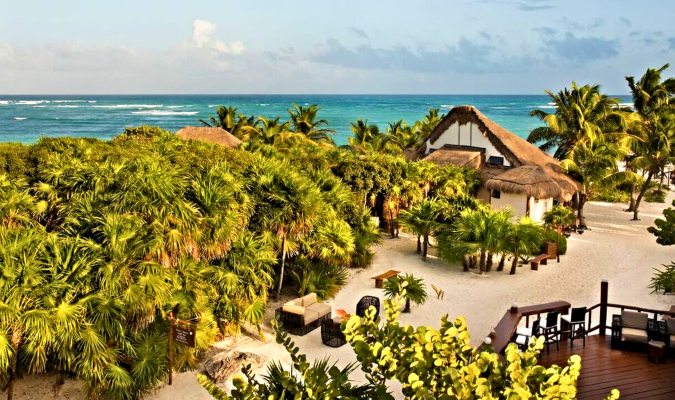 Sleeps 20 | 10 Bedrooms | Sian Ka'an, Riviera Maya
Much like Casa Naiik, Mukan is nestled within the Sian Ka'an's dense jungle foliage offering utter peace. Just a few steps from the villa, however, lies white sands and the sparkling Caribbean Sea. Spend your days exploring the waters on the villa's paddleboards and kayaks. Alternatively, dip below the surface with the snorkel equipment. A rooftop plunge pool is an ideal place to spend the evenings with a cool drink.