Why a Mexican villa is Perfect for Your Next Big Event
Whether it's a family reunion, team building getaway, or even a wedding, the venue you choose will make or break your event. For that reason, it's essential you pick the right place.
Your local conference center is fine for a run-of-the-mill event, but to truly wow your guests you need something very special. Here are five reasons why a Mexican villa is perfect for your next event, plus five villas that are ideal for any special occasion.
Five reasons why a Mexican villa is perfect for your next event
Elite amenities
When you're looking to impress a potential business partner or make your special day perfect, you want to be positive your venue has the very best facilities money can buy. Villas by Journey Mexico ensures that every single property in our portfolio comes with top-of-the-range facilities and amenities. Each villa has different features — and we will find the perfect one for your needs — but you can be assured that your villa will impress and delight throughout your stay.
Amenities range from sweeping infinity pools, hot tubs, and wet bars to tennis courts, basketball courts, and yoga studios. If you've got clients to impress, pick a villa with a media room and plenty of comfy seats.
Endless activities
Keeping your guests entertained is a major headache for a planner. But, if you choose a Mexican villa for your event, there will be an endless list of activities right on your doorstep. If you have an adventurous group, why not head to Los Cabos or the Yucatan Peninsula to swim with whale sharks? Choose Puerto Escondido for endless surfing opportunities or opt for Mexico City for luxurious, gourmet cuisine.
If your event falls during the winter period, the sprawling Bay of Banderas (home to Puerto Vallarta and Punta Mita) plays host to leaping humpback whales; a spectacle sure to impress any guest.
Beautiful weather
When you have so many things to plan, the last thing you want to worry about is whether your hard work will be ruined by a drizzly day. With its ideal location in the world, Mexico has numerous destinations blessed with bright blue skies.
Locations such as Acapulco and the Riviera Maya offer year-round warm to hot temperatures. Winter is the most comfortable time of year with average highs of around 82°F (28°C) and lows around 70°F (21°C). Summer temperatures are, on average, marginally higher, but that just provides more opportunities to enjoy a dip in the villa's pool.
Value for money
When you've got a budget (no matter how large or small), you're always on the lookout for value for money. A Mexican villa offers that, particularly when you book with Villas by Journey Mexico. With years of experience in the industry and lots of local knowledge, we have managed to forge excellent connections with the owners of the best villas in Mexico.
Through these, we can offer the lowest prices around, which means you will struggle to find better prices anywhere else. On top of that, we are in constant contact with villa owners to secure the latest deals. Head to our special offers page to see our latest money-saving deals.
Convenient locations
Travel is another major issue for an event planner, but not one you need to worry about with our villas. The majority are located within easy reach of an international airport with flights arriving from across the United States, Canada, and the United Kingdom, as well as many other major destinations.
If you need help with transportation once in Mexico, we have the experience and knowledge to get everyone to their destination, hassle-free. Speak to our expert Travel Planners who can arrange everything from a private car pick-up to an extra-special private jet.
Five properties perfect for your next event
Villa Mandarinas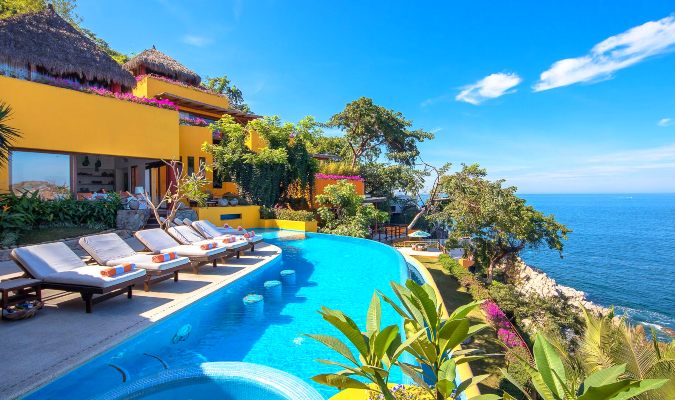 Sleeps 20 | 11 Bedrooms | Mismaloya, Puerto Vallarta
The vibrant Villa Mandarinas sits in quiet Mismaloya near Puerto Vallarta. A secluded oceanfront getaway, you will be able to host your event in peace while enjoying breath-taking views over the Bay of Banderas.
This elite villa, which boasts 15,000-square-feet of space, comes with two pools and a hot tub deck, as well as an alfresco kitchen with a pizza oven. After a long day of activities, guests can chill on a hammock, unwind at the yoga terrace, or enjoy a cocktail or two prepared by the on-site bartender.
Riviera Maya Haciendas group
The Riviera Maya Haciendas group is an elite collection of three separate villas that sit on the beautiful Fatima Bay in Puerto Aventuras. Depending on the size of your group, hire any combination of Hacienda Magica, Hacienda del Mar, and Hacienda Corazon.
Hacienda Magica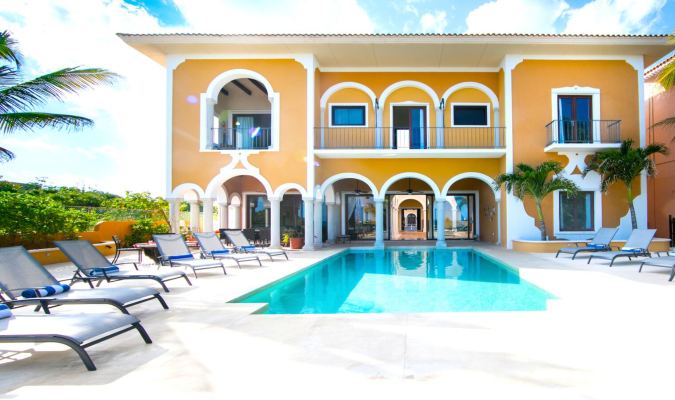 Sleeps 28 | 14 Bedrooms | Puerto Aventuras, Riviera Maya
Large enough to host a 250-guest event by itself, Hacienda Magica is an exceptional option for a teambuilding getaway or wedding. The villa boasts a beautiful courtyard lined with café tables where your guests can catch up, exchange ideas, and enjoy alfresco dining.
When it's time for activities, the villa comes with a tennis court, kayaks, and stand-up paddleboards for the more active members of the group. Those who would like to relax can head to the beach-front swimming pool or enjoy top-class cuisine prepared by the on-site chef.
Hacienda Del Mar
Sleeps 30 | 15 Bedrooms | Puerto Aventuras, Riviera Maya
Hacienda del Mar is a sprawling property with more than enough activities to keep your guests entertained throughout their stay. With the beach just steps away, your guests can snorkel or kayak in the refreshing sea or simply relax on the sandy beach.
A games room offers more entertainment options with billiards and table tennis tables for the more competitive group members. An outdoor swimming pool is the place to head when it's time to cool off, while staff, including a chef, housekeeping, and a concierge will help your event to run without a hitch.
Hacienda Corazon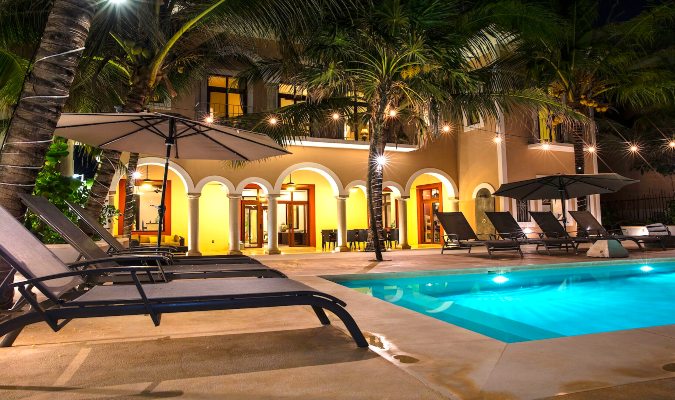 Sleeps 28 | 10 Bedrooms | Puerto Aventuras, Riviera Maya
The final villa in the triumvirate is the stunning Hacienda Corazon, a gorgeous property that reflects the old-world beauty of Mexican design. Like the other two villas in the trio, Hacienda Corazon comes with a gorgeous swimming pool and easy access to the beach.
Guests can relax on the white sand beach or head onto the seas on a kayak for an ocean adventure. During the evening, gather your guests under the covered terrace which boasts a 20-person table for alfresco dining at its finest.
Casa China Blanca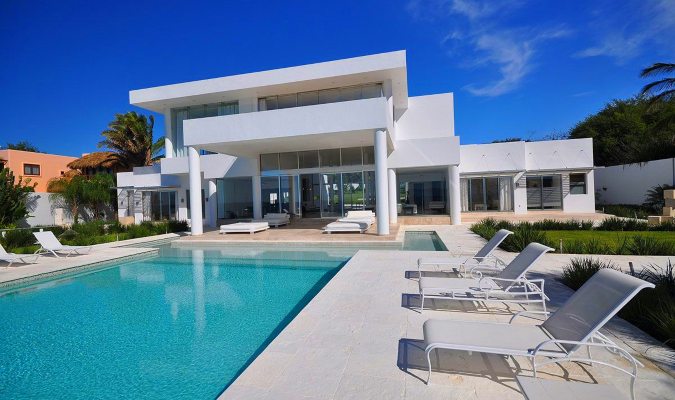 Sleeps 10 | 5 Bedrooms | Punta Mita
An architectural marvel with a clean white façade, sharp lines, and effortless style, Casa China Blanca is ideal for when you want to impress. A sophisticated and modern offering, this Punta Mita villa offers stylish living with the latest in design and comfort.
Guests will undoubtedly be drawn to the infinity pool, which boasts stunning views over the Bay of Banderas, while the sun loungers are the ideal spot to soak up the sun's rays. Your guests will also be interested to know the property features in two Hollywood blockbusters, Limitless starring Bradley Cooper and Elysium starring Matt Damon and Jodie Foster.
Casa Tau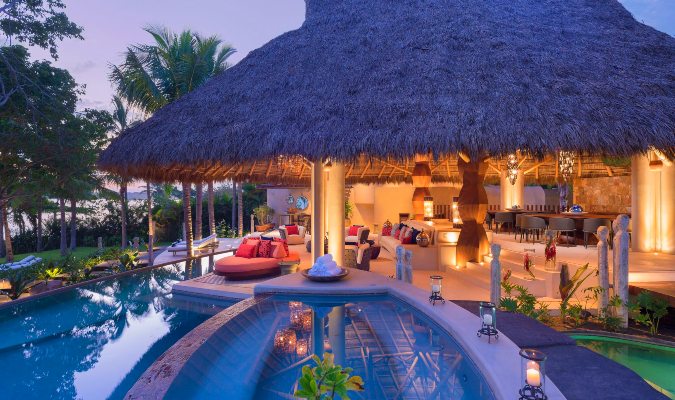 Sleeps 28 | 12 Bedrooms | Rancho Estates, Punta Mita
A sprawling estate offering a sea-and-sun getaway nestled within jungle foliage, Casa Tau is ideal for when you want to create a relaxed environment. A remarkable open-air palapa is the place to host evening get togethers and chilled meet and greets.
An army of staff is on-hand to make sure your guests want for nothing, while the villa's elite amenities means everyone has something to do. When there's a presentation to give, head to the exceptional media room, which comes with a 75"-curved-screen television, sound system, and Apple TV.
Casa La Laguna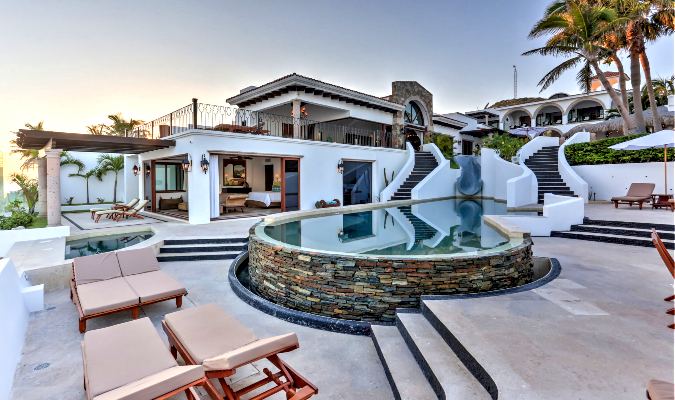 Sleeps 12 | 6 Bedrooms | San Jose del Cabo
A cascading property that leads right to the blue seas of San Jose del Cabo, Casa La Laguna is a stunning villa nestled in one of Mexico's most loved destinations. The villa boasts a multi-level swimming pool connected by a 15-foot water slide — perfect for a large family gathering.
Guests can also enjoy direct beach access, a gourmet kitchen, plus a full gym. To help your event run smoothly, a full team of staff (including an in-villa masseuse!) is on-hand throughout the day. When it's time to get your group together, gather round the fire pit to share stories, and connect.
Make sure your event runs without a hitch…
To make sure your special occasion is absolutely perfect, book your venue with Villas by Journey Mexico. Thanks to our years of experience within the industry, we enjoy unrivaled access to the very finest venues in the country and can help you to book those hard-to-get dates. On top of that, through our sister company, Journey Mexico, we can help you to organize everything from the very best chefs to excellent transportation and unique group activities.