Pacific Paradise: What We Love About Las Rosadas
There´s a place where the ocean sparkles in deep turquoise blue and waves gently lap onto wild beaches, where rocky bluffs keep watch over dry tropical forest and palm trees rustle in the breeze as time slows down. Last weekend, our Puerto Vallarta based team packed their overnight bags and drove down the coast to experience the dream-like magic of Las Rosadas.   
Marked by a simple corral gate, arriving at the property feels like you´re discovering a secret jewel in Mexico´s Pacific crown. We were received by the heart and soul of Las Rosadas, Maria, who gives the property its creative direction together with her husband, Efren. As Maria showed us to our villa, the obvious had to be stated, Las Rosadas is just so beautiful.  
The grounds encompass over 380 acres of dry tropical forest, a nature reserve, rocky bluffs, and three untouched beaches with the archipelago of Chamela Bay´s islands across the water. A handful of villas cascade over a hillside down to Playa Las Rosadas, connected by a network of steps veiled in native flora. With a remote location on the spectacular Costalegre, you get a sense of being off-the-beaten-path, but with luxury villas, infinity pools, and a gorgeous beach bar. Las Rosadas offers one villa estate (our home for the weekend!), two 2-bedroom villas, two 3-bedroom villas, and a beach bungalow that´s literally a stone´s throw from the water.
Tip: there´s an airstrip just 5 minutes away if you want to skip the lengthy drives, albeit scenic, from Puerto Vallarta and Manzanillo airports. 
Read on to find out why we´re already plotting when to come back! 
NATURE IMMERSION
Annel, Villas Specialist: "I was absolutely fascinated by the views at Las Rosadas. I got up early one morning and rode a bike down to Playa Turquesa; looking out from the bluff it was just me, the birds, and the power of the ocean." 
A stay at Las Rosadas is a sensorial experience: unreal paradise views in blue and green, the softness of warm breeze on your skin and sand between your toes, the cyclical sounds of crashing waves, crickets, and bird song. This is the place to surrender to nature.  
As Maria guided us around the grounds in an RZR, we were struck by the sense of space and the hidden spots waiting to be explored. The property´s three swimmable beaches each offer something unique. Playa Turquesa, named after the mesmerizing color of the sea, is a sweeping stretch of wild beach where it´s entirely possible you´ll be the only one there; Playa Corazón is a charming cove with glass hearts in the trees and hammocks slung between palms; and Playa Rosadas, named after the pink shell pieces that blanket the shore, is the main beach and home to Casita Las Palmas, La Terraza restaurant, Bar Mono and La Cueva del Tequila, a hidden tequila tasting spot in the space between two bluffs. We loved how these places have adapted to the natural landscape, like the intimate palapa casitas of Bar Mono dotted amongst the property´s palm grove.
Tip: Spend an evening at Bar Mono, illuminated with candles and string lights, and look up – we couldn´t believe how many stars were shining down on us! Connect to the bar´s speaker to choose your own soundtrack for the night.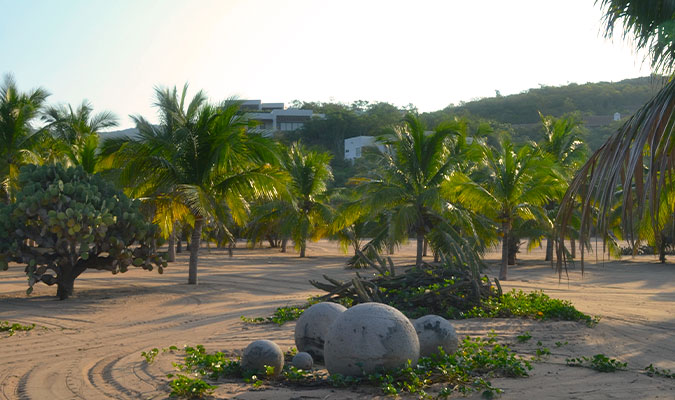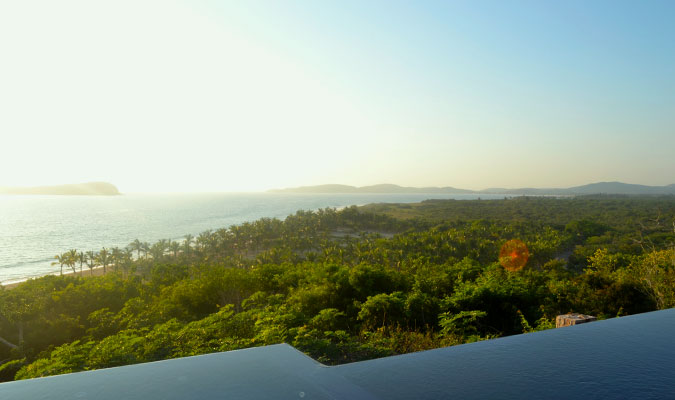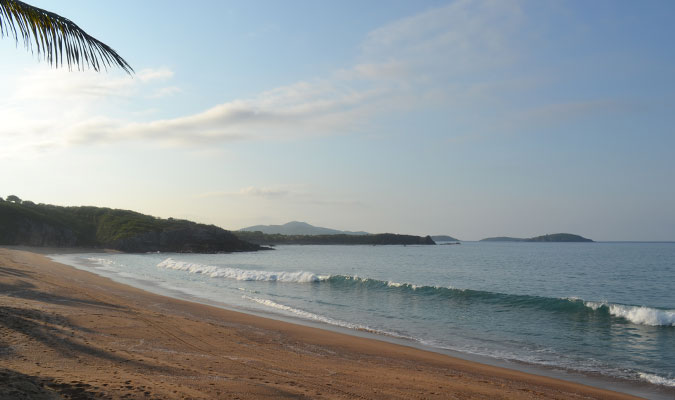 DESIGN DETAILS
We loved how the design and aesthetic at Las Rosadas give a real sense of place, with little reminders all around that you´re in a coastal, Mexican setting. For starters, let´s talk about the views; impossibly beautiful panoramas over the beaches, islands, and jungle of the surrounding coastline, with almost no other buildings in sight. You have to pinch yourself for extra proof that it´s real. These sumptuous vistas are not lost on the villas´ architects; sliding glass doors cover the lengths of the walls and large windows make sure you´re constantly connected to the heavenly scenes outside.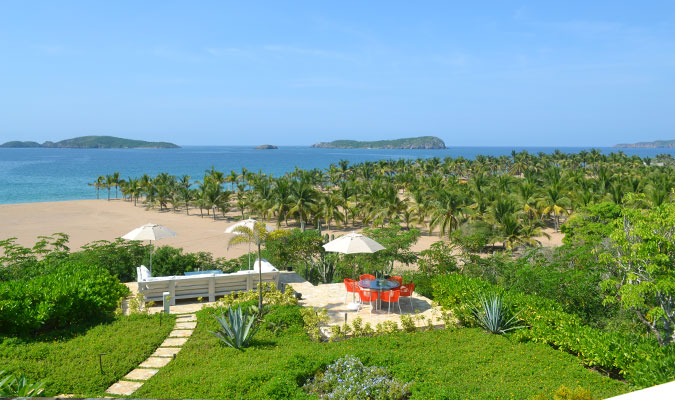 Interiors feature simple white walls, stone floors, and neutral colors, leaving space for the unique decorative pieces and artwork that add layers of texture and personality. There are tasteful details in all shapes and sizes that celebrate Mexican artisan tradition and local nature: Rodo Padilla´s curvaceous ´gordito´ sculptures, huge earthy vases, intricate hand-stitched textiles, Mexican cookbooks in the kitchen, colorful paintings of daily life, starfish napkin rings, and ancient-looking stone carvings. Private plunge pools are left in a natural tone to blend into nature´s palette, and trust us, you´ll soon melt into the landscape too.
Tip: Paloma Blanca has an art-forward design, featuring the owner´s contemporary Latin American art collection, while Casita Las Palmas showcases the wonderful curiosities of Mexican folk art.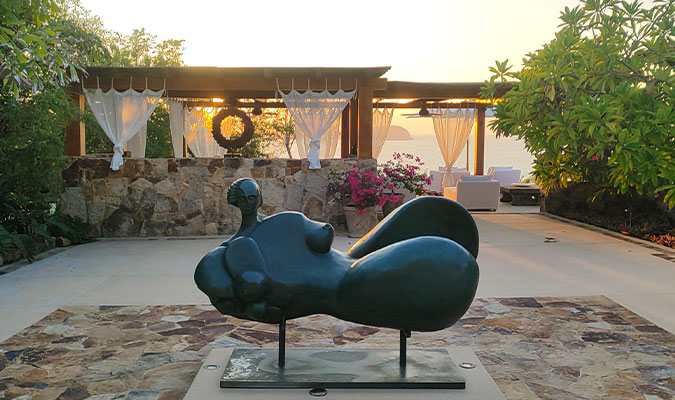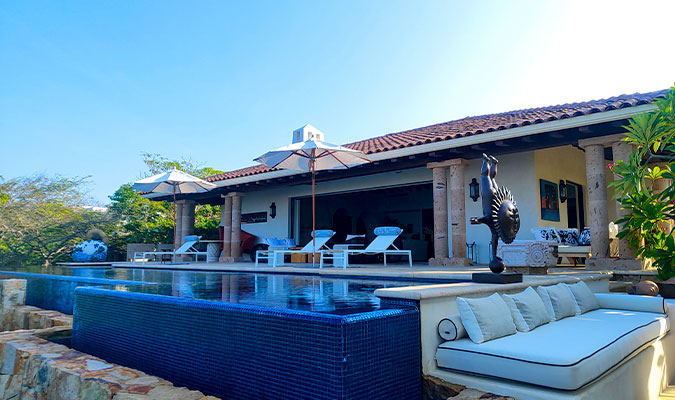 PRIVACY + COMFORT
Annel, Villas Specialist: "The privacy that Las Rosadas offers and the experience of being surrounded by pristine nature invites you to completely disconnect from your normal routine." 
We realized that part of Las Rosadas´ charm is how quickly we felt at home; we were soon on first name terms with the staff. Flavio´s expert margaritas and beautiful mezcal cocktails were a highlight, as well as our paella cooking session with Gloria, made with fresh lobster caught on the rocks at Playa Corazón. The grounds feel like a personal playground and the team perfectly treads that fine line of attentive service without stepping on your toes. Even the artworks start to feel like old familiars; the bronze fisherman at Playa Corazón by Gloria Elies and Francisco Quiroz´s cigar-slinging ´Fat Lady´ guarding the Tequila Cave. We felt welcomed with the authenticity and warmth that reflect the Mexican coastal community – genuine smiles, genuine connections.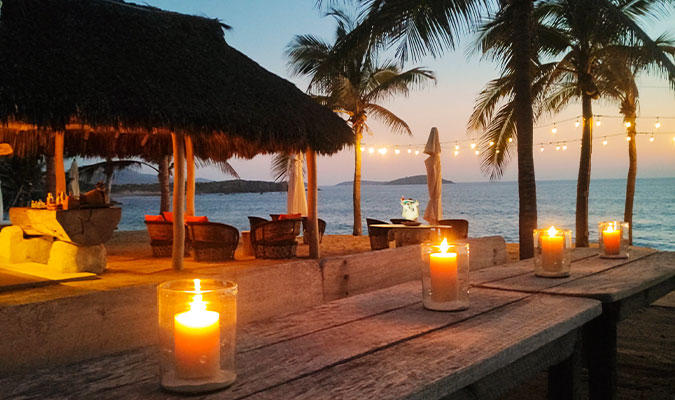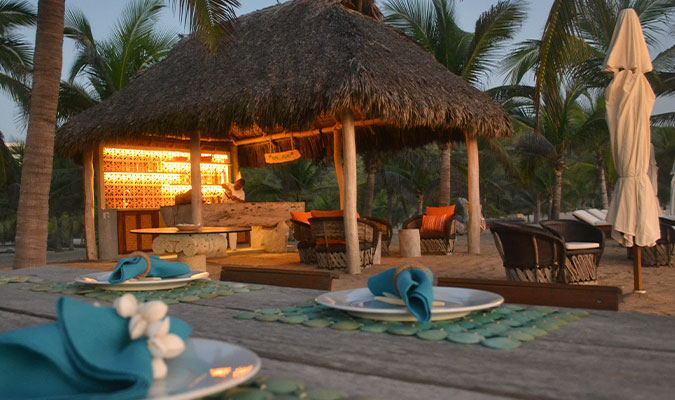 Comfort is a big part of the Las Rosadas experience, take your pick of cozy nooks for an afternoon siesta – hammocks, day beds, sun loungers, private terraces, sofas, oversized poufs… Villas come with generous ensuite bathrooms, almost all with a soaking tub, grand mirrors and double sinks, plus outdoor and walk-in rain showers.
Tip: sombreros and bug spray are on hand for guests in each villa.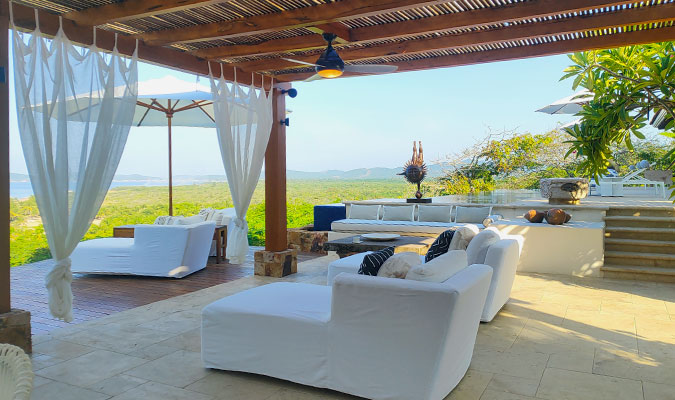 SUSTAINABILITY HIGHLIGHTS
It was great to hear about some of the responsible initiatives in place at the property. During the rainy season in summer, turtles surface onto Playa Las Rosadas to lay their eggs, typically hatching between November and February. When this natural wonder occurs, procedures are followed to ensure that the eggs are protected, and some lucky guests will be able to participate in releasing baby turtles if there are hatchlings during their stay.  
Single-use plastic bottles have been eliminated and replaced with refillable bottles for drinking water and bathroom amenities in guest rooms. The members of the hotel´s tight-knit team are locals from the area – that goes for the on-call surf and yoga instructors too – and María grew up on the same beaches she walks on today. Interior design proudly showcases the skill and beauty of Mexican artisan crafts, supporting the economy and traditions of the makers.
Tip: In Villa La Joya, a black and white photo frames two women walking; these are the same señoras that elaborated the woven baskets displayed below the photograph.  
START PLANNING YOUR DREAM TRIP
We only offer our guests what we know firsthand. Trips like these allow us to build meaningful relationships with our partners, ensure that properties are up to Journey Mexico´s incredibly high standards, smooth out logistics, and ultimately, be able to connect our discerning travelers with the right accommodation for their needs. A big thank you to Maria and the team at Las Rosadas for a wonderful, carefree experience in the Mexican Pacific, we´ll be back! 
ARE YOU READY TO START PLANNING YOUR TRIP TO LAS ROSADAS?
Get in touch with our villa specialist,  Annel and pick her brain about what accommodation would be best suited for your trip. You may want start by exploring our Pacific Coast trip ideas to get some inspiration on what type of activities you'd like for her to include in your personalized itinerary.  Also don't miss our  guide to Mexico´s stunning Pacific Coast to see what's nearby to check out! All Journey Mexico trips provide guests with a 24/7 in-country travel assistant.