Villas: Don´t Let Sargassum Catch You Off-Guard this Summer
During the last decade, Sargassum Seaweed has increasingly become an issue that affects Mexico's Caribbean Coast, impacting the experience of travelers, most notably in the Riviera Maya and Tulum. Many of the beaches south of Cancun towards Tulum (and throughout the Caribbean) experience an increased natural inflow of sargassum seaweed, especially over the summer months (June, July, and August) when the waters are warmer.
Historically, the beaches don´t tend to be as affected in the winter, however, predicting which beach the sargassum will impact and in what quantities is almost impossible, as conditions can change quickly and without warning. This year, the Sargassum cycle has started early and is expected to prevail from now throughout the summer and potentially beyond into the shoulder months of September through December.  The general consensus from experts is that this natural phenomenon poses no ecological threat or health concerns. That said, when Sargassum accumulates on the beach, the experience for guests can be quite different than expected, often limiting access to the beach and sea, as well as releasing an unpleasant odor as it biodegrades.
Due to this, beachfront villas in the key areas mentioned are likely to experience sargassum seaweed from as early as April through November and even into December, which can range from low to high quantities depending on tide, wind, and other factors. It´s important to be aware of this prior to booking so that you don´t have any unwelcome surprises. Should your villa be affected, the property´s team may make an effort to clean the beach manually within their capabilities, but depending on volume, meteorological conditions, and regulations (environmental protection), it's not always possible.
For those dreaming of a great summer villa vacation in the Mexican Caribbean, it is still possible! Some areas, including the north of Cancun and Isla Mujeres, are unlikely to affected by Sargassum and typically experience little to none of the seaweed per year. Take a look at our top villa picks below:
Punta Sam
The 3-level villa, Punta Sam, can be found to the north of Cancun, offering amazing unobstructed sea views. This oceanfront home sits in the eponymous gated residential community, presenting a striking modern design complete with a Jacuzzi and plunge pool in the living room. Relax in the villa´s outdoor palapa, or head up to the rooftop terrace for 360º ocean and jungle vistas.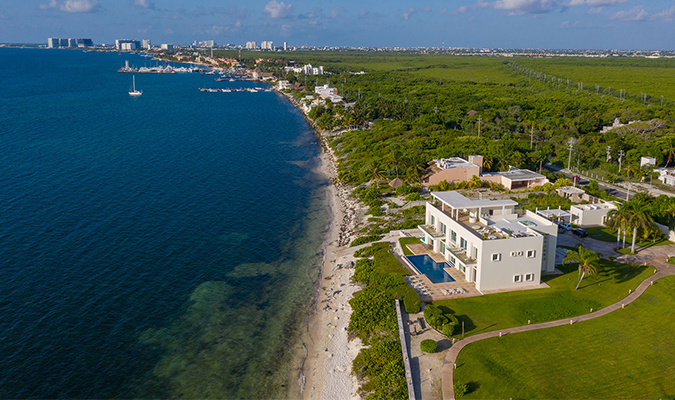 Villa Sha
Another luxury oceanfront rental to the northern reaches of Cancun, Villa Sha, boasts stunning vistas of the Caribbean Sea and artistic lounging spaces. The private home features quirky details and an uplifting color palette, finding a balance between contemporary and homely design. Unwind on double lounge beds that seem to float on the ocean view infinity pool.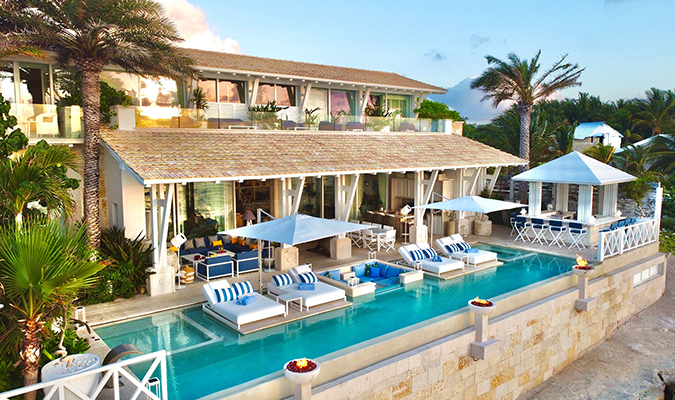 Casa Lola
On the beautiful shores of Isla Mujeres, Casa Lola awaits guests in a privileged beachfront location, just a 15-minute boat ride from Cancun. This gorgeous villa enjoys direct access to a private sandy beach and a swimming pool for lounging the afternoon away. The rooftop lounge is a perfect spot for looking out over ocean blue and green jungle palms.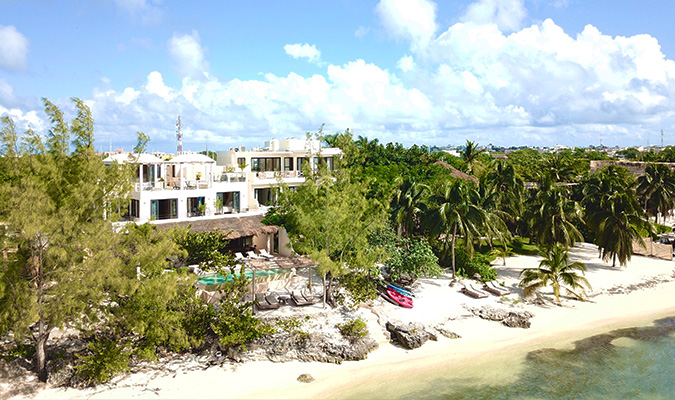 Villa Encantada
The serene Villa Encantada sits beside Casa Lola, welcoming guests into a lovely space with soft-peach walls and splashes of bright colors expressed through furnishings and decorative details. Folding patio doors open to an alfresco dining experience under a palapa, with the private swimming pool and beach access in front. Guests can move up to the rooftop in the evening to admire sunset colors.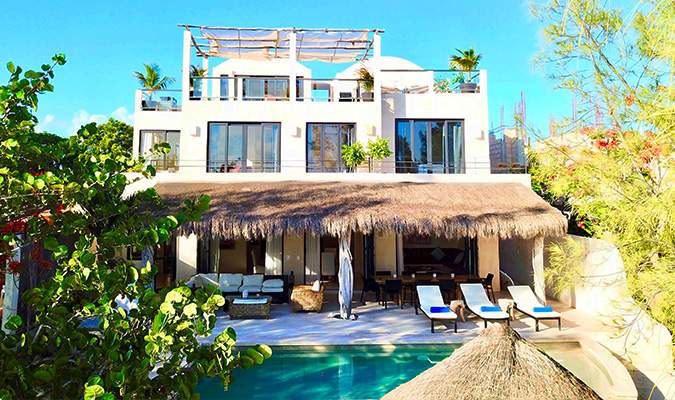 Lola Estate
Set on one of Isla Mujeres´ idyllic beaches, Lola Estate brings Casa Lola ad Vila Encantada together, a great choice for larger groups. The two properties each have their own style, sharing the same stretch of beach and a doorway leading from patio to patio – perfect for a heading to a BBQ at Villa Encantada!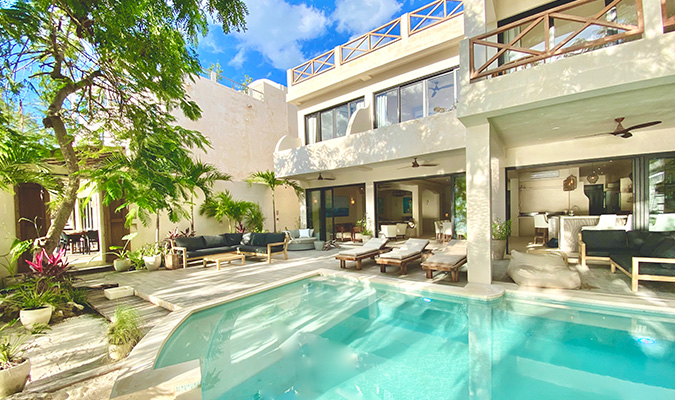 Casa Coco
Casa Coco´s island-chic interior takes inspiration from the place it calls home, Isla Mujeres. Ideal for large groups, the light toned backgrounds and flashes of vibrance run throughout the spacious villa, with its numerous lounging and dining areas, as well as cozy spots for a quiet moment.  The infinity pool tempts guests in for a swim, while the palapa-clad rooftop makes for an amazing yoga terrace.