Inside the Most Beautiful Villas of Palmilla Los Cabos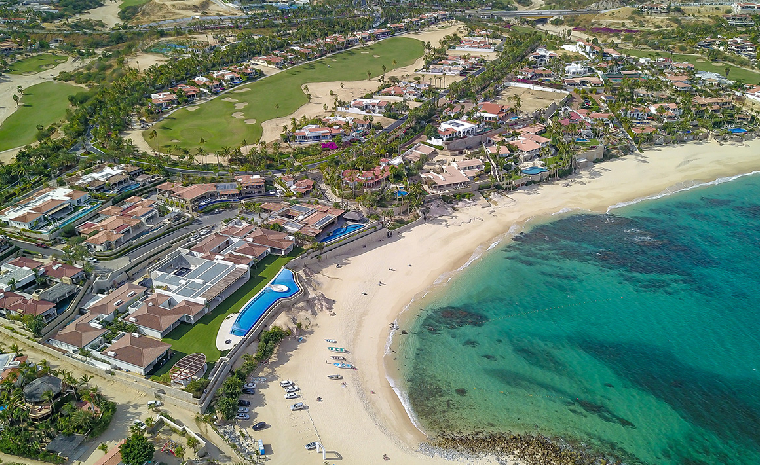 Los Cabos is a fabulous luxury destination with an array of ultra-luxury villas that host super private getaways for friends and family. We´ve been in and out of all 34 private homes in our curated collection up in the hills of Palmilla to tell you about our favorites – read on to see which ones stood out the most and why.
*All of the below villas also include access to select facilities at the neighboring One&Only Palmilla resort (reservations required).
Casa Bella Villa / 6 Bedroom
Aesthetic
Casa Bella Villa, also known as Cove 10, has a mix of the contemporary and the traditional. It feels homely with plush sofas and wooden furnishings while floor-to-ceiling glass sliding doors seamlessly blend the indoor and outdoor spaces, maximizing the expansive sea views!
Ideal For
This spacious luxury Los Cabos villa is perfect for those seeking a fun Mexico vacation with family or friends. There are countless corners to entertain and chill, from the outdoor patio´s crisp swimming pool, firepit and covered lounge with a fireplace, to the big open plan living and dining area inside. Kids will love the bedrooms, fitted with bunks and a teepee den.
Unique Features
The indoor lounge is super comfy with deep sofas ready to be sunk into after a day in the sun, plus there´s a dedicated games room with a skee ball machine! The guest room´s ensuite bathrooms feature outdoor showers and/or bathtubs beside big windows for a scenic soak.
Why We Love It
Casa Bella Villa has a great location within a great location! As it´s set right at the entrance of the gated development, you don´t have to wind your way through the whole neighborhood, plus it´s walking distance to Playa Palmilla public beach. The property´s indoor/outdoor layout offers more space than typical casitas and villas, so guests can enjoy their company and still grab a quiet moment. This is one of the few villas that grants guests access to Palmilla Dunes (subject to availability), reached by golf cart, and including semi-Olympic pool lanes, pool cabañas/bar/lounge, a children´s pool and playgrounds, tennis courts, a state-of-the-art gym and fitness center, a spa, movie theater, and sports bar.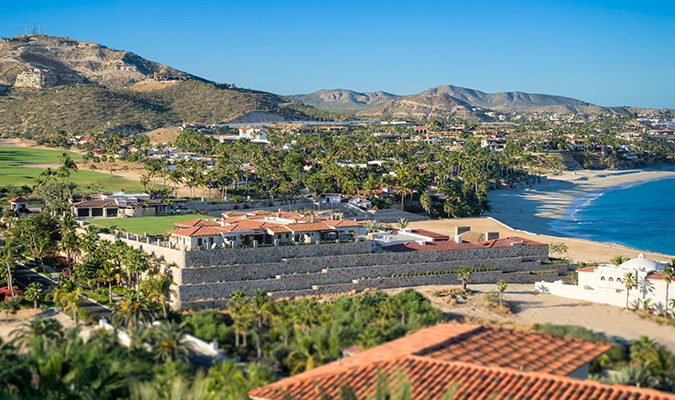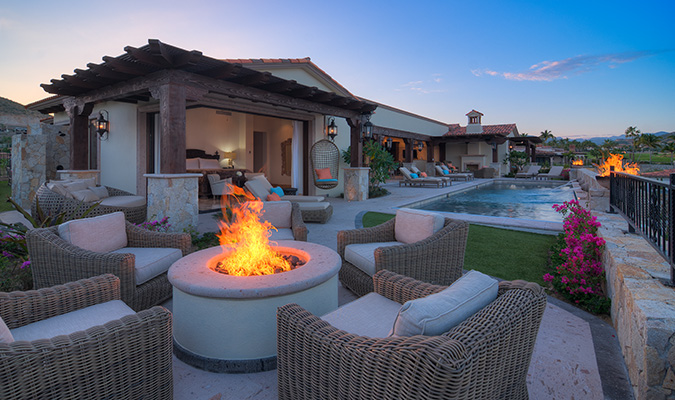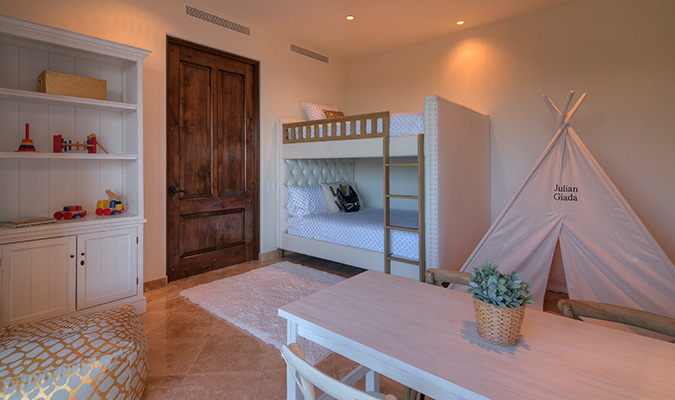 Villa Encanto / 6 Bedroom
Aesthetic
Villa Encanto (or Cove 5) blends Spanish colonial appointments and contemporary furnishings, infusing a touch of old-world magic into modern comforts. The stone arches and pillars lining the outdoor patio add a romantic flair, while interiors find a balance between regal and fresh.
Ideal For
With both space and grandeur, this luxurious 6-bedroom property is ideal for a special celebratory trip or a VIP vacation with loved ones.
Unique Features
Water cascades from stone arches into a 100-foot swimming pool that stretches the length of the villa, complete with a sunken jacuzzi in the middle. A mini putting green tucked behind the firepit area is a fun detail, as is the well-stocked indoor bar.
Why We Love It
Villa Encanto also has a desirable location at the start of the development and really easy beach access. We love how pretty this property is, with its stone features, grand design, and greenery.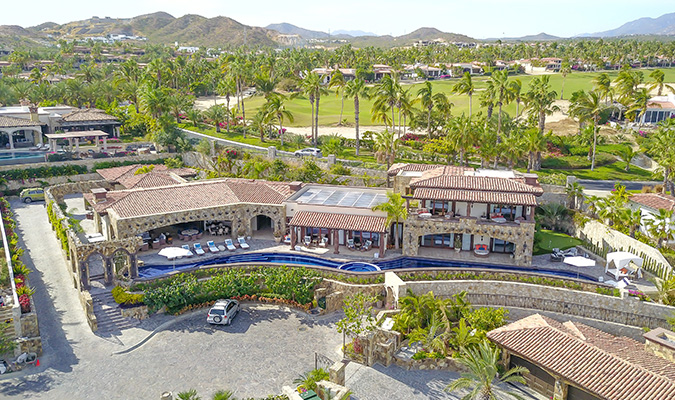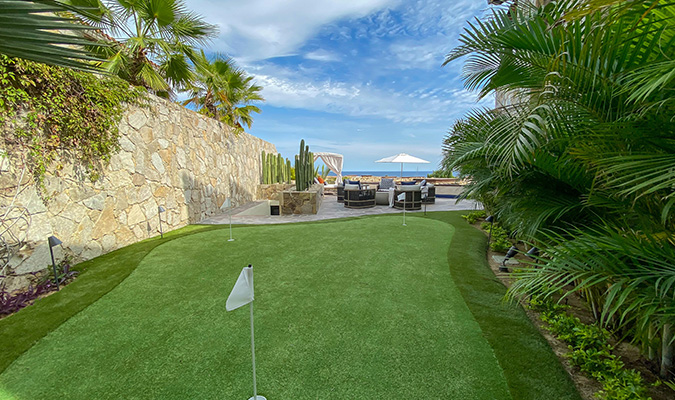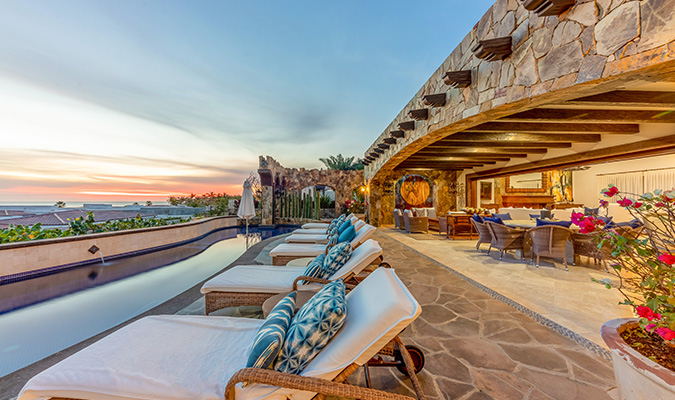 Villa 705 / 6 Bedroom
Aesthetic
Modern, spacious, and illuminated, the beautiful Villa 705 at Del Mar Palmilla nods to hacienda architecture while adorning its spaces with contemporary artistic décor. Large windows and sliding glass doors invite natural light to flood in and inspiring interior design is a feast for the eyes.
Ideal For
With spectacular ocean views at every turn, sprawling living space, and a light, contemporary design that is not easy to find in other Cabo homes, this villa is for those seeking the best of the best in Los Cabos.
Unique Features
The incredible patio area features an infinity ocean view pool with a sunken circular firepit and BBQ bar area to one side, and an al fresco covered lounge with a fireplace and flatscreen TV on the other.
Why We Love It
This is one of the development´s newer villas and it's absolutely stunning, not to mention illuminated with natural light. There´s loads of stylish, luxurious nooks and corners to hang out in; a leafy interior patio, three indoor/outdoor lounges, and an upstairs terrace with spectacular ocean views to name but a few.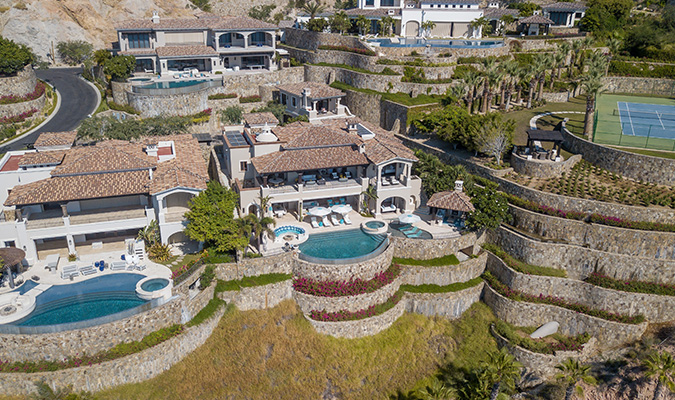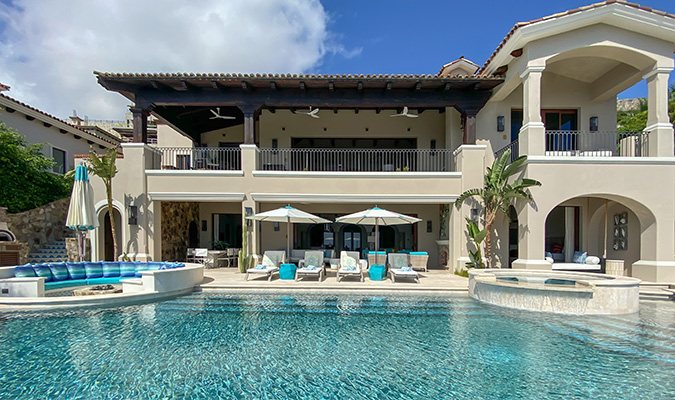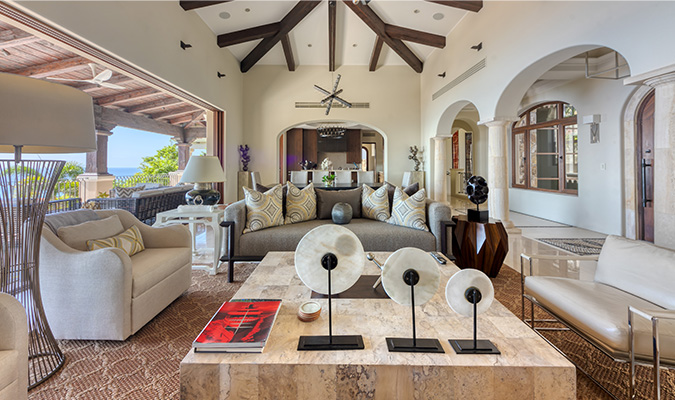 Casita 101 / 6 Bedroom
Aesthetic
At Espiritu Casita 101, Spanish colonial-style architecture meets a modern Los Cabos villa look, set against unreal ocean views. This home-away-from-home is bursting with character, boasting carved wooden furnishings, bold textiles and floor-to-ceiling glass sliding doors that invite guests to step out and admire the stunning natural beauty around them.
Ideal For
A great match for travelers who like their luxury villas on the quirky and colorful side. You can´t help feel cheery at this gorgeous property hidden away in the hills.
Unique Features
The outdoor space is a juxtaposition of leafy, garden green, comfy corners to unwind, and breathtaking ocean views. Both the indoor living room and gorgeous outdoor pavilion lounge have fireplaces (one with a suspended sofa swing!), plus there are firepits on the ground and upper levels. The media room has guests covered for cozy movie nights after a day in the sunshine.
Why We Love It
That infinity pool view! Swim up to the edge of the water and look out across the Sea of Cortez all the way to the horizon, you´ll feel like you´re floating above it. We love that this villa has tons of personality, as well as guest rooms with sea view balconies or direct patio access – you´re never far from a great vista. Espiritu Casita 101 is another one of the few villas that comes with access to the facilities at Palmilla Dunes.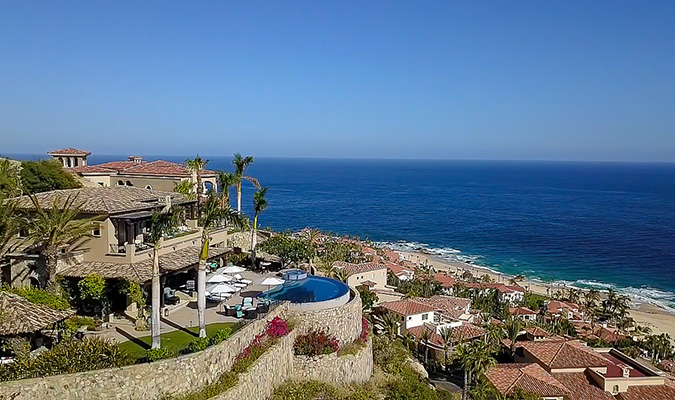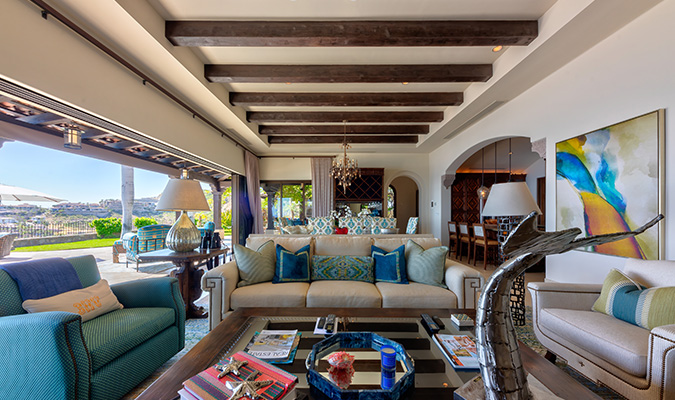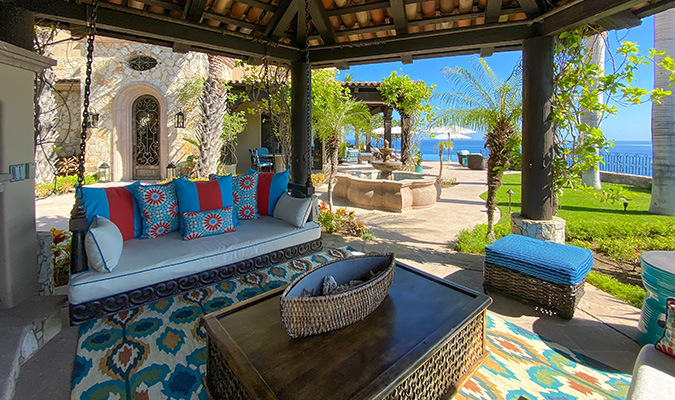 Villa 369 / 5 Bedroom
Aesthetic
This is tropical hideaway chic – think bright flowers on a leafy patio with a pool and sun loungers looking over pretty terracotta rooftops to the ocean. The design feels classic, featuring brick details, wooden ceiling beams, and stone pillars, with a twist of contemporary artwork.
Ideal For
Come to Villa 369 for a chilled-out holiday in privacy. You´ll have everything you need for a classic villa vacation, from the private swimming pool and jacuzzi, to a built-in BBQ grill and oversized cushioned armchairs by the cozy firepit corner.
Unique Features
You´ll find a well-stocked bar beside the property´s spacious living area and floor-to-ceiling windows that reveal expansive sea views. The kitchen´s half-moon breakfast bar is a charming touch for casual breakfasts, and we love the king bedroom´s ensuite bathtub looking out to the water through a large picture window.
Why We Love It
The positioning of the villa and flora-filled patio gives the sense of being hidden away while still enjoying those wonderful sea views. Villa 369 is another lucky property that has access to the facilities of Palmilla Dunes.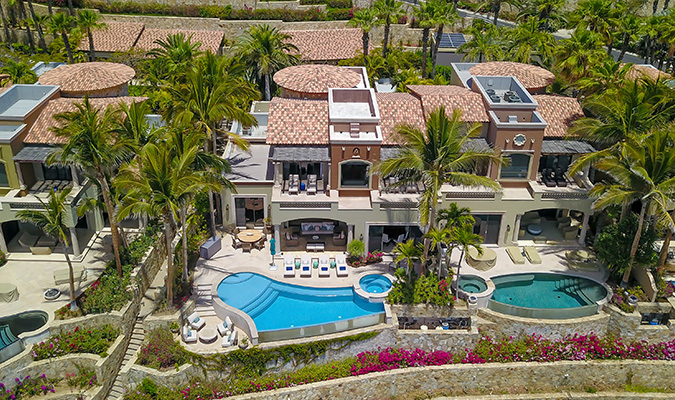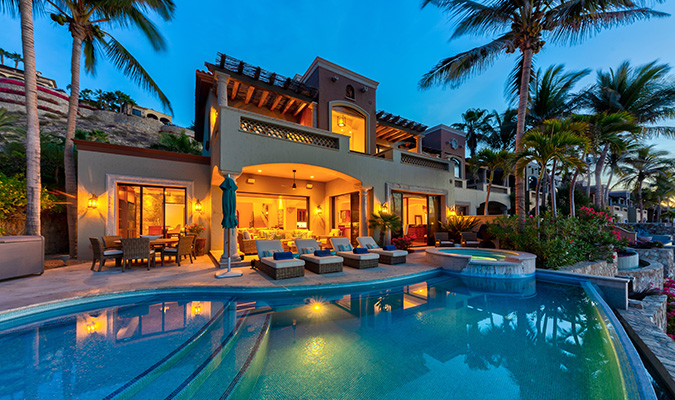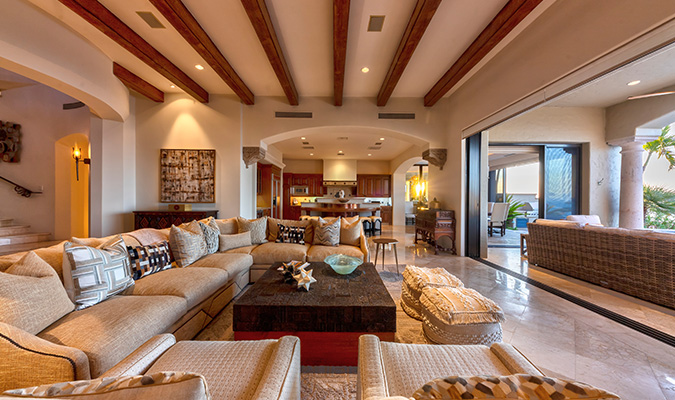 Let's Start Planning….
Are you ready to go luxury in Los Cabos? We have 34+ villas to choose from in the Del Mar Palmilla community ranging from 3-8 bedrooms so just give our villa experts a call to start finding the perfect property for your trip. Once you choose your ideal home,  our expert travel planners are on hand to  further design an itinerary that´ll show you the best of the area. In the meantime, get inspired with our sample itineraries in and around Los Cabos.