Want To Watch Whales From An Infinity Pool? You Can In These Villas
Imagine sitting by an infinity pool, cool margarita in hand, watching the sea sparkle in front of you. All of a sudden, a 10-meter-long humpback rises from the deep, leaping high in the air before crashing down, sending a vast cloud of water in all directions.
That might sound like the stuff of dreams, but Journey Mexico has a number of enchanting vacation villas from which you have a good chance of seeing magnificent sea life from the comfort of an infinity pool.
Check out these three villas which offer the chance to see Mexico's incredible ocean giants.
Villa La Roca
Where: Los Cabos
When: Whale season runs from mid-December to mid-April
Villa La Roca in sunny Los Cabos has got to be the ultimate villa rental for whale watchers. From its elevated position on top of Pedregal Hill, it boasts panoramic views of the Pacific Ocean. Binoculars have been scattered throughout the house so you're ready whenever an ocean giant might come to the surface from some air. During whale season, humpbacks and gray whales patrol the seas in front of this elegant six-level vacation home which also comes with an expansive terrace, infinity pool, and elevated Jacuzzi.
JM Tip: Come in February when the baby whales are at their most active

Casa Naiik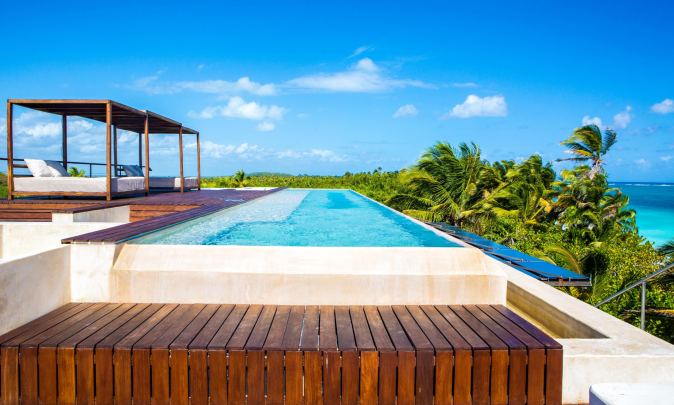 Where: Sian Ka'an Biosphere Reserve
When: Whale shark season runs from May to mid-September
Nestled within the huge Sian Ka'an Biosphere Reserve, Casa Naiik is an unbeatable spot for sea gazing. The four-bedroom masterpiece boasts unbroken views of the Caribbean Sea, which is home to some of the most-beloved ocean critters including dolphins and sea turtles. It's also the domain of the largest fish in the world, the whale shark. Okay, so they're not strictly whales, but these gentle giants reach around 19,000 kg as an adult (great white sharks weigh a measly 1,000 kg) and feed on plankton. As an added bonus for nature lovers, Casa Naiik is located a short walk from a bridge where resident crocodiles bask. Plus the nearby mangroves are home to manatees, curious aquatic mammals also known as sea cows.
Read more: 6 Things To Know This Whale Shark Season

Villa Azul Celeste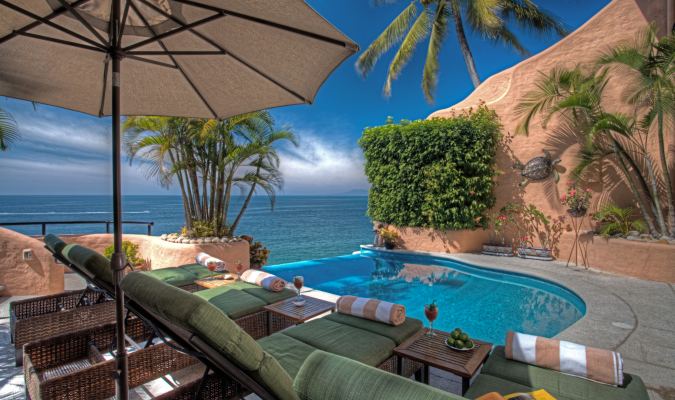 Where: Puerto Vallarta
When: Whale season runs from December to March
Villa Azul Celeste, a 6,000 sq ft palace sitting on the oceanfront in Puerto Vallarta, boasts sweeping views of the Banderas Bay, home to lively dolphins and giant whales. Its enchanting patio area comes with a heated infinity pool, the perfect spot to do whale watching. If you're up for the adventure, the villa even comes with two kayaks which means you can get onto the ocean with the whales, who come here every year to give birth and find a mate.

As expert Mexico trip advisors, Journey Mexico can help you to organize once-in-a-lifetime encounters with whales, whale sharks, and many more sea creatures. Contact us today by calling + 1 646 688 5650 or visit our How To Book A Villa page.