Top 6 Villas in Puerto Vallarta with Stunning Views
Puerto Vallarta, where watching the sun go down becomes a meditation on the vastness of the ocean, the grandeur of the mountains, and a sky swirling with mesmerizing colors. 
Nestled into the center of Banderas Bay looking straight out to the horizon, it´s true, Puerto Vallarta is blessed with some of Mexico´s best sunset views. Add in perpetual sunshine, gorgeous beaches, a laid-back lifestyle, and you´ve got a recipe for some serious relaxation.   
To really get intimate with those tropical panoramas, we´re here with a list of the top 6 villas in Puerto Vallarta with a view. 
1.Hacienda de los Santos
 Get up into the hills at this super romantic property, inspired by traditional haciendas with stone arches, pillars, balconies, and all the luxury trimmings. This is what our Director of Marketing, Jess, has to say about the villa: 
  "Hacienda de los Santos is perched so high up the mountain, you sometimes need a special vehicle to get there, so it´s pretty exclusive. Once you make it onto that beautiful patio, you have the best views of Puerto Vallarta I've ever seen – superior to any restaurant or high-rise hotel! You can see the whole bay, the mountains, downtown, all as if it were a beautiful painting. The sunset vistas here are absolutely breathtaking. Hacienda de los Santos is the prime spot for views, hands down."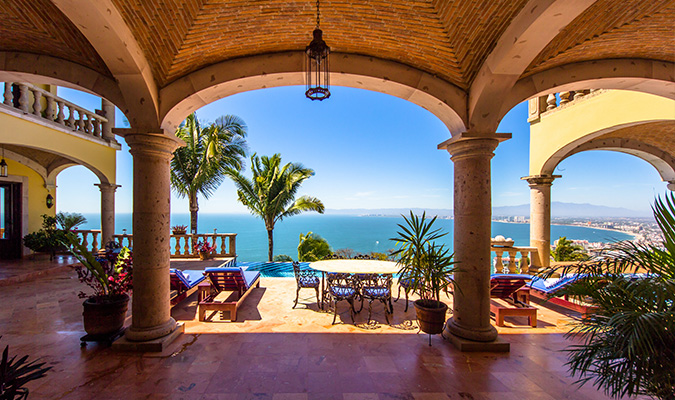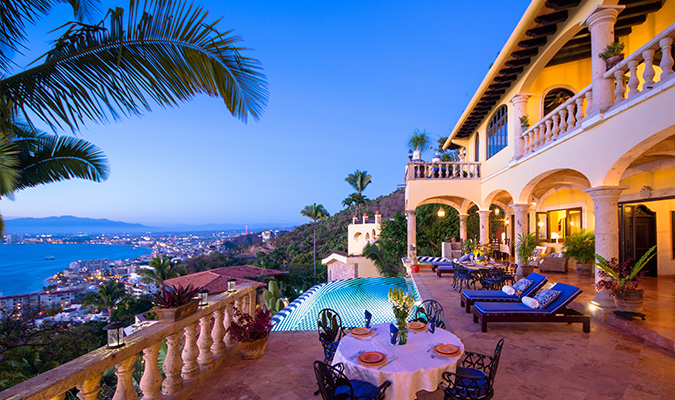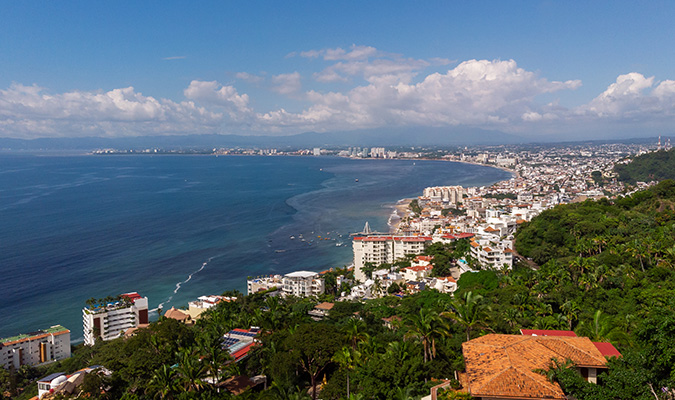 2. Villa Santa Cruz
Located on the hillsides of Puerto Vallarta´s southern shores, this contemporary villa was designed to make the most of incredible, swooning views over the bay. Large windows and wall-length sliding glass doors mean you can take in the lush natural surroundings from the generous living room, dining area, bedrooms, private balconies and even the kitchen. The crown jewel has to be the infinity pool terrace, with views that seem to just drop off into the ocean. Trust us, you´ll never get bored of gazing over the sparkling blue water at Villa Santa Cruz.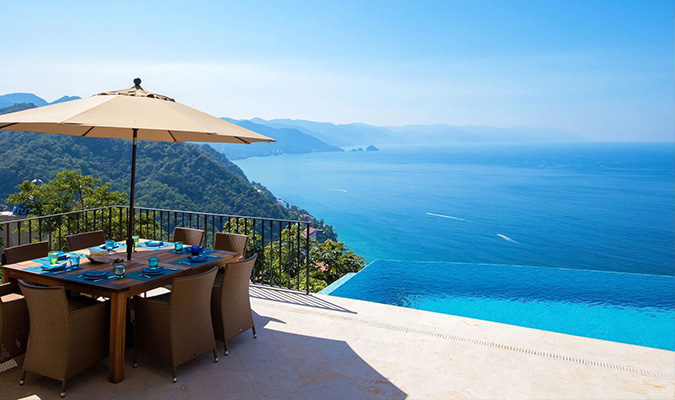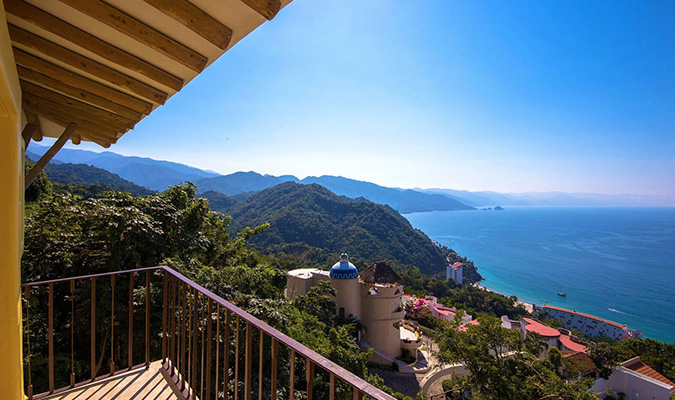 3. Luna Creciente
 Set just south of Puerto Vallarta near the fishing village of Mismaloya, Luna Creciente boasts unobstructed views over the Pacific Ocean and the rock formations of Los Arcos National Park. We´re talking prime sunset panoramas from the cliff-edge infinity pool, patio terrace, and just about every other room in the villa. Back to Jess for her impressions:  
"I remember the first time I visited Luna Creciente. It was the end of the day and I was a bit worn out from having inspected so many villas earlier. But I distinctly remember walking in and being welcomed by the most incredible views of the bay and endless sea – a real "wow" moment, the ones that hit you with emotion and make you feel alive. As I walked from room to room, my eyes were drawn to each window looking out to the sea – it was truly spectacular."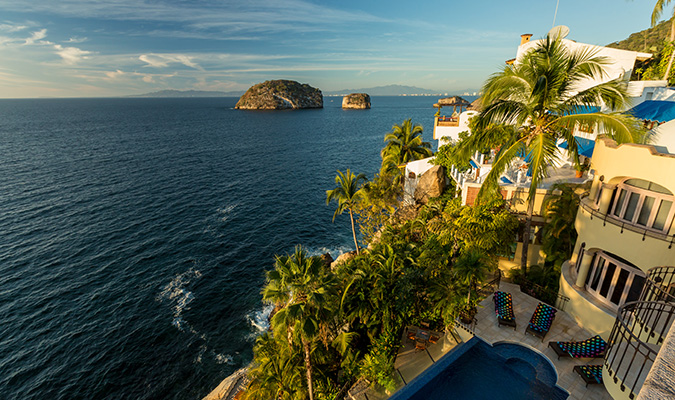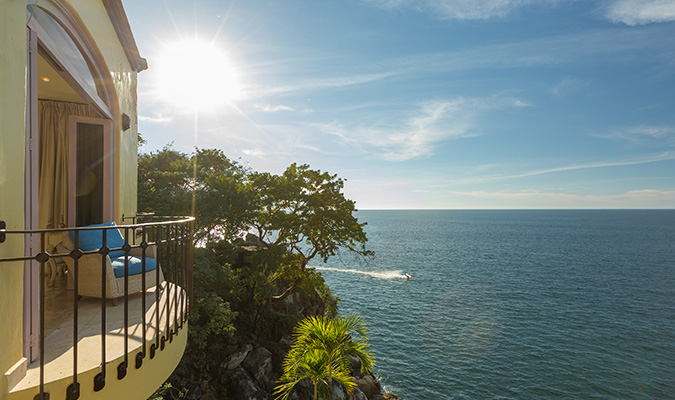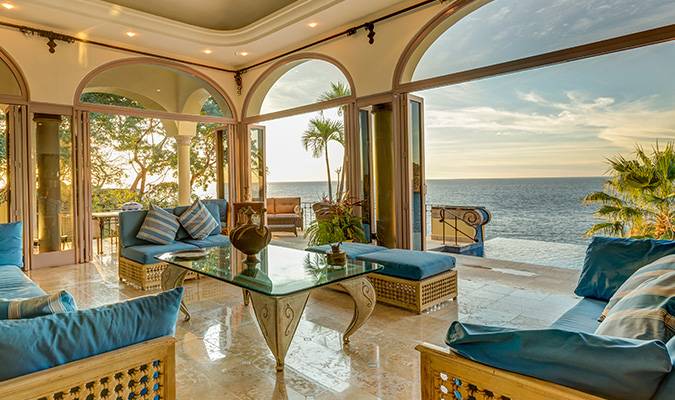 4. Villa Ventanas al Mar
 With a name like ´Windows to the Sea´, Ventanas del Mar sets the view expectations from the get-go, and doesn´t disappoint. The spacious interiors flow outside, and we can´t get enough of the amazing pool patio. The villa´s white façade contrasts with copper-colored papelillo trees and leafy plants. There´s a beautiful jacuzzi and lounger-lined freeform infinity swimming pool that flows over to a gorgeous, covered corner lounge, decorated to perfection with a chandelier and uniform wall alcoves filled with sculptures and ceramics. Why do we love it out here so much? It´s the sense of privacy and luxury together with those remarkable views over tropical treetops – you´ll feel like it´s just you and the Pacific Ocean.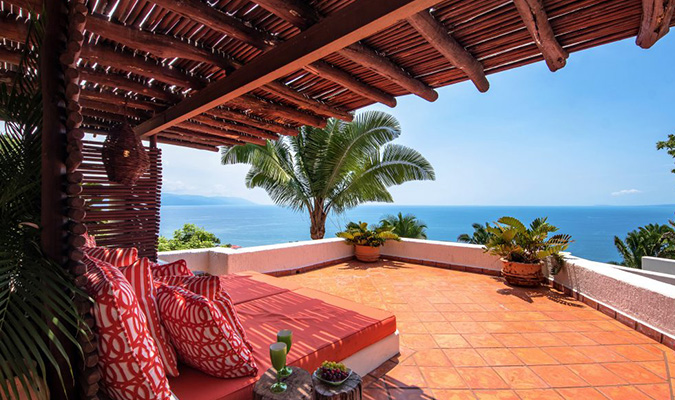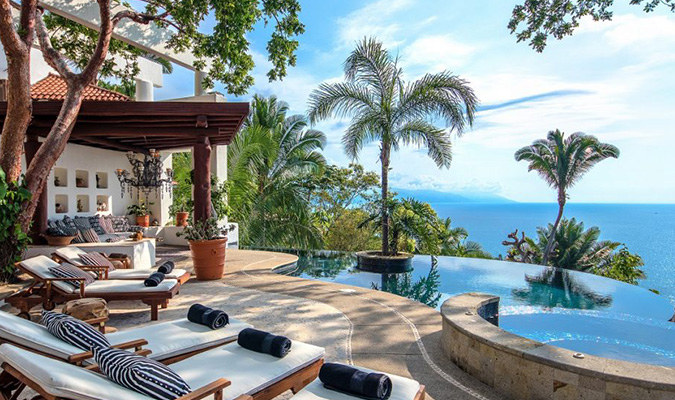 5. Casa Demae II
Casa Demae brings us down to the ocean front and the rhythmic sound of waves crashing onto the rocks. The modern property's pristine pristine pool patio makes it easy to feel like you´re floating on the water, all while enjoying the luxury of a swim up bar and jacuzzi, lined with sun-soaked loungers.  The villa´s largely glass façade keeps the magnificent views of the bay in focus from dusk till dawn – shoutout to the soaking tub with a picture window framing endless azure.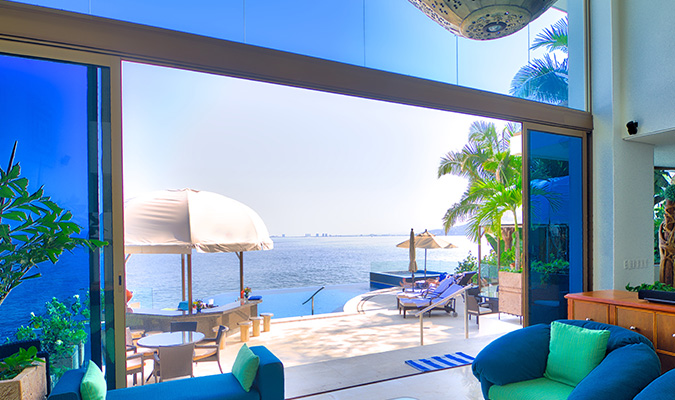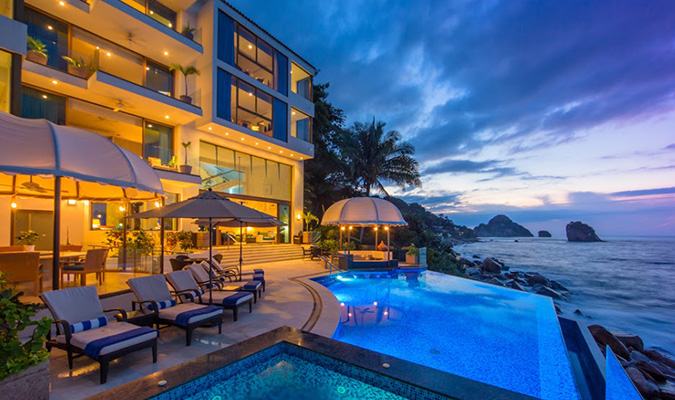 6. Casa Papelillos
Puerto Vallarta´s most modern villa also happens to be oceanfront, with impressive views to boot. You get the best of both worlds at Casa Papelillos: the elevated location lends itself to the extraordinary sunsets that the destination is known for, and you´re in a great location for accessibility. As part of El Paredon gated community, you´ll have access to a community pool (shared with very few houses) where you can walk onto the sandy beach and take a swim. It´s also easy to pop into town to enjoy an array of dining options, art galleries, shopping, and a wander down the oceanside promenade.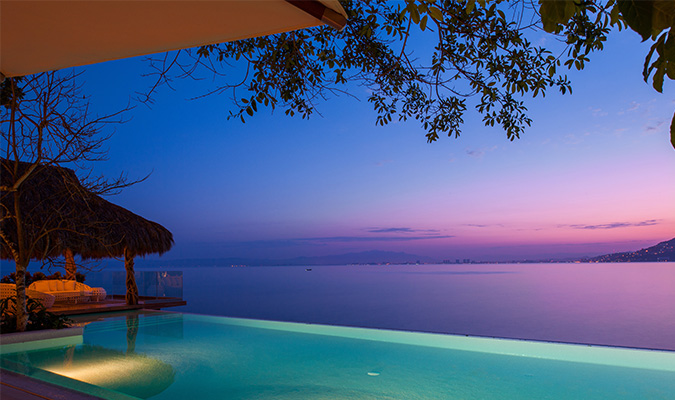 Ready to Enjoy Puerto Vallarta's Spellbinding Sunsets all to yourself?
Get in touch with our Mexico Villa Specialists to find your own perfect villa with a view – our travel planning team is primarily based in Puerto Vallarta so they will be able to match you with the perfect house!  Take a look at our tried and tested luxury villa portfolio and let us know how we can tailor-make a trip just for you.  When booking a luxury private villa with Journey Mexico we will oversee all trip details from start-to-finish, making sure we have the villa ready and stocked with your favorites, to introducing you to your local host, and arranging private experiences, transfers, restaurant reservations, and more!