Introducing an oasis of calm in wild Puerto Escondido, Oaxaca
Puerto Escondido is legendary within the extreme sports community. Its 20-foot-high barrel waves have turned this once sleepy Oaxacan port town into a world-class surf destination. In particular, Playa Zicatela attracts the planet's best riders who risk serious injury for the rush of conquering its monstrous, rolling seas.
Just 20 minutes south, however, and the all-action thrills and spills of Zicatela are forgotten. The dizzying tumbles of its waters replaced with the gentle sighs of a tranquil sea. The chattering of excited on-lookers with twittering birds and the gentle ripple of a soft wind. Here lies Samora.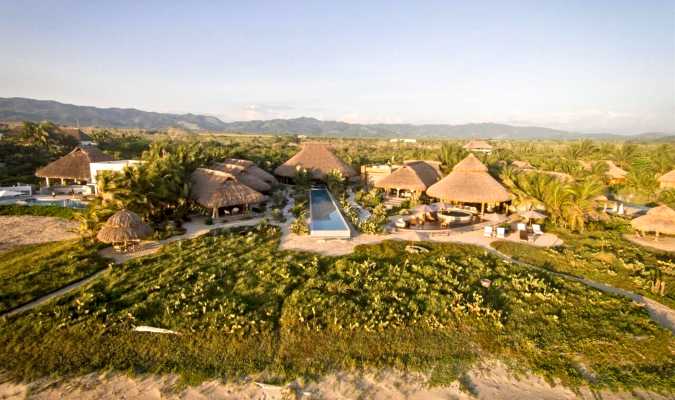 A luxury villa nestled in lush jungle, Samora (previously called Amalys) offers peace and tranquility to the world's most discerning travelers. Yes, there are plenty of adventures to be had, but its verdant landscape, soft beach sands, and mountainous backdrop are as good as any mindfulness session for restoring a sense of calm. The deserted waters of Playa Cumana, which sits at the edge of this villa in Puerto Escondido, are gentle enough to swim in, unlike Zicatela which is the sole reserve of expert surfers.
The elite enclave sleeps up to 18 people under private beachfront bungalows with gorgeous thatched roofs and enviable sea views. Their décor mixes traditional Mexican with Mediterranean influences using natural materials such as woods and stone. Calming, neutral tones are intersected by pops of Mexican color — a subtle reminder that a fast-paced life lies a short car drive away.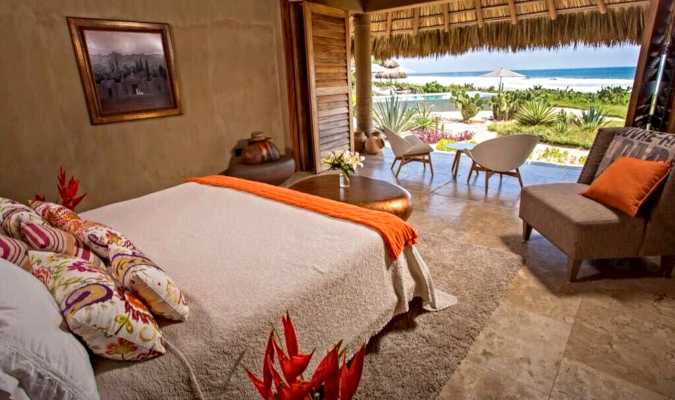 Each of the bungalows comes with a range of luxury amenities to make your stay wonderfully comfortable. Kitchenettes offer a spot to prepare the odd snack or two, while books, DVDs, and music provides a home-away-from-home feeling.
The villa's centerpiece is a towering palapa, which acts as a shared space for guests to mingle and relax. An enormous, semi-circular sofa sits in the middle, offering a great spot to unwind and take advantage of the gorgeous sea views. Tranquil evenings can be spent listening to the calls of the local wildlife or to gentle music played through the Bose sound system. A stunning 40-meter-long saltwater pool starts at the palapa's entrance, slicing through the property all the way to the beach.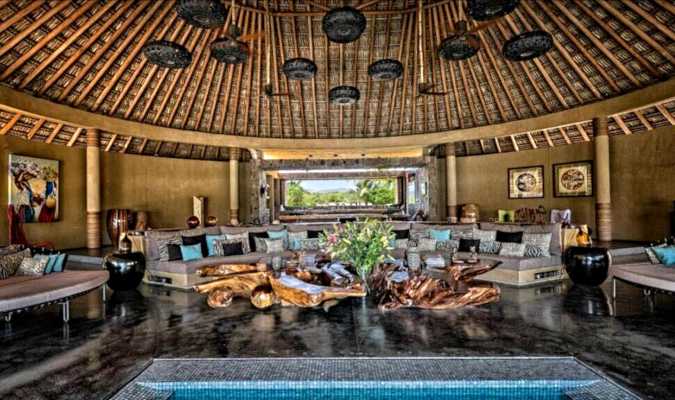 Guests also benefit from a private beach club with a bar and Jacuzzi, wireless internet, a large terrace with lounge chairs, and daily house cleaning. Staff including a chef, housekeeper, gardener, service staff, poolman, house manager, and night watchman also come as a standard.
Adventures from Samora are typically gentler than in the rest of Playa Escondido. While daredevils chase white horse waves in Zicatela, Samora guests take long beach horse rides, release turtles, or go birdwatching.
Read more: Hiking Oaxaca's Mountains To The Pacific Coast
Of course, there's still plenty of opportunities to go on a heart-pumping adventure. The local area offers sky diving, kayaking, and hiking. But while surfers risk life and limb to ride the waves of Playa Zicatela, it's good to know there's another option for those of us who prefer a quieter ride.
Whether you're a surf pro or prefer a quieter life, luxury villa Samora is an incredible place for a vacation in Oaxaca. Find out how to book by clicking the "more info" button below.