Tips and Advice for Renting a Villa in Mexico
For families and groups planning a luxury vacation in Mexico, villa rentals are often the best way to travel. Renting a private home or villa in Mexico can easily surpass many hotels in terms of the amount of space, privacy, and personal attention provided. Most commonly villas offer parallel services to that of an all-inclusive resort or a boutique hotel because they come fully staffed with maids, concierge, private chefs, and security.
ADVANTAGES OF RENTING A VILLA IN MEXICO
Let's start with the most obvious – privacy. You don't have to share the pool with other guests, you don't have to worry if strangers can see into your room, and you will not have a problem with any inconvenience disrupting your hard-earned vacation. The property is designed as an intimate place, exclusively all yours to enjoy without limitations; which brings us to the second most important factor of renting a villa: flexibility. Unlike hotels, if you have a strange craving at 2am or want to go for a swim at 5am, your villa won't have limited operational hours. Every inch of the house is yours to enjoy 24 hours a day, with concierge and butler  services working around the clock at your beckon call. Another advantage to renting a private home in Mexico is you are able to live like a local and at ease. Resorts can often be very cookie-cutter and automated; you're confined to the property, sometimes having to walk far distances back to your room from other facilities, and there are lines for everything (drinks, food, check-in!). Having your own villa means that everything is in close proximity to where you are sleeping, and there is no having to wait to be served! Many of the finer villas in Mexico have special charms about them, incorporating local materials and decorating with native touches to give it an authentic feel.
TIPS FOR RENTING A VILLA
The most important thing about renting a villa is setting expectations and knowing what you're getting into. Today, there are thousands of rental websites showcasing "home away from home" vacations that perhaps may look nice on paper but don't live up to the embellished text descriptions and photos. The most valuable tip for renting a villa is to work with a specialist who knows both the destination and the villas, personally. To take the guess-work out of who is in the know, try to find one of Condé Nast Traveler's hand-picked World's Top Villas Specialists. These villa specialists are authorities not only in villas, but the destination itself, with carefully chosen portfolios of only the best luxury properties the country has to offer. The added benefit of working closely with an advisor is that they often can arrange every aspect of your trip — not just accommodations. Insider details such as a French-speaking private tour of ancient ruins, a seat at the chef's table in an exclusive restaurant, or an off-hours entrance at a museum, can be made by a destination guru and most importantly of all, they are your one-call-away lifeline should anything go astray while traveling –something an online website cannot provide.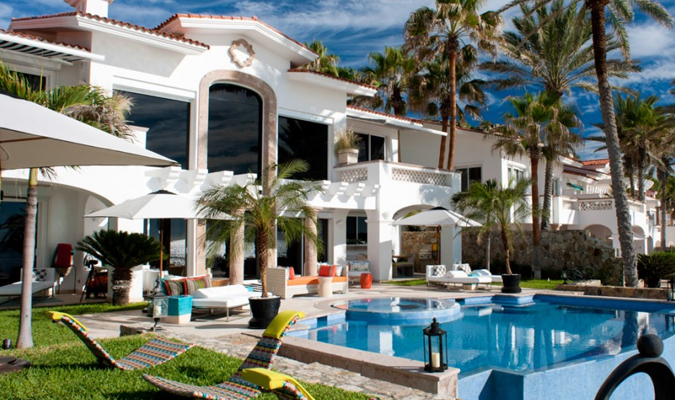 MEXICO LUXURY VACATION RENTALS
Coast to coast, Mexico exuberates a wide range of luxurious homes and beachfront villa rentals.  Tucked in the quiet colonial countryside, perched on rocky cliffs over the deep Pacific Ocean, or nestled on the azure blue Carribbean Sea, Mexico's villas are distinctive examples of its diverse history, geography, and culture. Villas and private residences in Punta Mita and Puerto Vallarta range from lavish beachfront properties right in town to tucked away mansions near celebrity homes; the villas in Riviera Maya and Cancun stand out for amazing views, tranquil oases, and designs by renowned architects; and in the interior of Mexico, colonial highlights shine in many San Miguel de Allende villa rentals.
OTHER USEFUL ADVICE
– If you are planning to travel during the holidays, book early. Waiting until last minute can be risky because most renters often secure their villas for the holidays by late summer  and will decide to use the villas themselves if they don't get a booking.
– Clearly define your villa criteria including approximate budget, number of rooms, and a list of a few uncompromisable must-haves (such a beach front or panoramic views).
– Don't let the price daunt you — take the time to do the math. For a small family, renting a villa is usually comparable to hotel or resort costs.
STILL NOT CONVINCED?
That's okay, we understand there is piece of mind in staying with familiar brands. Thankfully, many resorts in Mexico are starting to offer  private villas that are on the property but pushed away from the crowds.  Rosewood San Miguel Allende offers several private residences, One&Only Palmilla features Villa One & Villa Cortez, Hotel Esencia in the Riviera Maya now has three villas to choose from,  Las Ventanas also debuted private villas not too  long ago,  the Rosewood Mayakoba has a Presidental Suite that is pretty much on its own island and Four Seasons Punta Mita has private villas frequently visited by the stars.