A Taste of the Spectacular at Palmasola, Punta Mita's Foodie Villa
Palmasola, a boho-chic luxury villa in Mexico's secluded Punta Mita, is not a place one leaves easily. Its endless amenities – a 200-foot infinity pool, media room, fitness center, private massage room, and business center for example – keep guests entertained for days. While a highly trained, 15-person staff makes daily living a dream.
Making exploration outside Palmasola's 25,000-square-feet even more difficult is its extensive and innovative culinary options. Guests are treated to luxury resort- and gourmet restaurant-quality dining throughout their stay, without ever having to venture off their vacation home.
Meet the Palmasola's chef
The creative mind behind Palmasola's culinary offerings is chef Edher Cervantes, a forward-thinking creative with respect for Mexico's rich culinary heritage and a praise-worthy beard. Chef Cervantes has worked under some greats; he was a student of Pujol's Enrique Olvera in Condesa DF and Olivier Lombard at L'Olivier.
From those two, and his mentor Chef Patrick Robertson, Chef Cervantes developed an exhilarating style that mixes modern Mexican cuisine with classical French techniques. The results: sensational. Perhaps most important for those coming to Mexico, though, is his use of endemic ingredients. Why travel to the foodie haven of Mexico, only to find the ingredients have flown further than you?
Chef Cervantes also works closely with General Manager, Mike O'Hara (seasoned luxury hotelier in his own rights) to discover what guests will enjoy and to see if they have any dietary requirements. The result is a menu designed for the guests' personal tastes – bespoke dining on the beautiful Pacific Coast of Mexico.
Look through some of the sample menus below, but remember that Chef Cervantes is always on-hand to create customized offerings.
Palmasola Sample Dinner Menus
Mexican Pacific Coast
Shrimp broth with coconut and plantain
Cucumber salad with citrus, oregano, jicama, guacamole tempura & watercress
Colima style pork, frijol purée, pickled carrot & fresh herbs
Zarandeado Red Snapper mixed chilies, tortilla & cilantro relish & cauliflower puree
Cornbread, jericalla pudding, plantains in raicilla and fennel flowers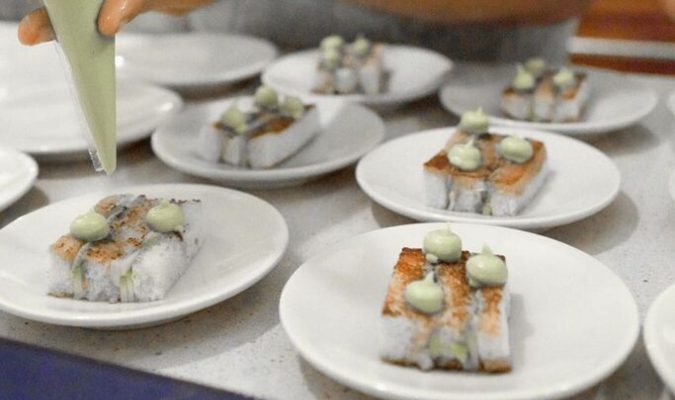 Southern Mexico
Smoked crab & lime soup
Roast zucchini salad with pumpkin seed puree, charal fish aioli, tomato, squash blossom,
red onion and wild greens
Bush turkey in Oaxacan mole, plantain purée, sautéed purslane & radish
Tuna in black recado sauce, onion purée, citrus cucumber, green tomatoes & amaranth leaves
Mexican chocolate tartlet, coffee ice cream, guava & mint
Traditional Mexican
Xochitl broth with organic vegetables
Black frijol salad with avocado, pickled cactus, tomato, red onion & wild green leaves
BBQ leg of lamb, corn purée, roast cabbage & cauliflower
Sea Bass in huitlacoche sauce, toasted corn, grilled zucchini & fresh herbs
Pine nut tamale with sheep's milk ice cream & guava conserve
Palmasola´s dining options
Before guests have even chosen what they might want to eat, however, they've got the difficult choice of where they want to eat. "Difficult" in the same sense as having to choose between spending the day relaxing by Palamasola's beautiful pool or on the soft sands of its private beach. Perhaps not difficult, but certainly not easy.
The reason is that Palmasola offers a smorgasbord of dining venues. For example, guests may choose between three different palapas: The Palapita, The Dining Palapa, or the Main Palapa. As its name suggests, The Palapita might be better for smaller dinners while The Dining Palapa may be more suited to family get-togethers. But really the choice is with the guests.
The area known as El Mangle offers beach-side dining, perfect for a romantic meal, while Las Estrellas, on the roof-top, is perfect for a dinner that's going to stretch well into the night. Of course, the helpful staff can also be inventive and create plenty of other dining options at guests´ requests.
In other words, Palmasola has a new restaurant opening every night, and its guests are the only ones with reservations.
The cherry on the cake…
A stay at Punta Mita's Palmasola comes with many benefits, but book it with Villas by Journey Mexico, and your stay will be even sweeter. That's because we've secured a free luxury catamaran tour worth $2,000 for those who book through us.
To find out more, click the MORE INFO button below and then check out the "SPECIAL OFFER" tab.