5 of the Best Luxury Villas in Punta Mita for Your Next Vacation
Nestled on a private 1,500-acre peninsula jutting into the Pacific Ocean, Punta Mita has become known as the vacation destination of choice for a wealth of A-list stars.
But you don't need a Superbowl ring or top ten album to vacation like a celebrity. Instead, we've picked five luxury villas in Punta Mita that we consider to be among the very best based on their amenities, level of service, and star qualities. So here they are…
Most luxurious villas in Punta Mita
Palmasola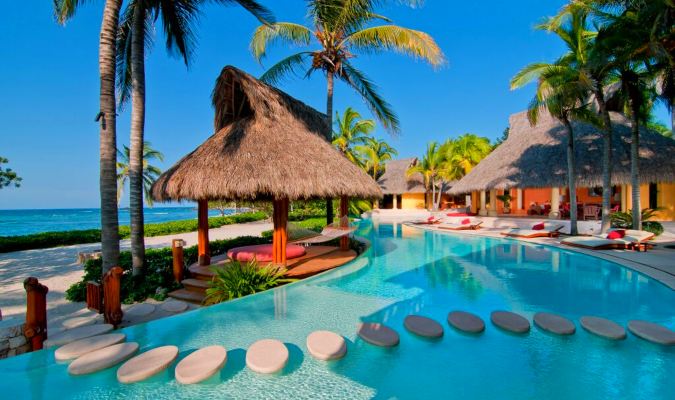 Sleeps 18 | 9 Bedrooms
More akin to a private resort than a villa, the nine-bedroom Palmasola has pretty much everything you could ever desire from a Mexican getaway. On its expansive 25,000-square-feet, you will find tropical gardens, a media room, fitness center, and, even, a private massage room.
A highly professional 15-person staff team ensures guests never need to lift a finger. Chef Edher Cervantes and his team craft truly spectacular menus using local and native ingredients. Choosing where to eat might be a tough choice though. The villa's own white sand beach seems an obvious choice, while the rooftop dining area is equally impressive. The gardens also have their own eating spaces while the palapita (little palapa) offers gorgeous ocean views.
Outside the villa, guests receive full access to the nearby Four Seasons Resort, one of the most luxurious residences on the Pacific Coast. Use of its state-of-the-art fitness facilities, ten tennis courts, and numerous gourmet restaurants make for action-packed days.
Casa Tres Soles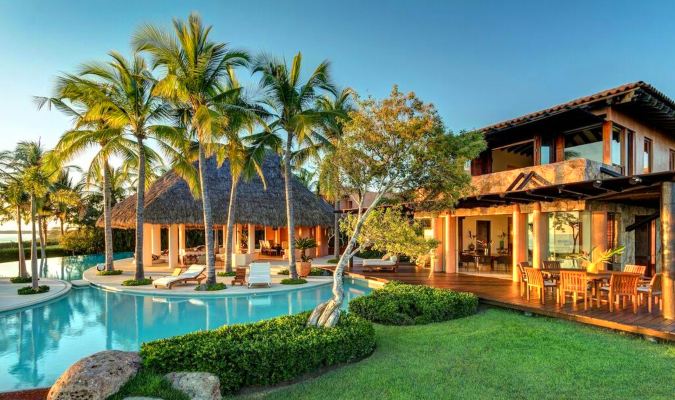 Sleeps 20 | 9 Bedrooms
Perched on a secluded plateau overlooking the Pacific Ocean, Casa Tres Soles offers extraordinary privacy to its discerning guests — just the sea waves and chattering of birds to break the silence.
With 38,000 square feet of space and enough room for up to 20 guests, Casa Tres Soles is ideal for a perfect family getaway. The property includes a crescent moon-shaped infinity pool and easy access to a secluded beach, of which young and old will love to take advantage.
To make the vacation wonderfully luxurious, a full team of staff is on-hand to care for everyone's needs. The kitchen team includes a chef, sous chef, and kitchen stewards, while four waiters and a bartender bring restaurant-quality service to the private villa. Access to a Jack Nicklaus golf course, local beach clubs, and the facilities at the St. Regis and Four Seasons hotels lifts the experience to stratospheric levels.
Casa Tau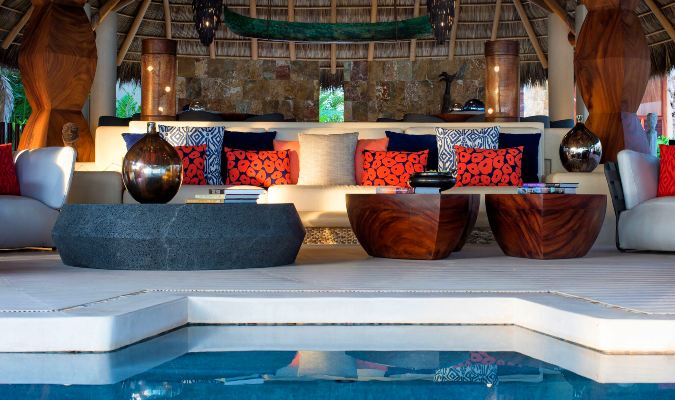 Sleeps 27 | 12 Bedrooms
Nestled within the Punta Mita jungle, just meters from a private, yellow-sand beach, Casa Tau offers an alluring mix of bare-foot living and high-end luxury. Taking center stage is a towering palapa structure where guests can come together day and night for cocktails and a cool place to shelter from the sun.
Days can be spent splashing around in the infinity pool while evenings are best enjoyed in the bubbling Jacuzzi. The sprawling estate has enough room for up to 27 people, all of whom will love the A-star service offered by the highly trained staff. Parents will be pleased to hear the beach offers kid-friendly waves.
Casa Tesoro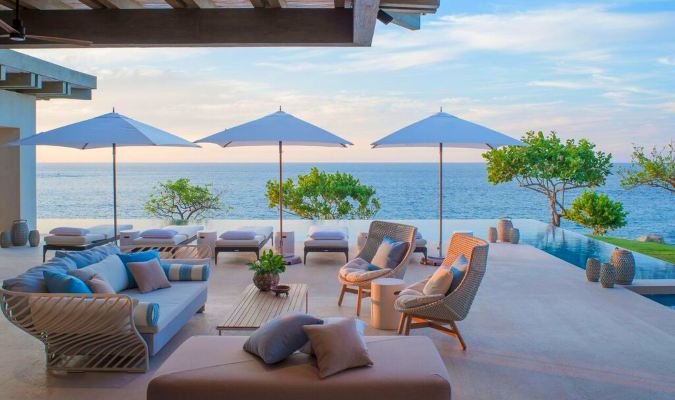 Sleeps 18 | 7 Bedrooms
A new property to the Villas by Journey Mexico portfolio, Casa Tesoro is ideal for a younger group coming with its own games room, theater, and private nightclub. However, that's not to say everyone else won't love it. Who could fail to be charmed by its easy access to a secluded beach, its hotel-like service, and seven beautifully inviting bedrooms?
The elegant, modern décor is understated yet impactful, bringing an undeniable calm to the property. Lazy days are the way forward in Casa Tesoro, enjoying the gorgeous food prepared by chef Jose Manuel and cooling off in the stretching swimming pool.
Casa Koko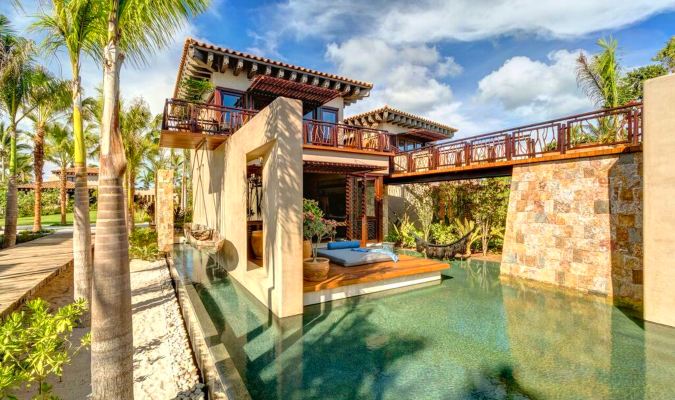 Sleeps 26 | 9 Bedrooms
With stunning golf course and ocean views, Casa Koko can truly claim to have some of the best vistas in Punta Mita. The emphasis on local design, think towering palapas and natural materials, captures the very essence of Punta Mita — laidback cool with an ultra-luxurious twist.
On the property, guests spend their days relaxing on hammocks, cooling off in the 95-foot infinity pool, or enjoying cuisine from the talented in-house kitchen team. For the more adventure minded, the property comes with its own kayaks, which turns the nearby Pacific Ocean into your own personal playground.
A stay at Casa Koko also comes with Premier Membership to the exclusive Punta Mita Community, which provides access to world-class golf courses, tennis courts, beach clubs, and gourmet restaurants.
Book your stay in Punta Mita
Speak to Villa by Journey Mexico today and let us organize a once-in-a-lifetime vacation to Punta Mita — one of the world's great luxury destinations.