Inside Punta Mita´s Casa Majani
This breathtaking beach villa in Punta Mita was born from the minds of local architects Manolo Mestre and Juan Collignon. The peaceful home oozes luxury and an artistic vision that blends space, beauty, and nature into a timeless design.
The outstanding property is located on Punta Mita´s spear-shaped peninsula, a paradise where the beautiful beaches of Banderas Bay, the Pacific Ocean, and tropical flora meet high-end amenities, opulent resorts, and coveted real estate. A fusion of the luxe lifestyle and stunning natural surroundings, visitors to Punta Mita can enjoy exclusive beach clubs, surfing, seasonal whale watching, the iconic Marieta Islands, and a Jack Nicklaus golf course.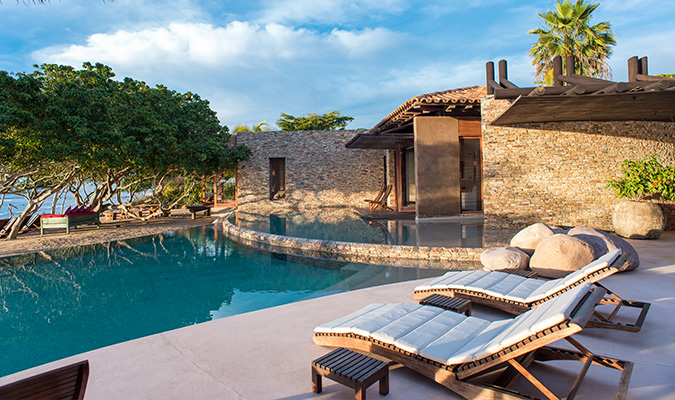 Inside Casa Majani a sense of serenity takes over, inviting you to relax in a private haven that gazes out to the horizon over blue waves. It´s a perfect place for some pampering, as did our recent guest Kristine Martinez:
The yoga instructor arranged by the villa was excellent as were the 4 masseuses that treated the ladies to massages….
A network of pathways meander through reflection pools, connecting 6 sophisticated suites, the central grand palapa, a tranquil yoga shala, and stylish media room. The visual effect of the pools sweeps into the Pacific Ocean beyond, creating a unique setting for afternoons lounging on sunbeds, and mesmerizing sunsets in the evenings, as one of Journey Mexico´s guests reflects:
The ambiance they set was perfect – serene and meditative, balanced with the rocky beach head and the beautiful scenery, gorgeous sunsets, the sound of the waves as we slept at night and the lovely palapa that we lived in day and night.
Natural materials work in harmony to create a pristine environment that´s simultaneously grounding; smooth floors and walls, expanses of textural open brick, wooden beams and decking, large glass doors and the dramatic dried palm palapa. A surfboard bar and firepit in the sand add personality and a cozy touch.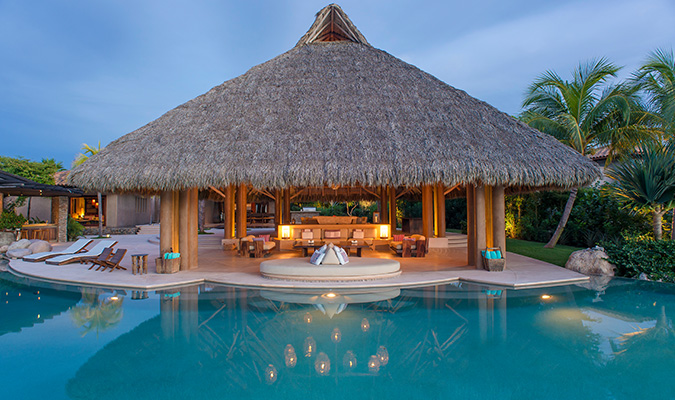 A huge part of the Casa Majani´s experience comes from its amazing and attentive staff; the chefs, concierge, housekeeping, laundress, and on-call manager. Don´t just take it from us, our guests fell in love with both the villa and its exceptional service:
Still trying to get back into reality. Casa Majani was amazing. The service was second to none. We, along with our guests had a wonderful time. The staff were friendly and very attentive. They decorated for our Mariachi night and for our last night without a request from us.
Kristine Martinez
For many, an important aspect of a vacation is the culinary experience, and Casa Majani does not disappoint!
The food was delicious.  The drinks were outstanding.  The sunsets were beautiful! I give it 5+ stars and I am sure we will be back.  Perfection at every turn!!
Kristine Martinez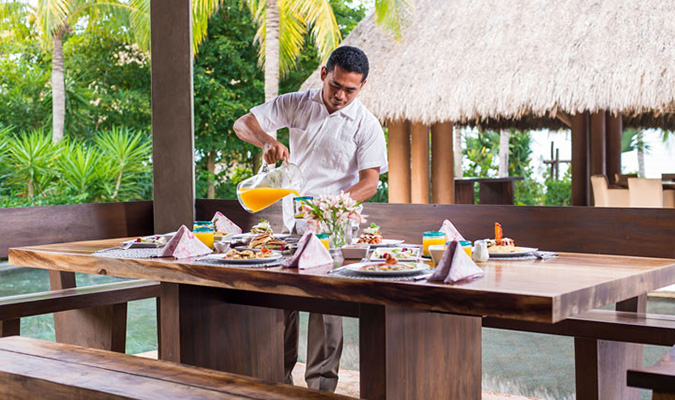 The food was absolutely delicious! Every meal, thoughtfully chosen, beautifully presented, abundant, and served more professionally than any restaurant in NYC! Fernando is a prince and worked his magic around a variety of diet preferences, never showing anything but a calm, cool, and collected demeanor. That is a true gift and a genuine talent! And Griselle created an abundance of beautiful morning dishes that we couldn't wait to wake up for!
Journey Mexico traveler
Experience the magic of Casa Majani for yourself with the help of our villa experts. Remember, we told you first you may never want to leave!