An Inside Look at Chablé: A Culinary Paradise in the Jungle
Chablé Resort & Spa is a sanctuary of relaxation located deep in the jungle outside the city of Mérida. The resort, created by Paulina Morán and Jorge Borja, has garnered the world's attention for its design and concept; in 2017 it received the Prix Versailles, a prestigious world architecture award. Built on the grounds of a restored 19th century henequen-growing hacienda with its own private cenote, Chablé boasts two stunning villas: the Royal Villa and Chablé Presidential.
Just as important, Chablé is also a food lover's haven—let us take a closer look at the renowned culinary offers of its three restaurants: Ixi'im, Ki'ol and Spa Restaurant.
SPA RESTAURANT
The menu at Chablé's Spa Restaurant was designed with the same holistic approach as the resort's wellness and spa programs. As such, it's got a strong focus on nutrition. Offers include almond milk and soy options, yeast-free breads and raw honey instead of sugar. There is also a variety of fresh fruits and vegetables for a comprehensive juice menu.
Sample menu:
Amaranth and seeds toast, with microgreens from the Chablé's Maya Gardens.
Artichoke tartlet, with fig and balsamic vinegar chutney.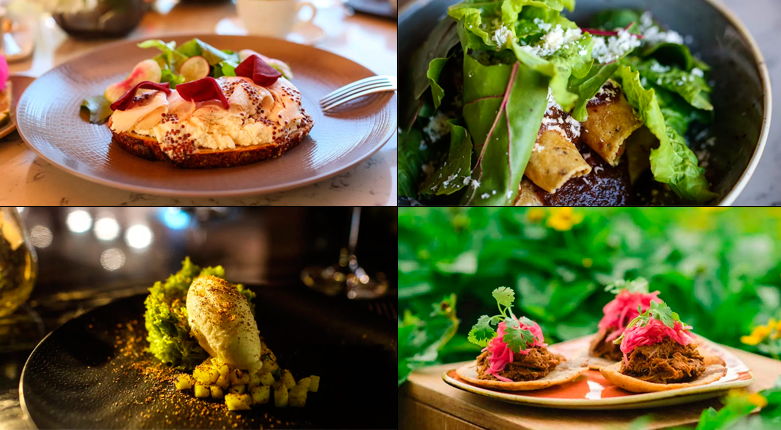 IXI'IM RESTAURANT
Chef Jorge Vallejo is the genius behind Ixi'im ("corn" in Mayan), Chablé's signature restaurant. Vallejo is well-known in the culinary world for Quintonil, his Mexico City restaurant, recently included among the world's 50 best. The menu he designed for Ixi'im incorporates the best of Mexican cuisine with regional influences— all the while integrating modern and traditional practices of sustainable farming. Maya Gardens, known as Ka'anche', are the backbone of Chablé's agricultural practices and the secret behind the quality and freshness of ingredients. Here you will also find one of Mexico's finest private tequila collections.
Sample menu:
Deer tartare with "recado rojo" vinaigrette, sour orange, habanero chili and pumpkin seed.
Creamy rice with stone crab, local squash and x'catic chili.
Trout from Michoacán, with granny smith purée, chamomile foam and manzano chili.
Mamey split, with double cream cheese ice cream and "rosita de cacao" crumble.
Cilantro sponge, with charred pineapple and soursop sorbet.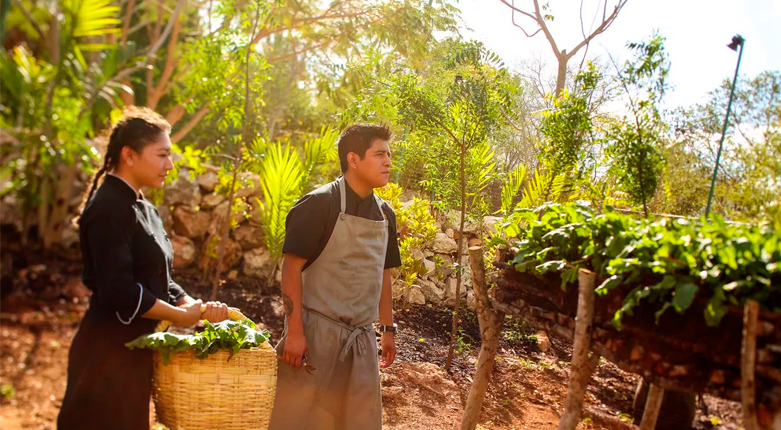 KI'OL RESTAURANT
Located by Chablé's pool, Ki'ol offers a more casual ambiance with the atmosphere of a tranquil oasis. Its meals are also prepared with fresh produce from the resort's Ka'anche'. The menu, under the guidance of Chef Vallejo, is attuned to the region's seasonal offers, and covers local and international cuisines. Enjoy tostadas, ceviches and snacks as you sunbathe with a drink in hand—be it from the wide-ranging juice bar or from the many available cocktails.
Sample menu
"A la cazuela eggs" with pea cream and local cheese.
Amaranth pancakes with hibiscus and xoconostle (sour prickley pear) compote.
"Tikin Xic" style fish with achiote, sour orange and plantain.
Panuchos, Duck "pibil style" panuchos (Fried tortilla with beans), pickled red onion.
The setting for each culinary experience incorporates Chablé's lush setting and the cultural heritage of Mexico's Yucatan peninsula. Buildings throughout the property still show design elements of the former hacienda. The Royal Villa and Chablé Presidential are perfectly located for guests to explore the city of Mérida and the Mayan archaeological site of Uxmal—known for the Pyramid of the Magician.
Villas by Journey Mexico can help you plan a custom-made itinerary with active adventures, cultural encounters, or intense relaxation. With Villas by Journey Mexico you know you can count on 24/7 support and the expertise of Journey Mexico to create and deliver an unforgettable holiday.