Houses In The Jungle: Inside Mexico's Wild Villa Retreats
Mexico's jungle villas offer the ultimate escape from the trappings of modern life. No more email alerts or buzzing cell phones, just the chirping of birds and rustling of leaves buffeted by a gentle breeze. If you've never considered a Mexican jungle vacation, now is the time.
We're completely in love with our vacation houses in the jungle. Not only are they filled with everything you could need to make your stay comfortable, but each one has a mystical aura that heals the soul. So, if you feel like a holistic refresh for your next vacation, try one of these magical jungle villas.
Tree House at Imanta, Punta Mita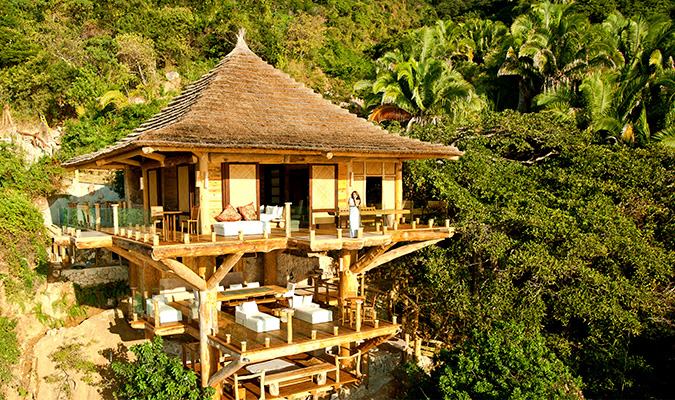 This incredible jungle villa is as similar to a kid's tree house as a Formula 1 car is to a Dinky Toy. From its lofty position in mountain jungles, the three-story home boasts a private waterfall that fills three beautiful swimming ponds. Guests can relax by the water or on open-air terraces with sweeping views of the Pacific Ocean below. Connections to the outside world come in the form of satellite TV, Wi-Fi, and a phone line, but watching the circling birds or listening to the creaks of the jungle is how most will enjoy their stay. Guests can also take a short walk — or be chauffeured — to take advantage of the Imanta resort's luxury facilities. The Jungle Spa and traditional temazcal experience are particularly good options for those wanting a delicate blend of natural healing and modern luxury.

Villa Yuum Ha at Hotel Esencia, Riviera Maya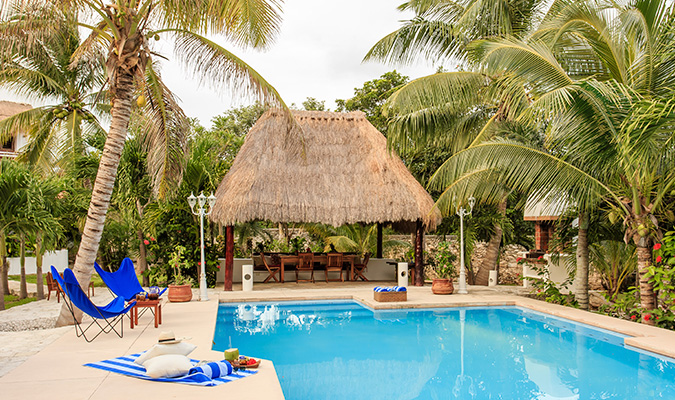 Nestled within lush jungle by a sparkling ocean, it's easy to see why Villa Yuum Ha is so desired by the world's elite. The hacienda-style complex's main house sits in 15 acres of tropical forest around 30 yards back from the coastline, offering complete and utter privacy. However, the property also comes with a rustic beachfront cabin complete with a kitchenette, living room, and bed — a perfect spot to nap and enjoy the cool ocean breeze. Quite apart from its gorgeous natural beauty, guests receive the full VIP treatment. The villa comes with a butler, waiter, chef, and housekeeper plus a private pool. Villa Yuum Ha is also a great option for those who want the seclusion that houses in the jungle offer, but with the facilities of a resort. As it is managed by the nearby Hotel Esencia, guests can access their excellent restaurant, spa, gym, and grounds.

La Troza, Puerto Vallarta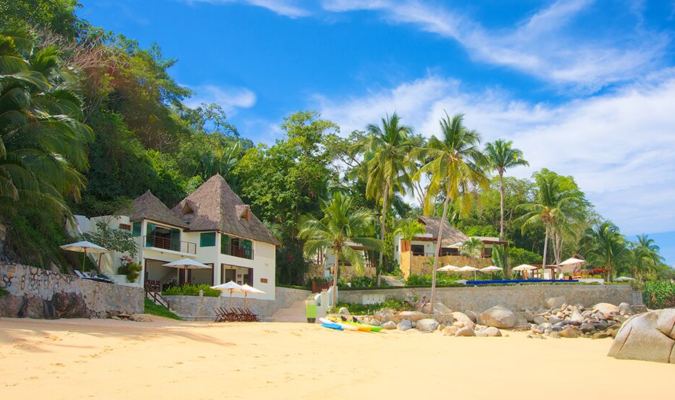 It's only a short hop from Puerto Vallarta, but La Troza's tranquil jungle surroundings will make you feel like you've entered an uninhabited world. This large complex in Boca de Tomatlan, which is only accessible by boat, is wedged between lush jungle and the Pacific Ocean, offering eight bedrooms spread across four buildings. Off-the-beaten-path it may be, but La Troza is all about the luxury experience. As an all-inclusive villa, guests will enjoy a gourmet meal plan plus daily boat tours to explore gorgeous nearby beaches such as Las Animas and Quimixto. The complex also comes with a large swimming pool overlooking the ocean plus staff including a chef, waiters, and house manager. Visitors can completely disconnect from the outside world around the fire pit or by watching the water trickle through the on-site river. When it's time to explore the local environment, guests can kayak, stand-up paddleboard, or snorkel with the provided equipment.

Casa Naiik, Tulum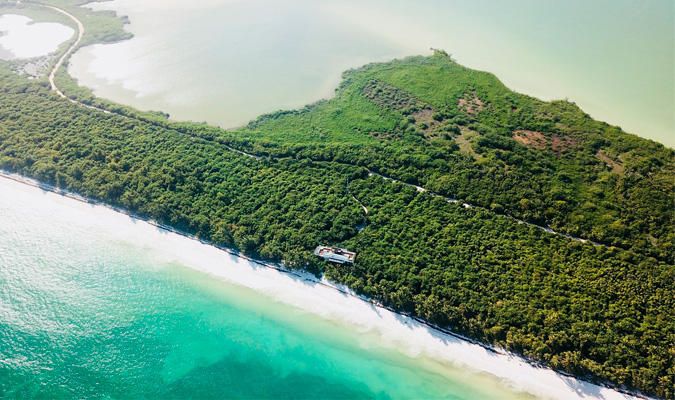 Blessed by heavenly surroundings, Casa Naiik is one of Mexico's finest spots to reconnect with nature. Sitting on the edge of the Sian Ka'an biosphere reserve, this jungle villa is located in a UNESCO World Heritage Centre famed for its varied plant and animal life. Completely nestled in the tropical forests, it offers complete privacy but, when guests do feel like exploring, a nearby pick-up spot is the starting point for tours of the Sian Ka'an. When a relax is all that is desired, a stunning panoramic rooftop infinity pool gazes down on the lush canopy below. Lucky guests also have access to a private beach on the aquamarine Caribbean Sea. Afternoons can be spent luxuriating in the hammock area or enjoying a meal from Casa Naiik's private chef. In the evening, guests can watch an incredible sunset over the ocean, while the morning brings life-affirming views of the sunrise over the mangroves.

Casa Mis Amores, Sayulita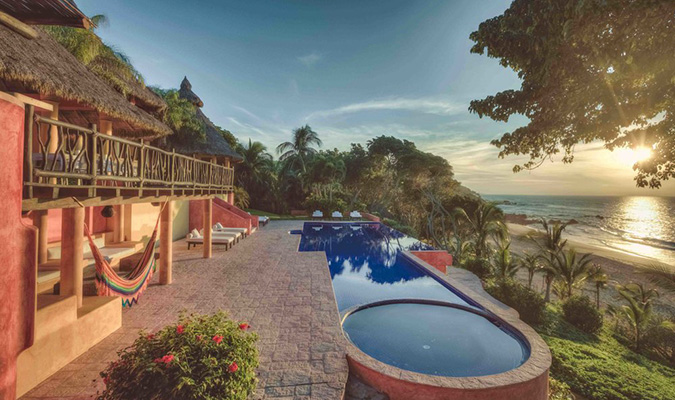 The gorgeous Casa Mis Amores is a dreamy jungle getaway on the Riviera Nayarit, near to the surfer hotspot of Sayulita. Accessed by a jungle path, guests can enjoy one of the finest private getaways in the area. This hacienda-style villa is surrounded by 85-acres of ecosystem inhabited by iguanas, falcons, wild orchids, and other tropical critters. Aside from the lush jungle, Casa Mis Amores has a spot right on a private half-mile beach. Of course, it comes stocked with the very latest conveniences. Staff will take care of guests' every need, while the casa's swimming pool, Jacuzzi and steam room are the perfect relaxing spots.

Are you dreaming of a luxury Mexican vacation in the jungle? Contact our villas expert today by calling +1 646 688 5650 or visiting our How To Book A Villa guide.