Stay in the Former Studio of Mexican Muralist David Alfaro Siqueiros
Mexico City is a bucket-list destination for any art lover. It's the birthplace of Frida Kahlo and home to some of Diego Rivera's most famous murals. Take a walk around its winding streets and you'll encounter works by the pre-eminent street artists of our time.
And it's also home to Siqueiros' Dream; the former studio of Muralism master David Alfaro Siqueiros turned into a luxury three-bedroom apartment.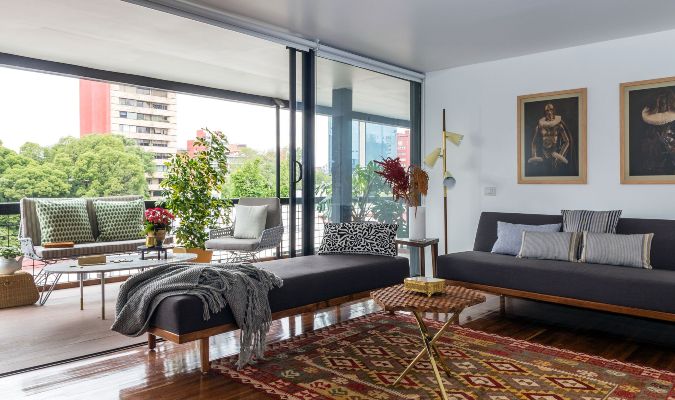 For an art lover, it's the perfect place to stay. Not only is it steeped in Mexican art history, but it's also within walking distance of the Museo de Arte Moderno and the world-famous National Anthropology Museum
Guests will adore its minimalist modern stylings, which ooze contemporary cool. Metals, woods, and reflective glass create a gorgeous look, while original Mexican art turns Siqueiros' Dream into a mini-art gallery of its own.
Inviting bedrooms and a fully equipped kitchen gives Siqueiros' Dream a home-away-from-home feel, while housekeeping and 24/7 security keep everything clean and safe.
Three art adventures in Mexico City
Set within the high-end Polanco neighborhood, this Mexico City vacation apartment is ideal for exploring the wider city, here are three experiences every art lover should have while in Mexico City.
Frida Kahlo's Blue House
Frida Kahlo's Casa Azul is the building in which the Mexican icon was born, lived, and died. Now, however, it's a museum dedicated to her life and works – making it an essential stop for any art lover. Stop by to see original pieces by Kahlo plus her famed dresses and personal objects.
Palacio de Bellas Artes
Arguably the capital's most iconic building, the Palacio de Bellas Artes can be considered the cultural hub of Mexico City. Under its famed domed roof, you'll find works by Mexico's most famous artists, including Jose Clemente Orozco, Rivera, and Siqueiros. It also plays host to the Ballet Folklorico de Mexico, opera, and much more.
Emerging Designer Tour
An exquisite experience offered by Journey Mexico, the Emerging Designer Tour brings you face-to-face with the capital's most exciting up-and-coming artisans. With an invitation to their studios, watch as they craft their pieces and speak with them about their inspiration and processes. If you'd like, you'll also get the chance to buy directly from the artists.
Book an art vacation to Mexico City
Immerse yourself in Mexico City's art scene with a getaway to the capital with Journey Mexico. Not only can we help you to secure the in-demand Siqueiros' Dream, but we can also organize incredible, privately guided trips to the capital's artistic hotspots (including the three mentioned above).
To book, simply call us on +1 646 688 5650 or fill in our Trip Planner.