Luxury All-Inclusive Villas in Mexico For A Stress-Free Vacation
Food? Cooked. Drinks? Poured. Cleaning? Done. With a stay in a luxury all-inclusive villa in Mexico, the only thing to consider is which sun lounger suits best.
Check out our superior selection of all-inclusive villas and start dreaming about a stress-free Mexican vacation today.
All-inclusive villas in Mexico
Villa Alma Rosa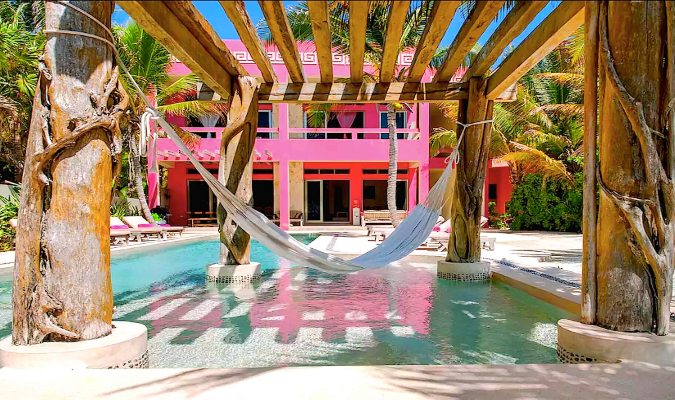 Sleeps 8 | 4 Bedrooms | Riviera Maya
One of the best value villa rentals in the Riviera Maya, Villa Alma Rosa offers an optional all-inclusive meal plan for breakfast, lunch, and dinner. Professional staff run the house, giving more free time to relax. Lounge by the pool. Swim the beautiful seas. Visit magical cenotes. Forget the housework.
Hacienda Magica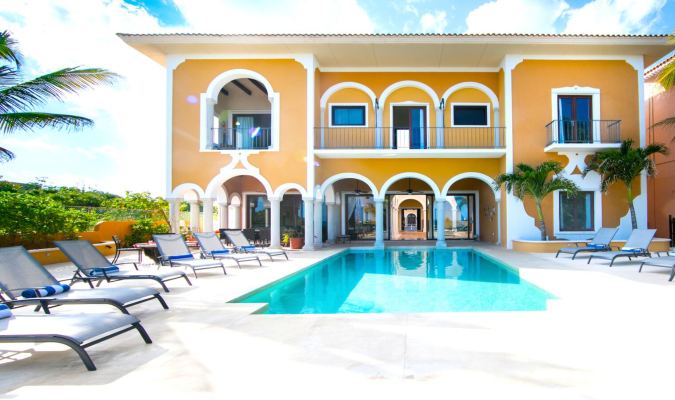 Sleeps 28 | 14 Bedrooms | Riviera Maya
Add on all-inclusive meals from the best chefs in the Riviera Maya with a stay at one of the three villas in the Riviera Maya Haciendas group — Magica, Del Mar, and Corazon. Hacienda Magica, one of the largest homes in Mexico, comes with a heated swimming pool, tennis courts, and easy access to the gorgeous, white-sands of Fatima Beach.
Hacienda Corazon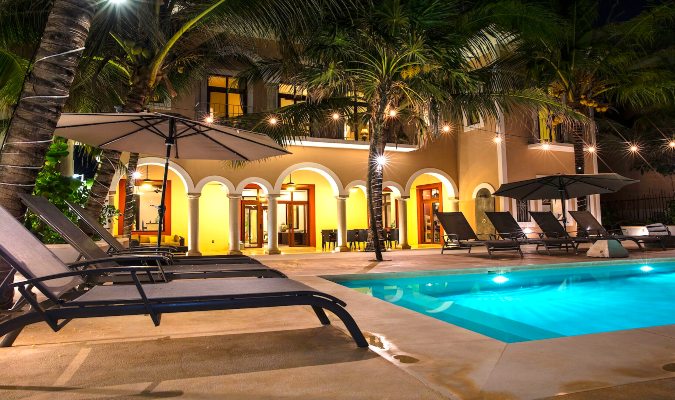 Sleeps 28 | 10 Bedrooms | Riviera Maya
Beautifully crafted, Hacienda Corazon is a design-lovers dream. High-ceilings create cavernous rooms while guests enjoy unrivaled facilities. During the day, relax on the sands of Fatima Bay, soaking up the heavenly Riviera Maya sun. If you'd like to escape the heat, enjoy an al-fresco lunch at the 20-person outdoor dining table. In the evening, have a night of fun in the games room challenging friends and family to table tennis and pool.
Hacienda del Mar
Sleeps 30 | 15 Bedrooms | Riviera Maya
Sat on Fatima Beach near the center of Puerto Aventuras, Hacienda Del Mar is an elegant getaway in paradise. This expansive Riviera Maya villa boasts 16,000 square feet and 15 bedrooms, enough room to sleep up to 30 guests. Enjoy world-class facilities including an infinity pool overlooking the beach, fully equipped gourmet kitchen, and games tables. The villa also comes with kayaks and stand up paddle boards, ideal for when you want an adventure on the high seas.
Palmasola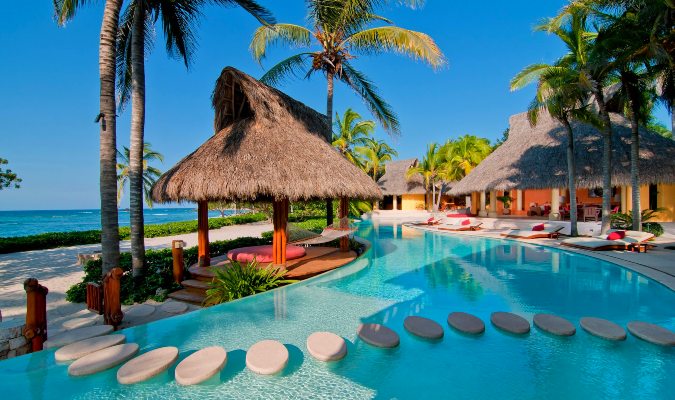 Sleeps 18 | 9 Bedrooms | Punta Mita 
One for the food lovers, Palmasola in Punta Mita offers a private dining experience unlike other. Personal chefs offer a custom menu of exquisite local and international dishes. Where they are enjoyed is another matter. There are 15 set dining spots to choose from but the personal team are on-hand to transform any beautiful space into a meal-time space.
La Troza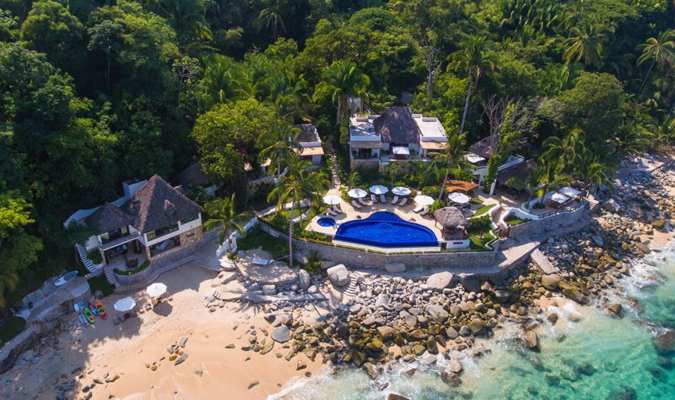 Sleeps 16 | 8 Bedrooms | Puerto Vallarta 
Set on a private beach, La Troza in Puerto Vallarta is the ultimate escape from the stresses of the real world. Relax by the infinity pool, enjoy the fire pit, or go snorkeling in the expansive Bay of Banderas. As it is owned by the restaurant association Grupo La Palapa, guests receive the very finest all-inclusive meals the area has to offer.
Villa Esmeralda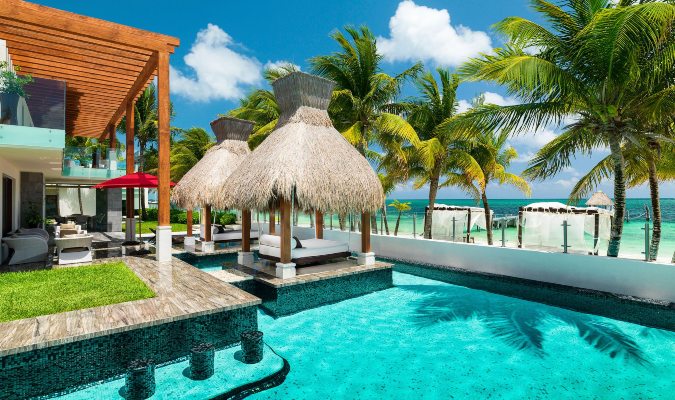 Sleeps 12 | 6 Bedrooms | Riviera Maya 
Eight dedicated staff offer a stratospheric level of service at Villa Esmeralda. The inclusive experience starts with a chilled glass of Champagne on arrival and builds from there. The majordomo provides an aromatherapy and pillow menu to customize each suite while a butler service makes every meal time a remarkable experience.
Hacienda Petac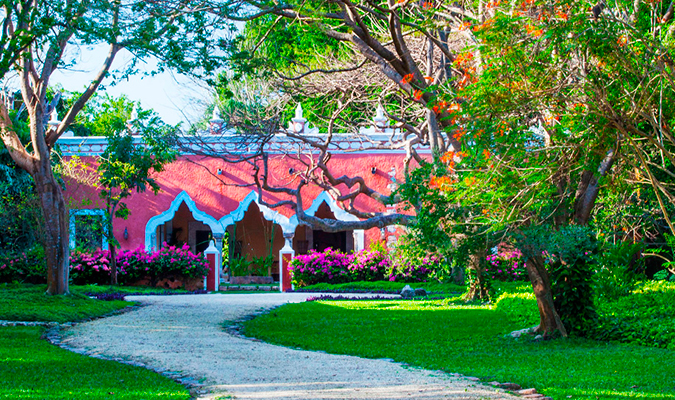 Sleeps 4-14 | 2-7 Bedrooms | Merida
Combining the elegance of a 17th-century estate with the luxury of a world-class resort, Hacienda Petac is one of Mexico's finest all-inclusive villas. Professional staff help to organize an unforgettable vacation. Exciting extras such as an exquisite spa, nail salon, and gym pavilion provide that extra touch of magic.
Book a stay at an all-inclusive villa
Book your stay at an all-inclusive villa in Mexico with Journey Mexico. As in-country experts, we have the contacts and know-how to book those difficult-to-get dates and can even help you to organize once-in-a-lifetime trips to make your vacation extra special.