VILLA MANDARINAS

MARKETING TOOLKIT
We've created this Marketing Tool Kit to help provide you with easy, turn-key marketing content that you can share with your valued clients. Please feel free to use this content or contact us for content created just for you.
---
Share Villa Mandarinas, a unique and private luxury villa located on Puerto Vallarta's south shore, near the Mismaloya Beach, with your clients today.
Located on a quiet stretch of coastline just outside of Puerto Vallarta, this villa is ideal for a getaway with small to large groups of family or friends. There truly is something for everyone at this property. Swim in the pools or sea, relax and watch the sunset, make pizzas in the outdoor oven, and more. And for those looking to work remotely, there is high-speed wifi throughout.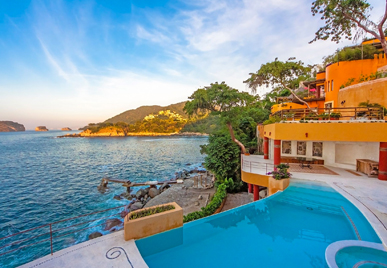 VILLA MANDARINAS

Puerto Vallarta | Sleeps 20 | 11 Bedrooms

From

$1,999 /night
Located approximately nine miles from downtown Puerto Vallarta, near the Mismaloya Beach, this luxury villa rental is like a private, secluded getaway that boasts stunning views over the south shore. This oceanfront villa is set within a walled estate and boasts a full staff including a private chef to prepare three meals a day and a bartender to mix up your poolside drinks.
Clean lines and contemporary design fuse with natural details, like a palm-roofed terrace and beautiful tropical plants. A variety of colors grace the walls, adding an exotic fun to the vacation home that was featured in Architectural Digest magazine.
ALL AMENITIES
Staff: 2 Chefs, Waiter, &Bartender
24-hour security
Staff: 2 Housekeepers
15,000 sq.ft
Welcome Drinks & Snack
Oceanfront
outdoor Dining Area
Fire Pit
Poolside Loungers
Two Pools
Gameroom
Hammock
Kayaks
Yoga Terrace
GALLERY
SOCIAL MEDIA SAMPLES
CONTACT US
VILLA LOCATION