Inside Look at The Ty Warner Mansion in Los Cabos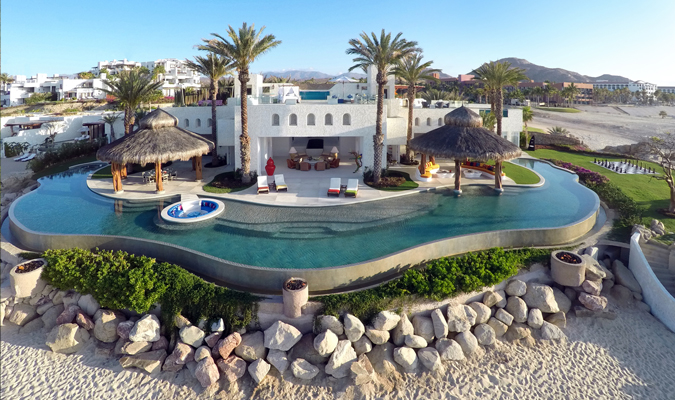 Coinciding with its 19th anniversary, the legendary Five-Diamond Rosewoord resort, Las Ventanas al Paraiso, unveiled its extraordinary new 28,000-square-foot (2,600-square-meters) private villa, the Ty Warner Mansion.  Designed as a part of the award-winning hotel, The Ty Warner Mansion offers the same luxury amenities that one would find in the resort, such as a private beachfront infinity pool and swim up bar, dedicated butlers, and a personal spa, but in a private, residential style setting. Conceptualized by Mr. Ty Warner himself, this exceptional private sanctuary marks the completion of Las Ventanas' five year, multi-million development project and audacious efforts to become one of the most luxurious resorts in Mexico.
Overseen by acclaimed interior designer Robert Couturier, the elegantly appointed interiors of The Ty Warner Mansion reflect the spirit, culture and beauty of the region.  Throughout the mansion, bright colors and hand-woven textiles celebrate the rich craftsmanship of Mexican artisans. The authentic Mexican artistry within the mansion includes original art, textiles, hand-blown glass fixtures, hand-made organic bathroom accessories, hand-carved painted alebrije sculptures, and hand-embossed metallic furniture and finishes sourced from Jalisco, Michoacán, Chiapas and Oaxaca during a four-year period. Artists featured include Cecilio Hernandez of Guanajuato, Claudio Ojeda Morales, Sergio Santiago and Lucila Sosa San Antonio of Oaxaca and Guadalupe Hermosillo Escobar of Chiapas.
A Tour of the Ty Warner Mansion
Accessed by a private entrance that mimics the resort's iconic arrival experience, mansion guests are greeted by the peaceful sounds of the Sea of Cortez as they walk through an ethereal courtyard oasis.  Residents enter into an impressive white great room overlooking the sea with floor to ceiling windows that provide stunning views of the ocean.  Immediately within the mansion, a reflecting pool is lit by natural sunlight which streams through a retractable glass sun roof onto more than 7.5 million hand-laid, glittering white marble tiles.  The room seamlessly transitions into an indoor/outdoor living room, which is decorated with brightly colored sofas upholstered in Indian silks and a multi-colored wooden dragon sculpture.
Adjacent to the great room, a Hacienda-style chef's kitchen with top of the line appliances and wooden pizza oven is available to guests who prefer to dine in the retreat of this well-appointed enclave. Custom menus are created each day by the private chef according to guest needs and the dining destination and place setting are chosen according to the meal.  More than five dining enclaves are found throughout the mansion, including "the silver room," an elegant dining room outfitted with a silver leaf ceiling, dining chairs and a dining table, all of which have been designed by San Miguel-based tinsmith artist.
Flanking either side of the mansion, two sprawling ocean view master suites with en-suite bathrooms offer ample room for couples looking for the ultimate in relaxation, space and privacy. The suites are adorned with custom designed Mexican artwork, and offer luxurious private steam rooms, saunas, and outdoor showers for the finest in indoor-outdoor living beneath a breathtaking glass rooftop pool that tops the ceiling of the master bath. For the fitness inclined, bedrooms are also outfitted with top-of-the-line Technogym equipment.
The mansion also features a state-of- the- art media room and an exquisite tequila library stocked with a collection of the world's rarest tequilas including Clase Azul Ultra and Don Julio Real.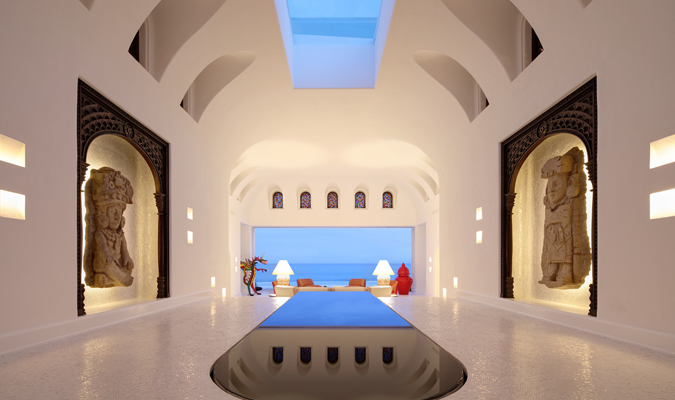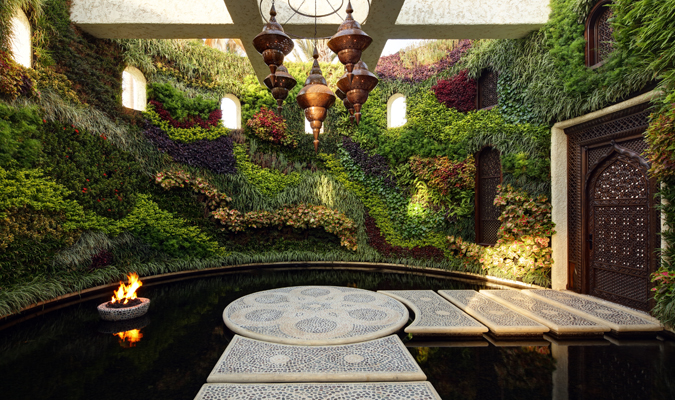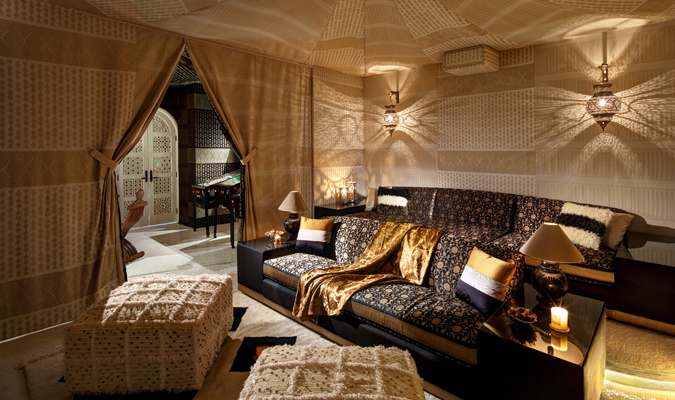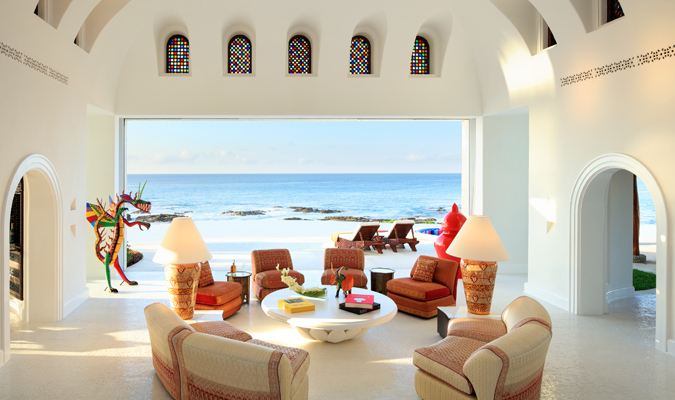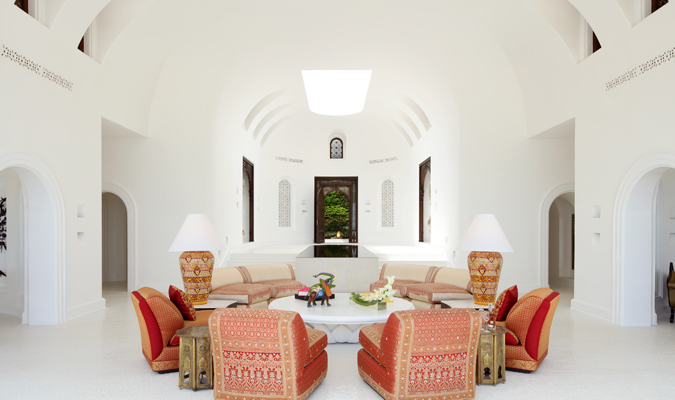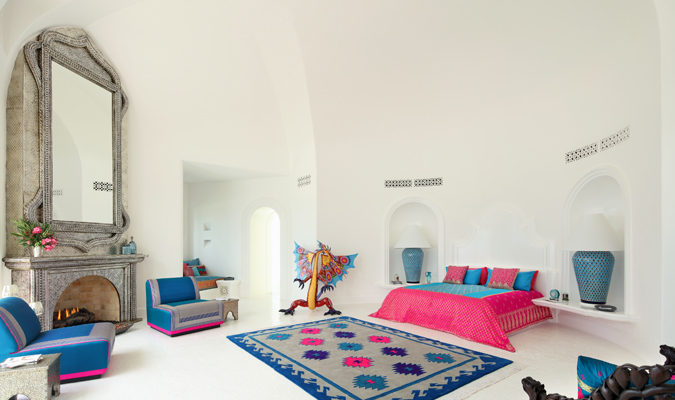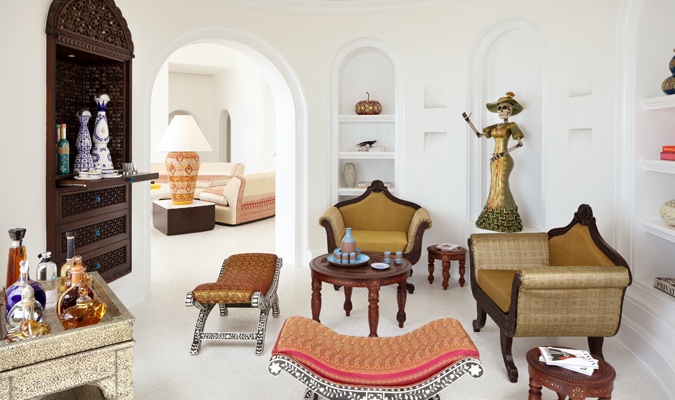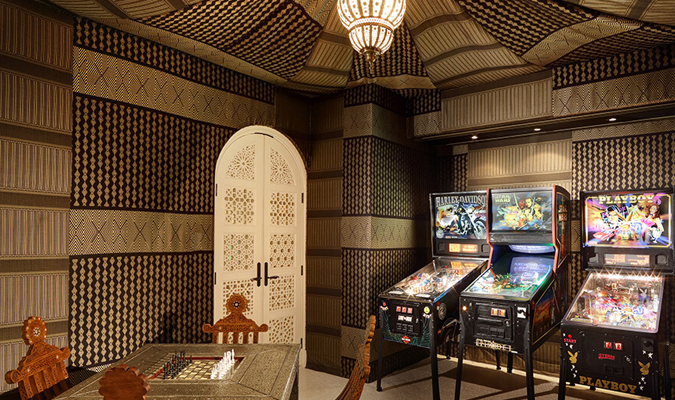 Outside, nearly 7,000 square feet of outdoor space features a long private infinity pool overlooking the Sea of Cortez, complete with dual spas and a sunken in-pool living room, an oversize chess set, and a private palapa-covered dining patio for elegant entertaining al fresco. On the rooftop, which is accessible by private elevator, a 9,000-square-foot terrace with sundeck boasts luxe amenities including a glass-bottom lap pool, whirlpool spa, bar, inlaid Indian bed, putting green, custom pool table and massage pavilion.
Guests at The Ty Warner Mansion also receive the ultimate in VIP service with a personal staff of seven at their beck and call. This includes a private chef, an on-call driver for chauffeured car service while guests are in residence, and two butlers whose sole responsibility is to ensure guests do not need to lift a finger. The mansion also offers a Signature Mansion Massage for each guest, as well as a spectacular fireworks display on request.
Starting at $35,000 per night, The Ty Warner Mansion maintains the highest level of luxury, exclusivity and discretion.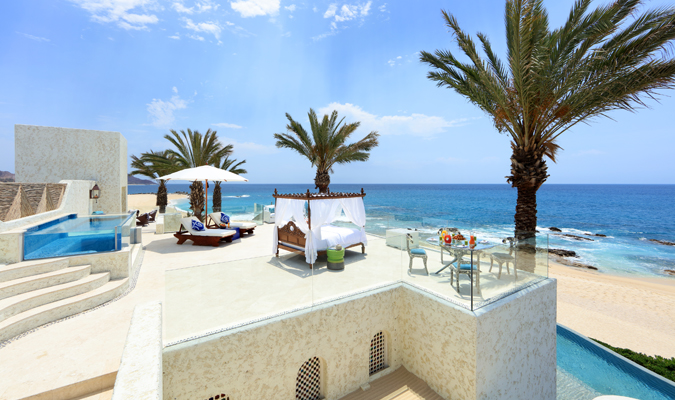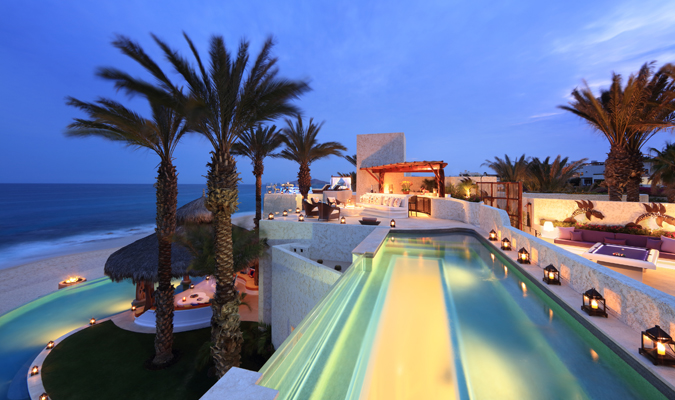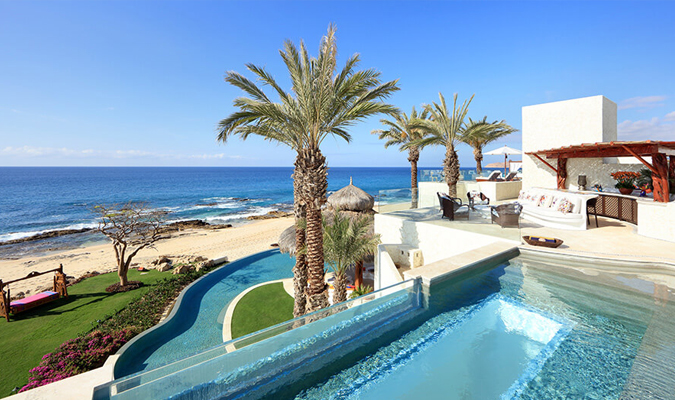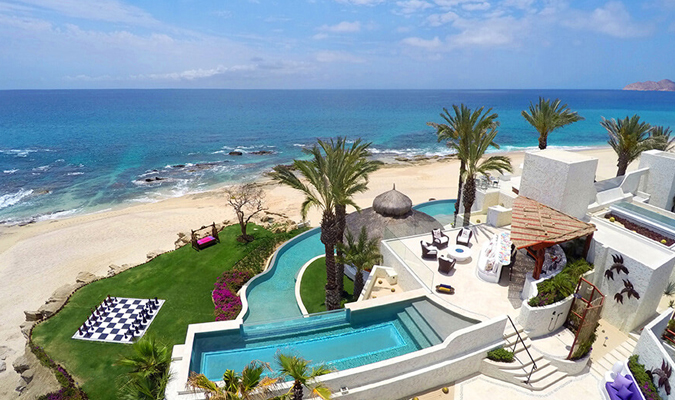 What People Are Saying about the Ty Warner Mansion
"The Ty Warner Mansion is the true manifestation of an earthly paradise, unparalleled by any resort accommodation in the world. Mr. Warner has designed the mansion with the craftsmanship of an ornate jewelry box. Each room features exquisite materials with unique discoveries at every turn." – Frederic Vidal, managing director at Las Ventanas al Paraíso, A Rosewood Resort
"…a palatial property set on the resort's seafront grounds, goes so far beyond the expected that it has instantly become one of the most indisputably extravagant holiday homes in the country." – John O'Cellaigh, Telegraph Luxury Travel Editor
"The construction, decoration, style and attention to detail are so lavish that villastarts to seem inadequate. This is a house for being surrounded by splendor. Forget the idea of a hotel feeling just like a home—this is far more fanciful and opulent than home. It's a Las Ventanas of your own." – Ann Abel, Forbes Contributor