Three More Extra-Special Villas in Puerto Vallarta
Long a favorite among foreign travelers to Mexico, Puerto Vallarta is a great option for a private home rental holiday offering villas with amazing views, authentic interiors and, with most properties, full staff.
We've previously highlighted five extra-special villas in Puerto Vallarta that are perfect for your next getaway. But now it's time to take a look at three more, which we know you're going to love.
Three more extra-special villas in Puerto Vallarta
Villa McFuego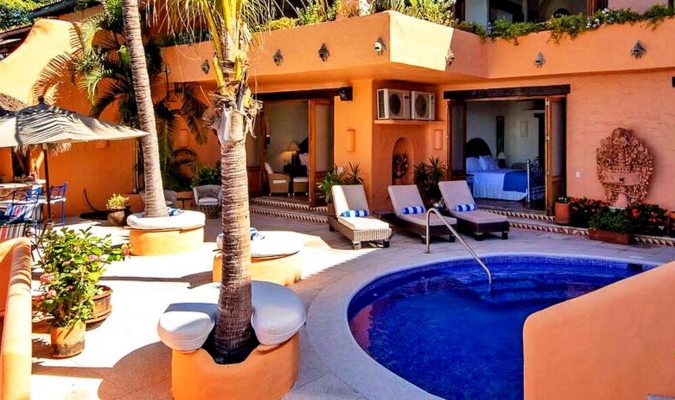 Sleeps 6 | 3 Bedrooms | 3 Bathrooms
Villa McFuego is an oceanfront, three-bedroom luxury villa just a couple of miles south of downtown Puerto Vallarta. Perched above the bay, the villa boasts eye-wateringly beautiful views. In the winter, watch out for the leaping humpback whales which use the safety of the bay to mate and give birth.
As part of a walled complex of four villas, Villa McFuego enjoys an exceptional level of safety, which is increased with the addition of 24/7 security. During the day, the lure of the 20-foot swimming pool will surely prove too strong. Cool off in its waters enjoying the view over the ocean. In the evening, gather the family together for an al-fresco meal put together by the villa's excellent chef.
Casa del Quetzal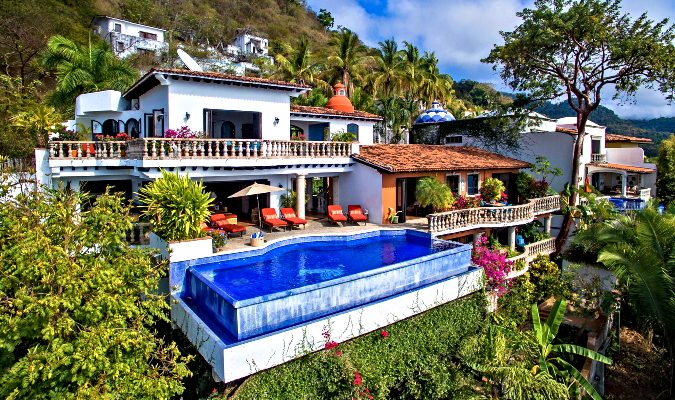 Sleeps 10 | 5 Bedrooms | 5.5 Bathrooms
Join the exclusive Conchas Chinas neighborhood with a stay at Casa del Quetzal. This hacienda-like villa is the jewel on top of the crown that is Puerto Vallarta. Holding a grand position on the hills, you'll get unbeatable views over the sparkling Pacific Ocean and the Bay of Banderas. For the very best, head to the heated infinity pool or relax on one of the pool-side sun loungers.
The villa is equipped with a bounty of luxury amenities (including a games room and exercise room) but if you did want to venture out, you're just a few minutes' drive from the excitement of downtown Puerto Vallarta and Los Muertos Beach.
Villa Lucia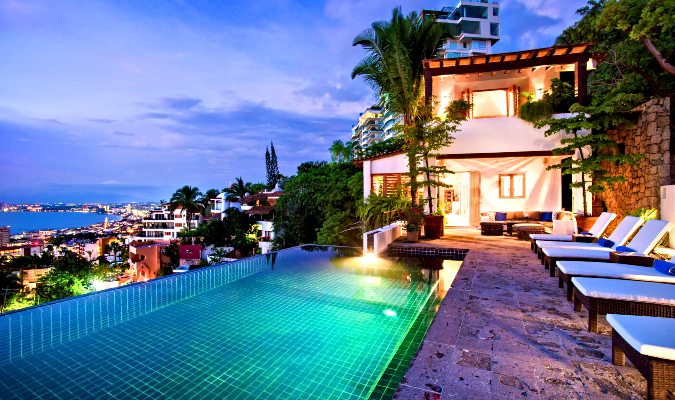 Sleeps 8 + 4 | 4 Bedrooms | 4 Bathrooms
Want for nothing at Villa Lucia, an exquisite getaway sitting on the Amapas hillside. A chef is on-hand to cook two meals a day, while a houseman is happy to bring you poolside drinks and guacamole. Your job, if you can call it that, is to completely relax and take advantage of the property's excellent amenities.
The building itself is stunning, a delicate mix between modern design and Mexican décor. And, like many of our villas in Puerto Vallarta, Villa Lucia boasts breathtaking views over the Bay of Banderas.