Sportfishing in Cabo: What You Need To Know
Sportfishing in Cabo is big business. The region's rich seas and year-round good weather make it an ideal vacation spot for the keen angler, both professional and amateur alike. Everyone comes with the hopes of landing the big one (although you'll go some way to beat the world-record 1,213 pound marlin caught off Cabo San Lucas in 2011). To help you on your quest, here are some frequently asked questions about Los Cabos sportfishing.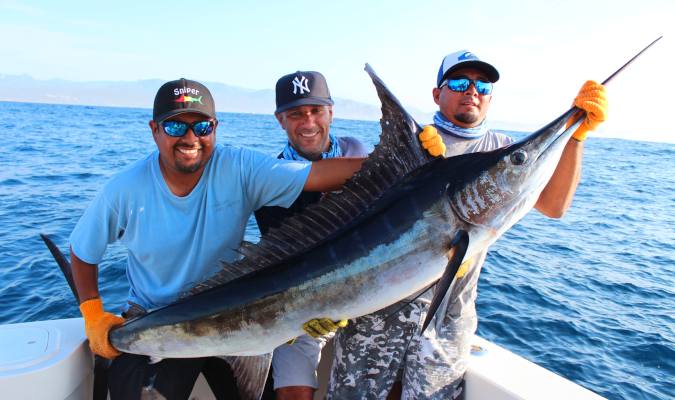 When is the best time of year for sportfishing in Cabo?
Luckily, the two Cabos that make up Los Cabos (Cabo San Lucas and San José del Cabo) enjoy year-round good weather. It rarely rains, but you might find the cooler winter months a bit more comfortable.
If have your eyes on a certain fish, it's worth planning your trip when they are most abundant. Here is a quick guide for when popular fish are easiest to catch, according to cabofishing.net.
Grouper: April to June
Mackerel: May to July
Mahi Mahi: July to November
Black Marlin: July to December
Blue Marlin: July to October
Rooster Fish: May to August
Snapper: April to September
Yellowfin Tuna: March to May
What type of fish can be caught in Cabo?
Due to the popularity of Los Cabos as a sportfishing destination, you won't be surprised to hear that there is plenty of different fish to be caught. As already mentioned, you will find grouper, mackerel, mahi mahi, snapper, and rooster fish. You will also find three different marlins: blue, black, and striped plus shark.
What kind of boats are available?
In Los Cabos, you can charter anything from a relatively small 22-foot panga boat to luxury cruisers. The type of boat you opt for will depend on several different variables including the number of people in your group, what type of fish you would like to catch, and how long you want to be on the water.
A panga will be suitable for small groups of up to three people or so. You can aim to catch smaller game such as rooster fish, red snapper, or grouper. Pangas are built for day trips, so you can't charter them for overnight excursions.
A mid-size ship (around 30 to 40 feet) is great for sportfishing in Cabo. These can include advanced features such as fish finders, radar, bathrooms, and beds. It's possible to stay overnight, which offers the chance for night fishing.
Larger groups may want to opt for a large or luxury cruiser, which is great for longer stays and come with well-appointed sleeping areas, common areas, hi-tech fishing equipment, and more luxury features.
Are there Cabo fishing reports available?
Yes, it's possible to get Cabo fishing reports. If you book a villa with Journey Mexico we can help help you book your ideal fishing boat and provide you with fishing reports.
Are there sportfishing tournaments in Los Cabos?
There are plenty of sportfishing tournaments in Cabo San Lucas and San José del Cabo. However, the following are among the biggest in the busy events calendar.
Los Cabos Billfish Tournament
Next tournament: October 13 to 17, 2019
The Los Cabos Billfish Tournament sees teams of up to six prowl a 40-mile fishing boundary from the Cabo San Lucas El Arcos. Eligible catches include blue marlin, black marlin, striped marlin, sailfish, spearfish, yellowfin or bigeye tuna, wahoo, and dorado. Entry costs $5,000, which covers attendance, planned entertainment, and social activities for the team. Typically, the tournament will take place in mid-October.
The Bisbee's Black & Blue tournaments
Next tournament: October 22 to 26, 2019
The Bisbee family have been putting on tournaments in the Los Cabos region for more than three decades and currently have a triumvirate of tournaments throughout the year. The East Cape Offshore takes place in Buenavista in July, while the Los Cabos Offshore Charity Tournament and the Black & Blue Marlin Tournament take place in October in Cabo San Lucas.
The Black & Blue, which was started in 1981 by Bob Bisbee, was the family's original competition. It started with just six teams and a (relatively) small winner's pot of $10,000. Now, more than 150 teams take part with more than $4million on the line.
Won Los Cabos Tuna Jackpot
Next tournament: November 6 to 9, 2019
The "world's largest and richest tuna tournament" comes to Los Cabos every November with around $900,000 up for grabs. With two days of sportfishing and three parties, there's a lot of fun to be had. Teams of up to four anglers can enter with up to four crew members joining them.
Where to stay in Los Cabos
When you're not sportfishing, you will want a beautiful place to stay. Cabo luxury villas offer the ultimate in privacy and security and come with a wide range of luxury amenities. Here are some of our favorite places to stay in Los Cabos.
Villa Piedra Blanca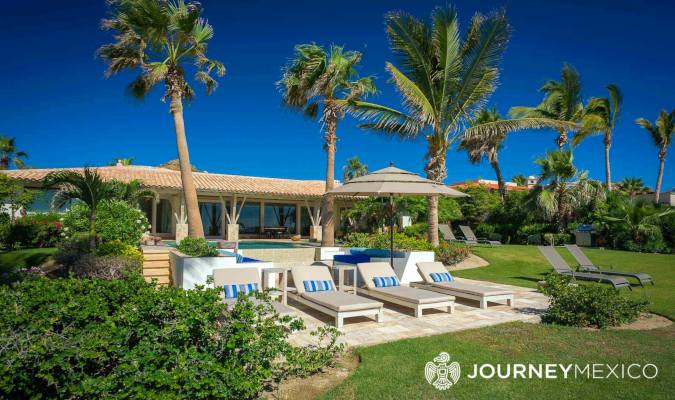 A gorgeous beachfront villa in Puerto Los Cabos, Villa Piedra Blanca offers plenty of space and seclusion for up to ten people. You'll love its Baja-chic design and extraordinary comfort, while the common areas offer a great spot to come together and chat about your high seas adventures. A beautiful infinity pool connects the property to the beach while a Jacuzzi is a great place to relax in the evenings.

Villa Fuego Y Agua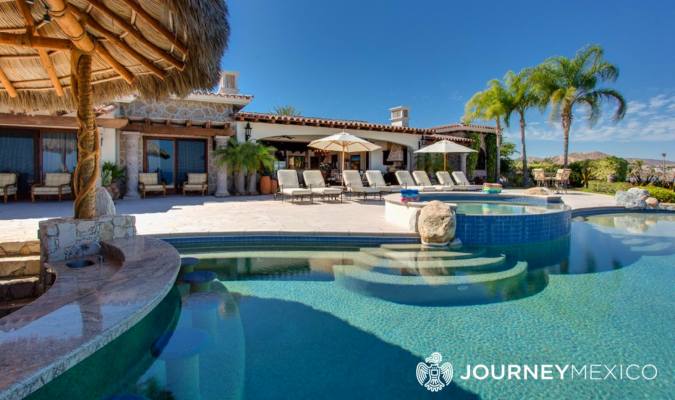 The beautiful Villa Fuego Y Agua is one of the finest Los Cabos villas around. Based in a gated community in Cabo San Lucas, guests will be able to completely unwind thanks to its serene landscape and views over the Sea of Cortez. Luxury amenities such as a daily maid service, heated pool, Jacuzzi, fire pit, and wet bar make relaxing incredibly easy.

Villa Bella Laura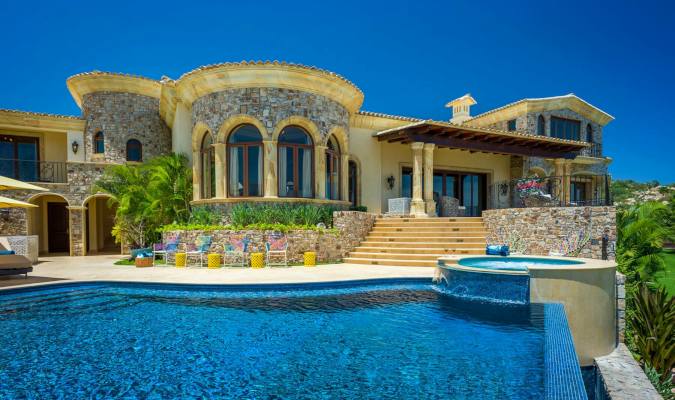 Villa Bella Laura stands out as one of the most glamorous getaways in Puerto Los Cabos. Nestled on a slight elevation, it boasts views over the glittering Sea of Cortez as well as a manicured golf course. It's ideally located to access two marinas, one in Cabo San Lucas and another smaller one in Puerto Los Cabos. Bella Laura is ideal for the larger group with five bedrooms and two casitas sleeping up to 17 people. Staff including a butler and housekeeper mean guests can focus on the more important holiday activities such as chilling in the Jacuzzi, mingling at the private beach club, or cooling off in the swimming pool.

Villa Cielo
Perched on the peak of the exclusive Pedregal community, Villa Cielo offers unbeatable views over the Pacific Ocean and Sea of Cortez. In terms of Mexico villas, it's difficult to think of one that beats Villa Cielo for vistas. Up to 18 people can stay at this Cabo villa, which also boasts an 11,000 square foot outdoor deck, swimming pools, a concierge and daily maid service.

Villa La Roca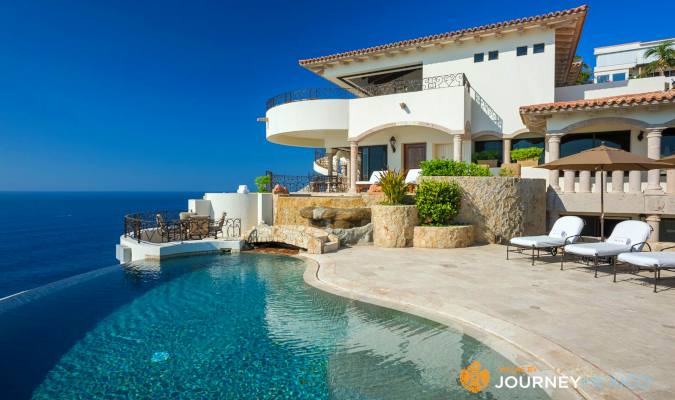 Also based within the cliffside Pedregal community, Villa La Roca is a gorgeous luxury villa in Cabo San Lucas. Up to 34 people can stay in this expansive eight-bedroom villa, which also comes with five sofa beds spread across two dens. Villa La Roca also comes with a steam room, spa, heated swimming pool, and Jacuzzi. A home theater system is a perfect way to relax after an exciting and tiring day of sportfishing in Los Cabos' waters.

Casa Roca de Pajaro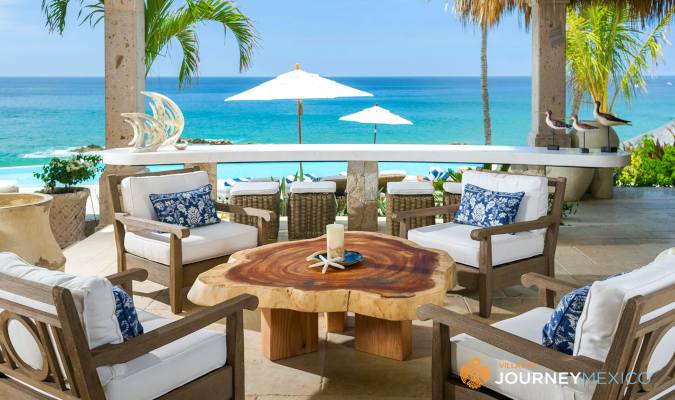 Based within the gated community of Palmilla, Casa Roca de Pajaro offers peace and security for up to eight guests. Each of its four bedrooms boasts gorgeous views over the Sea of Cortez, offering the perfect chance to daydream about landing that big catch. This San José del Cabo villa also comes with a heated infinity pool, Jacuzzi, and a daily maid service to take your stay to the next level.
JM Promotion: Stay for seven nights at Casa Roca de Pajaro this summer and only pay for five.

Booking your sportfishing in Los Cabos trip
If you're planning on sportfishing in Los Cabos, make sure to book your stay with Villas by Journey Mexico. Not only do we offer the very best Mexican vacation stays but, as Mexico-based specialists, we can organize all your sportfishing adventures.  Additionally, as a sustainable travel company, we strongly promote catch and release fishing to keep the seas around Los Cabos healthy. With excellent connections throughout the region, we can put you in contact with the most sustainable tour operators around. Click the more info button below to start planning your vacation today.