Five Days in Mukan Resort: The Sian Ka'an's Hidden Jungle Gem
Nestled within the biologically rich jungles of the Sian Ka'an Biosphere Reserve lies Mukan Resort, a 10-bed luxury villa offering comfort and adventure in equal quantities. As the farthest property south of Tulum, Mukan is perfect for those simply wanting to forge dents in sun loungers and relax for a week or two. But that would be like using an F1 car to do the weekly shopping — it's got so much more to give.
As Mexico's premier travel experts and bespoke vacation planners, we are in the perfect position to optimize your stay at Mukan. Here's a sample itinerary we created to give you some idea of what a five-day stay could be at this barefoot luxury villa in Mexico. Of course, all of our itineraries are customizable to your tastes. Just speak to one of our customer advisers to plan your perfect vacation.
Day One – Arrive to Mukan
Your Mexican vacation begins, like many great adventures do, at Cancun International Airport. You and your group (Mukan holds up to 20 people, so there's no chance of anyone missing out) will meet your guide who will whisk you away to The Last Maya dock, close to the entrance of the Sian Ka'an Biosphere Reserve. From there, a water taxi (panga) will take you on a gorgeous 45-minute run through the sparkling waterways of the Sian Ka'an. Watch out for the area's stunning array of wildlife, which includes crocs, dolphins, turtles, and more than 300 different species of birds. You will disembark at Mukan's dock and be greeted with a fresh drink, cool towel. You will also meet a tour guide who will show you around your luxury accommodation, which boasts a main house, three beachfront bungalows, a garden bungalow, and a beachfront master suite.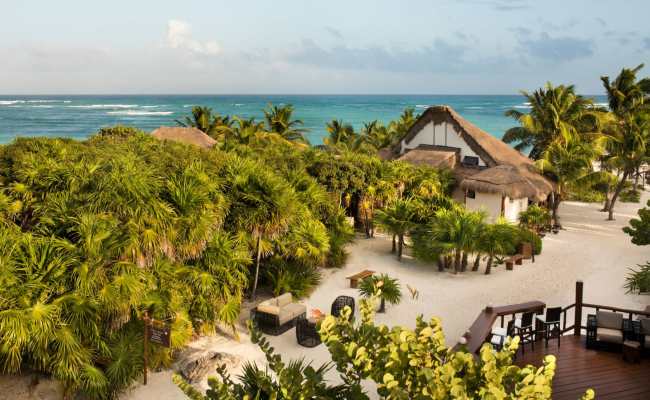 Once everyone has settled in, snacks of guacamole, pico de gallo, birria, and warm homemade tortillas will be put out. For dinner, Mukan Resort's private chef Jacobo will put together an exquisite four-course meal created from fresh, local ingredients.
Day Two – Relax and Unwind
Your second day is a chance to wash away the stresses and strains of modern living and to enjoy the world-class facilities found at Mukan Resort. Begin with a delicious breakfast of sweet fruits, homemade bread with jams, energy-boosting juice drinks, and coffee.
Spend the morning on the soft white-sand beach which lies just yards from your accommodation. Take a paddleboard or kayak onto the Caribbean Sea for an aquatic adventure or dip below the surface with the luxury villa's snorkeling gear. If you're lucky, you might come across Maya-native Charlie, who has intimate knowledge of the local area. He would be more than happy to take you to the local coral reefs to help you catch fresh lobster (which can be your dinner later).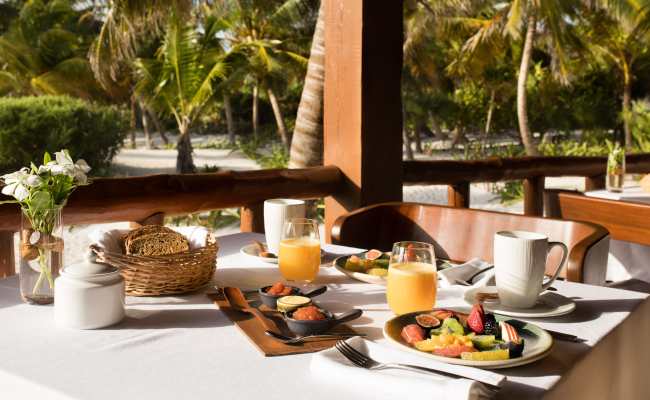 Once you've worked up an appetite, head somewhere to comfortable where you will be served lunch. Alternatively, you can join the chefs in the kitchen to learn how to make some classic Mexican dishes including fresh ceviche and guacamole.
After more relaxing post-lunch, enjoy a tequila tasting session, sampling the exclusive house brand, Mukan Blanco and Extra Anejo from Casa Flores. You'll finish the night with dinner (fresh seafood caught by local fishermen) and a spot of stargazing while sitting in the bubbling Jacuzzi.
Day Three – Explore the Sian Ka'an Resere
Today starts with fresh coffee delivered to your room and a mindfulness session to help you welcome in the undoubted spiritual energy in the surrounding area.
After, you will be joined by a certified wildlife biologist and begin a journey into the mystical, magical Sian Ka'an Biosphere Reserve, a UNESCO World Heritage Site and the Mexican Caribbean's largest protected area. As you explore its twisting waterways and mangroves, be on the lookout for dolphins, sea turtles, and manatees. Your expert guide will also explain the importance of this incredibly rich ecosystem.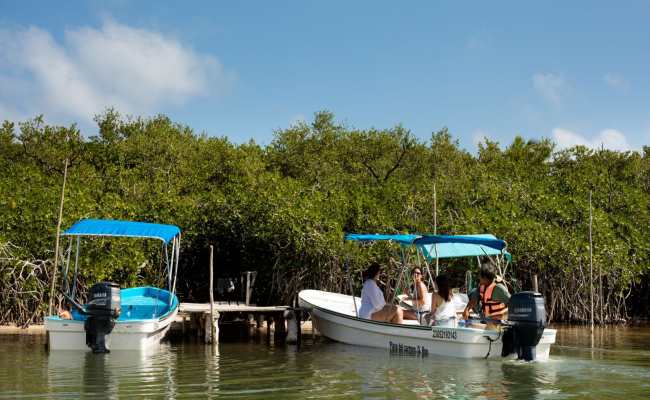 When you arrive back home, a feast awaits. Get the whole family together for a huge barbeque cook-out. Once that's done, you'll probably seek out a lounger for a much-needed rest. When the sun starts its descent, you will head to the Lagoon Dock for appetizers and cocktails and watch the orange, red, and purple light dancing on the waters.
Day Four – Enjoy Mukan
After an energetic day previously, you will be happy to hear that day four will be spent at your leisure. The more active members of the group can wake up early for a morning yoga session on the Lagoon Dock. After, they can jog, walk, or bike to the nearby natural pool (one of the Sian Ka'an's many hidden gems).
Those looking to stay put can join survival specialist Luis for a lesson on how to crack a coconut and plant a tree. There are also countless opportunities to relax, whether that be by the plunge pool, on the rooftop terrace, or in the exquisitely decorated rooms.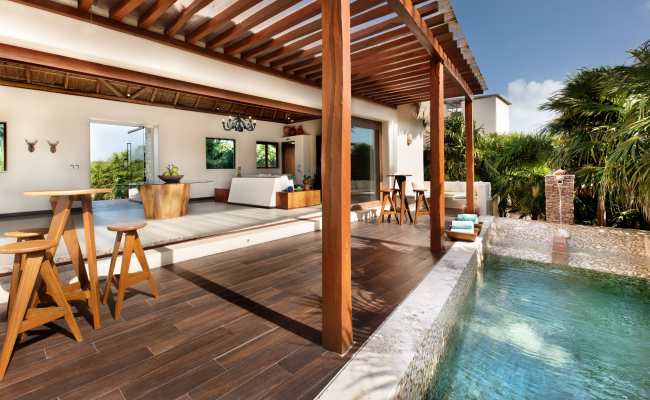 For lunch, its build-your-own-pizza time. Finish off your creation in the wood-fired pizza oven and pair it with gazpacho or pozole and salad.
As the sun sets, you will take a journey across North and South America, sampling wines from the USA, Argentina, Chile, and, of course, Mexico.
Day Five – Departure Day
Your final day begins, as all days should, with coffee and a delicious breakfast. You and your group will take a panga from the dock, bidding "adios" to Mukan Resort as you head off into the distance. When you reach mainland Tulum, you will get a private transfer to Cancun Airport.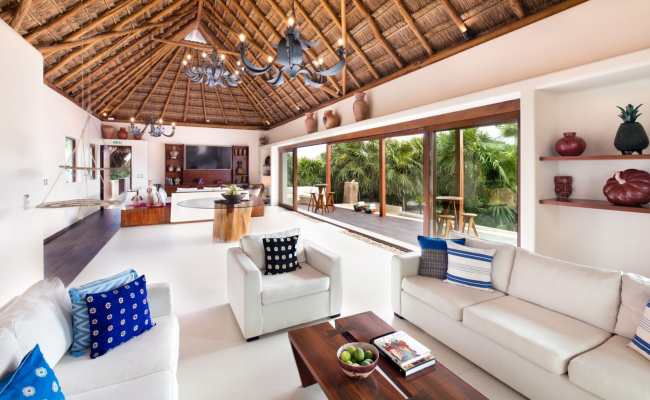 Book your stay in Mukan Resort today
So there you have it, five incredible days at Mukan villa in the Sian Ka'an Biosphere Reserve. If that sounds like your perfect vacation, make sure to contact our Mexico experts and book your trip. If it doesn't sound like you perfect vacation, speak to our Mexico experts, and they can help you to organize the trip of your dreams.