Last-Minute Los Cabos: Luxury Villas Still Available for the Holiday Season
The Holiday Season is nearly upon us and Los Cabos' luxury villas are, once again, proving particularly popular. While the majority of the Los Cabos villas are already booked for the period, Villas by Journey Mexico has the inside scoop on where you can still find a gorgeous place to stay.
Below is a list of elite villas in Los Cabos that still have availability during late December and January. Please be aware that availability is from the time of writing (October 17, 2019) and villas are likely to be snapped up quickly. To secure your space, make sure to inquire with Villas by Journey Mexico at your earliest convenience.
Casa Milagro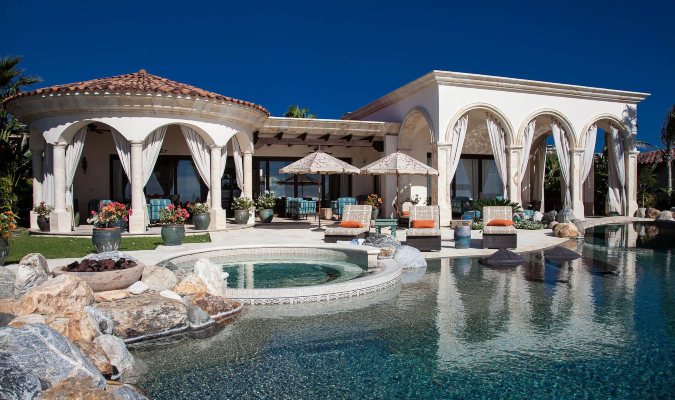 Puerto Los Cabos
6 Bedrooms | Sleeps 12 | 10,000 sq ft
A large beachfront retreat in paradise, Casa Milagro is the perfect place for families and large groups. Akin to a Colonial-era hacienda, this six-bedroom villa is both elegantly stylish and comfortable. Elite amenities include a heated pool, home theater, Jacuzzi, gym, and a wet bar. The property also comes with a concierge and maid to make your trip ultra-relaxing. Finally, a stay at Casa Milagro also boasts access to the elite Puerto Los Cabos community and the Fundadores Beach Club.
Nightly Rate: $14,950 + 19% tax security deposit + accidental insurance
Villa Paradiso Perduto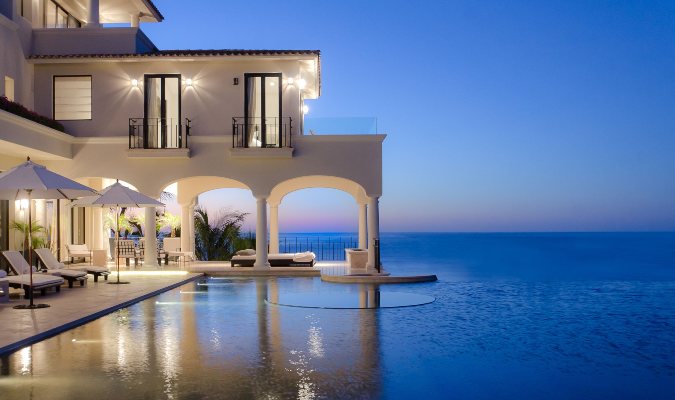 Puerto Los Cabos
8 Bedrooms | Sleeps 16 | 15,000 sq ft
Nestled within the exclusive community of Puerto Los Cabos is Villa Paradiso Perduto, a sweeping property with the look of a Tuscan villa. Its high-end amenities include a tennis court, putting green, heated pool, and spa. A private concierge, maid, and security service make relaxation easy. The villa also comes with stunning views over the dazzling Sea of Cortez – you might even be able to spot one of migratory whales that come to the waters surrounding Baja California over the winter period to give birth and mate.
Nightly Rate Christmas: $11,000 + 19% taxes and fee
Nightly Rate New Year's Eve: $15,000 + 19% taxes and fee + security deposit + accidental damage
Please note: There is currently construction work next door to Paradiso Perduto. So far, it is around 30% complete. By the Holiday Season it will be developed even further and we understand heavy machinery won't be allowed during the Holiday Season.
Villa Gloriosa
Palmilla Caleta
6 Bedrooms | Sleeps 12 | 9,000 sq ft
A star in Palmilla's ultra-exclusive Caleta community, Villa Gloriosa is ideal for travelers looking for peace and luxury from their Holiday Season vacation. Stretching ocean views are the hallmark of this six-bedroom getaway. Enjoy them from the comfort of the infinity pool, outside living space, or Jacuzzi. Other exciting features include a wet bar, palapa, home theater, and fire pit. A stay at this beautiful hacienda-style villa also includes the services of a private concierge and maid, plus access to Palmilla's golf and tennis club.
Nightly Rate: $9,500 USD + 19% taxes + security deposit + insurance
Casa Koll Estate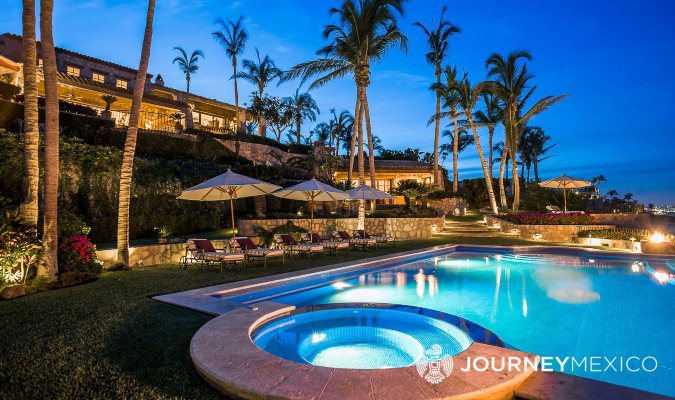 Palmilla Norte
4 or 8 Bedrooms | Sleeps 11 or 20 | 15,000 sq ft
The flexibility of the Casa Koll Estate makes it the ideal getaway for the majority of discerning travelers. For smaller groups, opt for the four bedroom getaway which sleeps up to 11 people. Larger groups can add on the adjacent four-bed villa, Casa Rocas, to sleep up to 20 people. Whichever option you choose, you'll find a wonderfully appointed estate in the famous Palmilla community. An inviting infinity pool boasts gorgeous views over the ocean ahead while evenings can be spent around the fire pit or in the Jacuzzi. Staff services include a daily maid, private security, and a concierge.
Nightly Rate: $18,500 + 19% taxes + security deposit + accidental damage insurance
Book your winter villa vacation in Los Cabos
To find out more about these luxury villas in Los Cabos, contact Villas by Journey Mexico. Our highly knowledgeable team will not only be able to help you secure your dream vacation, but also plan private tours and trips to some of the region's most striking highlights.