Casa Tulum, Zihuatanejo in Architectural Digest
Enjoy a relaxing beach trip with friends and family at Casa Tulum in Zihuatanejo (also known as Casa Zihuat) in Zihuatanejo, a gorgeous fishing town on southern Mexico´s Pacific coast. Set on a hilltop, the villa´s name connects to the experience of climbing the Mayan ´El Castillo´ pyramid at Tulum´s archaeological site to be amazed by sweeping ocean vistas.
Designed by celebrated local architect Enrique Zozaya, the stunning home has been featured in Architectural Digest and noted for its ´Zihuantanejo´ style; colors and textures expressed through local materials and craftsmanship, an open-air infinity pool, and indoor/outdoor spaces that immerse guests in the natural beauty of the area´s tropical vegetation and impressive sea views.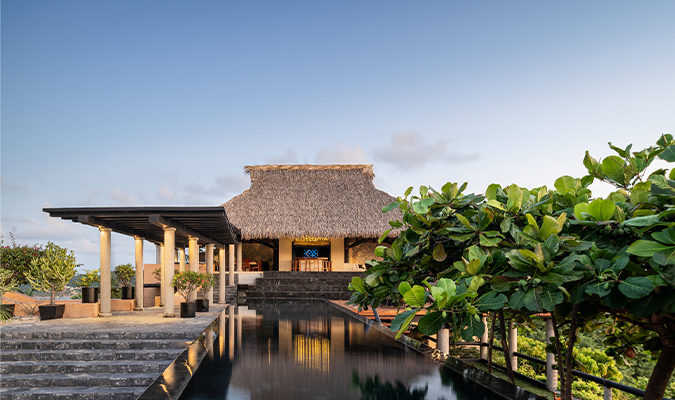 Smooth surfaces and pristine lines meet textural, natural forms expressed through arrangements of concrete, wooden boards, stones, pillars, water features, and thatched palm palapas that look up to open sky. Warm tones paint a visual ode to the sunny weather that draws visitors to relax in Zihuatanejo, and with a location atop one of the town´s highest peaks, Casa Tulum Zihuat boasts both privacy and the grandeur of 360 views.
This Mexican home-away-from-home comprises a juxtaposition of different levels, hosting a main patio, infinity pool with sundeck, garden, and palapa lounge and dining areas all connected by staircases, walkways, and steps. More palapas host six accommodations, including two large bedrooms with ocean and jungle views, and additional rooms nestled amongst verdant palms on the ground floor.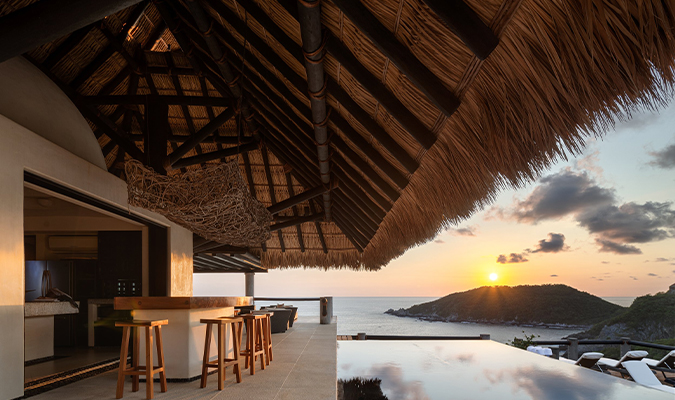 Guests enter to a tall stone staircase that plateaus out to a central patio and uninterrupted views of the Pacific Ocean and surrounding bay. The design is meticulously planned, allowing shapes and spaces to perfectly fit together with an intriguing yet sleek, hidden yet open result.
Up on the hillside, guests will feel the natural breeze on their skin while taking in the beautiful panorama of Zihuatanejo´s bay and beaches. Enjoy lazy pool days, quiet reading under the shade of a palapa, and al fresco dining with mesmerizing sunsets. Stepping out, stroll along the town´s boardwalk, explore its restaurants and bars, or soak up the sun on a choice of local beaches. Humpback whales can be spotted over the winter months, with surfing, fishing, and jet-skiing available all year round.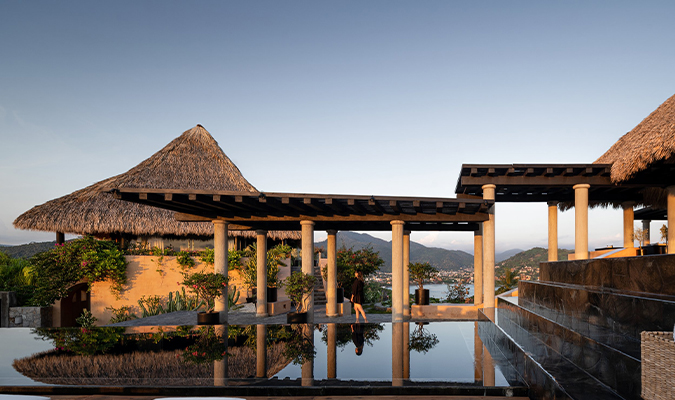 Casa Tulum in Zihuatanejo is ideal for couples, friends, or families who seek privacy and luxury with a spectacular setting and outstanding architecture. The indoor/outdoor design allows guests to unwind in comfortable and stylish spaces while taking in the natural beauty of the bay and expansive sea views. Under the skillful eye of the architect, every detail plays an important role in making this a truly unique villa in Zihuatanejo.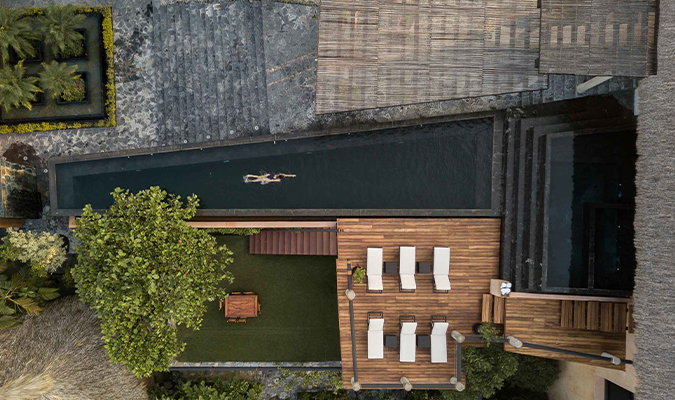 Journey Mexico is the exclusive rental agent of Casa Tulum, get in touch to book this amazing property for your next Mexico vacation.