Casa La Ceiba, A Gateway Into The Bohemian Careyes Community
Perched on Jalisco's Mexican-Pacific Coast is Careyes, an exclusive community of bohemians, artists, and free spirits. It's a bi-lingual getaway in which the world's liberal elite reside, bonding over polo tournaments, shared art spaces, and film festivals.
It was once described as "Hollywood's best-kept secret" by The Hollywood Reporter. Kevin Hart, Cindy Crawford, and Naomi Campbell are all known to vacation there, presumably strolling along the stunning deserted beaches, hiking through the dense jungles, and gazing across the glittering Pacific Ocean.
The birth of Careyes
Fittingly, Careyes was born from three great artistic traits: romance, adventure, and spirituality. It was 1968 when Gian Franco Brignone, a banker from Turin, set off across the globe in search of unspoiled land, year-round perfect weather, and a stable political environment.
After a tipoff from Bolivian tin baron, Antenor Patino, Brignone chartered a plane over the untouched treetops and rugged cliffs of Costa Careyes. Instantly, he fell in love.
Convinced he had found his Paradise, Brignone hired the world's brightest architects and worked with the best local artisans to create Careyes.
The project was a gamble, of course. There were no connecting roads and no guarantees the enclave would thrive. More than half a decade later, however, and the gorgeous multicolored ocean castles, private villas, and bungalows show it paid off.
The Careyes community
Now, joining the Careyes community offers a wealth of benefits. Residents enjoy exquisite cuisine at seven incredible eateries.
They can also take advantage of Careyes' coastal position and go paddle boarding, ocean kayaking, scuba diving, and pretty much any other sea-based activity you can think of. During the winter months, leaping humpback whales come to mate and give birth just off-shore.
On land, there's horseback riding, tennis, golf (at one of the world's top courses, no less), spas, and yoga. The Careyes community also puts on a culturally-rich events calendar, which includes Chinese New Year celebrations, the ArteCareyes Film and Arts Festival, and polo tournaments.
Your gateway into Careyes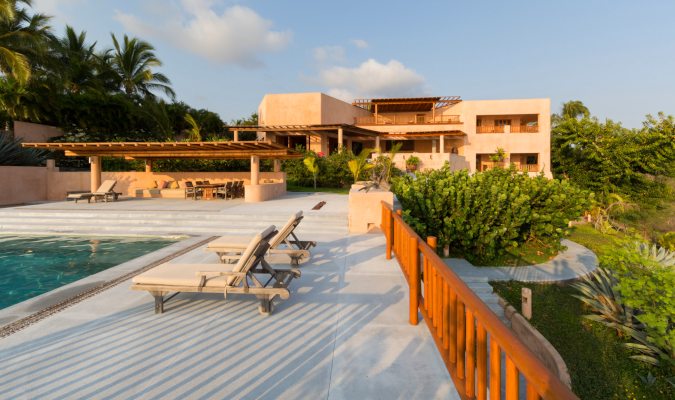 Unless you're one of those lucky bohemians who owns their own villa in Careyes, the only way you'll get to experience this unbeatable lifestyle is to vacation there. Private rental villas are available, but perhaps the one that captures the free-spirited essence of Careyes best is Casa La Ceiba.
Designed by celebrated architect Diego Villaseñor, La Ceiba is a masterpiece of soft lines, arches, and plain white walls. Minimalism at its finest.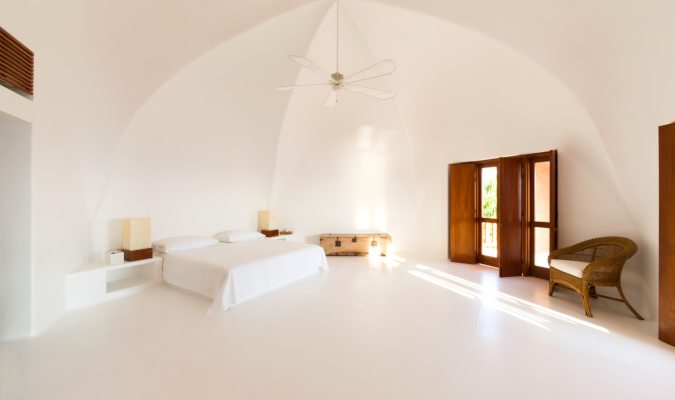 It comes with seven bedrooms, 11 bathrooms, and plenty of open communal spaces. Highly professional staff, including a maid and butler, provide a worry-free vacation.
Outside you'll find a stunning infinity pool with dramatic views over the Pacific Ocean.  Guests can cool off in its clear waters, relax on an over-hanging hammock, or rest on comfy, double sun loungers. You'll also find a tennis court surrounded by thick jungle vegetation.
A video tour of Casa La Ceiba
When to book Casa La Ceiba
Thanks to Gian Franco Brignone's determination to find a place with year-round good weather, you will have an incredible vacation at Casa La Ceiba whenever you go. However, the Chinese New Year period — which lands between late January to mid-February — is particularly important in Careyes. Artisanal Mexican jorongos (a poncho) are given to guests born in the years of the new animal. This year, 2019, welcomed in the Year Of The Boar, which meant those born in 1935, 1947, 1959, 1971, 1983, 1995, 2007, and 2019, were presented with pink and black woven jorongos.
A resplendent feast also takes place featuring lucky red decorations, speeches, and tributes to the new animal.
Alternatively, if you're a film fan, March would be a great time to go. This is when the community runs the ArteCareyes Film and Arts Festival, an annual celebration of Mexican and Latin American films which includes music and contemporary art. Invited guests will enjoy movie premiers, art exhibitions, and dinners under the stars (among many other delights).
How to book Casa La Ceiba
Booking Casa La Ceiba is easy. Simply click here or the more info button below and fill in the trip planner with your details.